About

Algonquin Sweeping is small family owned and operated business specializing in street sweeping and line painting services in the Greater Boston Area.
Founded in 1985, the company has served the needs of commercial property owners, supermarkets, retailers, the construction industry and major concert venues for over 20 years. Our services are cost-effective, always of the most professional quality, and delivered on-time and on-budget. Today we still  service many of the clients we began with, which speaks for itself.
We offer a fully insured, quality workforce

Algonquin prides itself on having a  company principal on-site for all of our jobs. Direct, on-site supervision and decisionmaking makes Algonquin unique in our industry. By having an owner onsite there is never a question that all aspects of a job are done right.. We do not sub-contract our services or use day laborers. This allows us to provide a more consistent finished product  and monitor quality because our own employees are actually doing the work.
We provide all types of power sweeping services
Our fleet includes municipal-type mechanical broom sweepers.
Algonquin's broom sweeper fleet is ideal for:
Construction Sites
 Street & Highway Sweeping
  Winter Sand clean-up
  Commercial / Industrial
   Office Parks /  Condominiums
   Special events/ Concerts
We also offer a variety of air sweepers
Scheduled sweeping services are the backbone of our business. We offer nightly litter and debris collection for malls, retailers, supermarket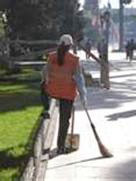 s, office parks and more. This service starts with a FREE, on-site litter survey of your property. We will then provide you  with a customized service plan, which allows you to choose the service frequency and pricing that makes sense for your site.
In addition to sweeping your property, Algonquin also offers an on-site day- or night-portering service for those locations with a high pedestrian count. This service fills the daytime gaps between a nightly sweeping service and the daytime needs of a high traffic retail operation. We provide an on-site porter to hand-pick your parking lot, sidewalks, lobbies and landscaped areas. Your need for this will be included in the results of our litter control survey.We will also re-line trash containers if needed.
Our air sweeper fleet routinely offers:
Litter control & collection
Scheduled  route service     
Emptying & re-lining trash containers
Sidewalk cleaning
Property Inspections
We follow leading-edge environmental policies
We fully recognize our responsibility for environmental awareness by using only EPA certified landfills for disposal of our customer-generated waste materials.  Algonquin also has in place a source reduction program to help reduce the amounts of litter and winter sand we collect. In addition, we recycle appropriate materials whenever possible. Our line striping operation uses only MassHighway-certified, water-based, traffic paints thus eliminating the need for hazardous, solvent-based paint and clean up materials. All our painting materials are low VOC and meet all EPA guidelines.
Algonquin is involved with our local community.
In the past few years, our contributions to local charities and causes have included:
 The Trustees of Reservations
Massachusetts Audubon Society
Appalachian Mountain Club
Sierra Club
Boy Scouts of America
United Way of Massachusetts Bay
Girl Scouts of America
WGHB 2 Boston
WBUR-FM NPR Boston
Neponset River Watershed Association
Charles River Watershed Association
Bird Middle School  Walpole, MA
Walpole Youth Soccer Association
Walpole Lacrosse
Walpole  Athletic Fields Complex
Walpole Cheerleaders– Pop Warner
Walpole High School Robotics Team
Walpole Scholarship  Foundation
Mitchell College, New London, CT
Curry College, Milton Ma
American Heart Association
Old Post Road School, Walpole MA
Let us know how we might assist you.
Please use the contact information shown to the right to let us know how we might assist you in meeting the needs and goals of your property, whether with power sweeping or line striping. We look forward to exceeding your expectations.