---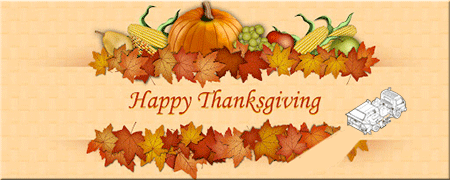 National Stormwater Day: Street Sweeping's Environmental Partner
by Ranger Kidwell-Ross, editor
WorldSweeper.com

We commend the establishment of National Stormwater Day and are pleased to share our November newsletter on its inaugural occasion. The current level of pollution runoff from paved surfaces is unsustainable, making the introduction of National Stormwater Day essential to spotlight this critical issue.

In the coming months, we will emphasize the importance of professionally and environmentally conducted street sweeping as the most effective solution to pavement-based pollution runoff. Properly executed street sweeping, utilizing appropriate equipment and adhering to repair protocols and operational procedures, has been conclusively proven as the best Best Management Practice (BMP) for addressing this growing problem.

Sweeper vehicles, akin to those used in various industries, are undergoing rapid advancements. On the downside, this issue discusses more details on the announced elimination of Isuzu's diesel-powered sweepers in CARB states at the end of 2024, noting their one-year grace period.

However, the market is witnessing an increasing availability of hybrid and electric sweepers, although their long-term performance and economic implications remain uncertain. Despite initial cost concerns, sweeper purchase grants under Biden's Infrastructure Act are becoming more accessible.

There is also an increasing roll-out of hybrid and electric sweepers becoming available in many of power sweeping's market segments. Because this is such a dramatic change for machines that need the tremendous operating requirements of sweepers, only time will tell how the various makes and models now being introduced will shake out. And, of course, the price tag of these machines is sending sticker shock to purchasers, although sweeper purchase grants are becoming more available through Biden's Infrastructure Act.

Our newsletter also highlights the noteworthy achievement of Jerry Gannon, a 50-year veteran in the sweeping industry, illustrating the substantial changes he has witnessed throughout his career.

The remaining articles in this issue focus on end-of-year and holiday themes, aiming to provide valuable insights for the upcoming month-and-a-half. As we approach the holiday season, we encourage reflection on gratitude during Thanksgiving, as I hope you did on Veterans' Day. Subsequently, we wish our readers joy during the Christmas season before preparing for the challenges of the upcoming year.

If you are one of WorldSweeper's advertising sponsors, thank you for the critical part you play in supporting 'Earth's Largest Power Sweeping Resource.'

SM I am honored by your collective votes of confidence in what this organization provides to the power sweeping industry.

Likewise, if you are one of the industry suppliers providing WSA Members with savings on your goods and services, thank you for providing those WSA Member Benefits. Finally, if you sell to the sweeping industry but don't yet advertise with us, please consider doing so.

Good Sweeping,



Editor, WorldSweeper.com
Executive Director, World Sweeping Association
Member, PAVEMENT Hall of Fame
PS If you're a contractor I urge you to check out the many benefits of membership in the World Sweeping Association. Also, if you haven't 'liked' our WorldSweeper Facebook page, what are you waiting for? That's where we offer a variety of industry previews and updates on an ongoing basis.

---
November Newsletter Contents
(Scroll down to read stories or click on links below.)
---
NMSA Establishes 'National Stormwater Day' to be November 16th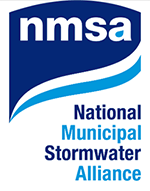 The National Municipal Stormwater Alliance (NMSA) is a 501(c)(3) with state and regional members made up of Municipal Separate Storm Sewer System (MS4) permittees. NMSA is devoted to supporting MS4 communities, helping them tackle stormwater challenges so that together we can achive our vision of providing clean water for the nation.

NMSA leadership has contributed to high-impact changes, such as the inclusion of stormwater as a new category in the American Society of Civil Engineers (ASCE) Infrastructure Report Card© in 2021, as well as historically-high levels of proposed federal funding for the MS4 sector through the 2021 Infrastructure Investment and Jobs Act (otherwise known Bipartisan Infrastructure Funding (BIF package).

NMSA currently has state/regional members from 24 states in 9 of the 10 EPA regions representing a network of over 4,000 MS4s covering over half of the MS4 regulated population in the U.S. NMSA has developed a nationwide platform for MS4s to plug into to get updates on national policies impacting local governments, access to peer-to-peer information exchange opportunities, learn about new products and tools in the stormwater sector, and, simply put, to be a part of the dynamic world of the stormwater sector.

To learn about NMSA, use this link or to go to the NMSA's information page on membership use this one.
---

Update: Isuzu's Position on 2024 Diesels to California and CARB States
The situation: The U.S. Environmental Protection Agency approved the Board's plan to implement its Omnibus Low NOx Initiative, effective at the start of the 2024 calendar year. Last issue we included the link to a Fleet Equipment article about Isuzu and the 2024 marketplace. Thanks to one of our alert readers (you know who you are), who sent us a copy of the letter they received from Isuzu concerning 2024 model Isuzu chassis entering the California and over a dozen other other 'CARB states.'
The letter says, in part, that Isuzu "will be unable to meet this new regulation with the Isuzu 4H diesel engine and we have been unable to attain a compromise with CARB on the upcoming regulations, we have made the difficult decision to discontinue the sale of our N-Series diesel trucks in the state of California, effective with 2025 model­year trucks scheduled for production on and after January 1, 2024. This decision may also affect the sale of our N-Series diesel models in other "CARB states" (assuming the EPA provides the necessary waiver for those states that follow CARB regulations)."
The other CARB states include Connecticut, Colorado, Delaware, the District of Columbia, Maine, Maryland, Massachusetts, New Jersey, New York, Oregon, Pennsylvania, Rhode Island, Vermont and Washington. It is not yet known which states might decide to – or not to – follow CARB guidelines in this case. At the end of October, CARB touted "zero emission fleet sales 2 years ahead of target." In the article in Clean Trucking, CARB listed the manufacturers the agency was referencing; Isuzu was not one of them...
Take a look at the Isuzu letter in pdf format.
---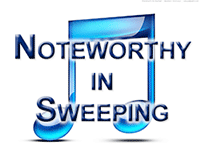 Jerry Gannon Celebrates 50 Years in Sweeping Industry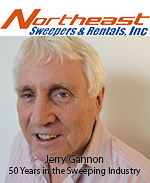 Thanksgiving 2023 marks a very special milestone for Jerry Gannon, a sales representative for US RAVO dealer, Northeast Sweepers & Rentals (NSR). Jerry has been involved with that company for nine years selling the RAVO 5 iSeries street sweepers in the metropolitan region of New York. However, his anniversary of involvement in the sweeping industry is approaching 50 years.
Gannon's half-century of work in the power sweeping industry was worthy of inclusion in WorldSweeper's 'Noteworthy in Sweeping' section. Below we have linked an article about Gannon's take on the current industry, as well as some of the many changes Gannon has seen in his 50 years of sweeping-oriented business life.
---
AC Media Becomes IRONMARKETS


The former AC Media Network, which includes IronPros, OEM Off-Highway, Green Industry Pros, Supply & Demand Chain Executive, and Food Logistics, has rebranded as IRONMARKETS, a name said to reflect the organization's "their innovative reputation and commitment to continued advancement."

"Updating our name to IRONMARKETS truly reflects the strength and innovation behind our continued advancement in full-funnel, marketing solutions on behalf of our audiences, and clients alike," says Ron Spink, Chief Executive Officer, IRONMARKETS. The name change includes the parent company of all of the publications shown in the image below. For more information and/or to read the company's rebranding press release.

Check out the rebranding press release.
---
Minimizing Employee Stress and Defining Company Policy During the Holidays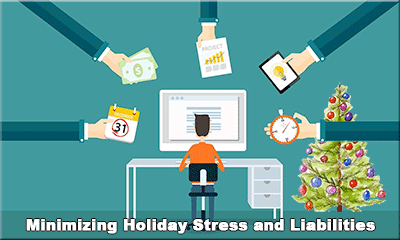 The Christmas holiday season is one of the most stressful times of the year for both managers and line workers in the public and private sweeping industry sectors. At the same time – given the reported resurgence of COVID 19 as well as the ever-changing requirements for defining non-offensive company policy and minimizing liabilities – it's more important than ever for organizations to develop cohesive holiday plans.

WorldSweeper's editor provides an overview on these topics as they relate to the power sweeping industry, as well as links to stress reduction tips for managers, holiday party guidelines from our legal information section and an end-of-the-yeaer, thought-provoking, view on the documented value provided by what are called 'prosocial employee bonus systems.'
---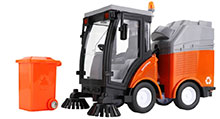 Finding Christmas Sweeper-related Gifts for Kids
It's that time of year to choose gifts for the kids in your family circle and what better than to generate interest in sweepers via the selection of books and toys in the 'Toys' area of WorldSweeper's website?!
If you have little ones who might like to have a sweeping-related gift under their tree, check out the items at the link below. We have collected a total of two dozen sweeping-related apps, toys, books and other items we know about and include links to where you can purchase them. If you are aware of toys we don't have listed, please take a minute and let us know what they are and we'll add them to the list on the site.
---


Are You Planning for Your Section 179 IRS Deductions?
Each year some of the sweeper manufacturers remind us to remind you about the IRS Section 179 program. The program provides an ongoing incentive to acquire and install capital equipment. The Tax Cuts and Jobs Act of 2017 made significant changes to both Section 179 and bonus depreciation. Although there have been some changes, those changes continue to be in effect for 2023 and, when used together, may allow businesses to deduct up to 100% of capital purchases.
If you haven't already, now is the time to make plans for taking advantage of the IRS Section 179 tax-saving program. Essentially, Section 179 of the IRS tax code allows businesses to deduct the full purchase price of qualifying equipment and/or software purchased or financed during the tax year. That means that if you buy (or lease) a piece of qualifying equipment – including a sweeper(s) – you can deduct the FULL PURCHASE PRICE from your 2023 gross income.
It's an incentive created by the U.S. government to encourage businesses to buy equipment and invest in themselves. The 2023 deduction limit is $1,160,000; however, note that this limit is reduced by the amount by which the cost of section 179 property placed in service during the tax year exceeds $2,890,000. And, while we're on the topic, we reprise a link to 92 small business deductions you may now use, plus 11 deductions to avoid...
Read the details on the 179 program or read about the deductions experts say to use and/or to avoid.
---
---