by Ranger Kidwell-Ross, editor
WorldSweeper.com

Allure and Reach of Power Sweeping Covers a Wide Path
Although power sweeping is a relatively small industry on a somewhat large planet, I'm continually surprised by the diverse interest it attracts. And, in the case of our lead story in this issue, how not abiding by power sweeping best practices may create significant problems in unexpected quarters.
People throughout the world have been transfixed by Sochi's Winter Games over the last several weeks. One of the main story lines of the Games, as reported in America and elsewhere, were the widespread asthmatic-based medical issues compromising the health of athletes and coverage personnel alike. Bob Costas, lead reporter for the U.S. television coverage team, missed several days of reporting as a direct result of them.
Yet, how many power sweeping professionals now reading this guessed that a lack of knowledge and/or professionalism within our own industry – specifically, the alleged complete lack of air sweeping – may well have contributed significantly to the medical issues? Our lead story makes the case that small-micron particles not removed after construction may well have been the culprit.
Our February issue also offers another example of the allure of sweepers. A mechanical engineering student at South Dakota State University asks for the assistance of readers to help him in assessing the feasibility of having a road sweeper simultaneously cut the grass around guardrails.
In case you think a guardrail-grass trimming sweeper sounds far-fetched, I direct you to our totally facetious 2011 WorldSweeper April Fool's Bulletin that facetiously announced the invention of a solar-powered sweeper in China.
In this issue we offer an array of little-known sweeper models from around the world from Italian sweeping professional and WorldSweeper correspondent, Villiam Abbondanza – which includes a patented solar-powered combination sweeper and refuse compactor from China.
In addition, this issue offers the latest in happenings in the U.S. power sweeping industry, including a new mechanical broom model by Stewart-Amos and Schwarze Industries' celebration of 40 years in business.
As you read the stories in this issue, I encourage you to reflect on the breadth and reach of your industry throughout the world. Power sweeping offers a variety of environmental and health benefits, in addition to making the paved areas of the world look better cosmetically. It's an industry you can be proud to be a part of; take it to heart as you're out there doing the best job you possibly can.
And, if you believe your company might qualify, assert your pride by entering your firm in PAVEMENT's Top 100 Sweeping Contractors Survey. We have a link to the Survey below. You may well gain a set of bragging rights for the upcoming year as a Top 100 Contractor; after all, everyone likes to be a medal winner.
Good Sweeping,



Editor, WorldSweeper.com
Executive Director, World Sweeping Association
PS If you haven't 'liked' our WorldSweeper Facebook page, what are you waiting for? That's where we offer industry previews and updates on an ongoing basis.
---
February Newsletter Contents
(Scroll down to read stories or click on links.)
---
Power Sweeping Pros Give Failing Marks to Sochi Olympics' Preparations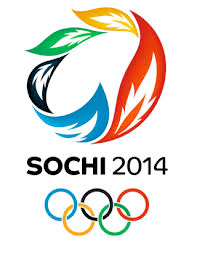 You may have noticed that a sidenote to the 2014 Olympics has been the number of athletes that have cited respiratory and related illnesses as a problem during their participation in Sochi. Retired Norwegian sweeping professional and WorldSweeper correspondent, Arild Moen, has reason to believe much of this may be due to small particle inhalation.
"The real problem in Sochi is not loose doorknobs or lack of hot water in the shower as reported by journalists," reports Moen, "but it is the lack of fine particle removal via power sweeping."
Along with Moen's analysis of what was occurring at the Games, and why, are data and insight from WorldSweeper's editor, who is also executive director of the World Sweeping Association. In addition, the duo challenge the worldwide power sweeping industry to become more involved with regard to Brazil's upcoming World Cup and Olympic Summer Games, as well as with South Korea in four years.
It's a challenge they hope the sweeper manufacturing industry and event organizers will take to heart so the same unhealthy scenario is not repeated again with regard to the newly-created infrastructure that is bound to accompany both of the above events, as well as at Brazil's upcoming soccer World Cup this coming June/July.
---
Italian Correspondent Offers Worldwide Array of Sweeper Types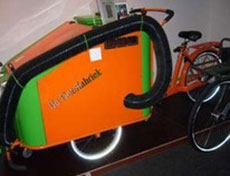 Think you know about all the types of sweepers out there on the job. Think again! This story offers insight into, and photos of, some machines that most readers will never have seen before.
Thanks to the World Sweeping Association's ongoing correspondence with Villiam Abbondanza, a sweeper consultant located in Italy, we have the ability to bring our readers a cross-section of sweeping vehicles now in use in Europe, with even the inclusion of a solar-powered street sweeper patented in China. You may be surprised at the different ways the manufacturers in countries around the world have come up with to deal with urban waste.
Take a look at some interesting sweeper types.
---
Stewart-Amos Sweeper Company Introduces its New Starfire S-4XL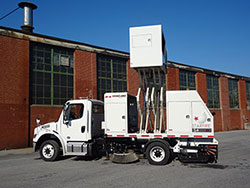 The new model S-4XL, by Stewart-Amos Sweeper Company, is a full-featured, mechanical broom street sweeper mounted on a NON-CDL chassis. It features an oversized 4.5 cubic yard hopper, variable 12-foot dump height, 330 gallon capacity dust suppression system and 10-to-11-foot sweeping path.
"We built the S-4XL to handle the toughest cleaning needs," said Frank Chulich, company president. "Like our other Starfire models, which range from 4-to-6-cubic yards, the XL has the same proven design and time-tested operating components. It's also equipped with our exclusive three-shaft elevator system which has been shown to extend useful chain life, reduce routine maintenance and extend productivity."
---
PAVEMENT Maintenance & Reconstruction Magazine Unveils 2014 Top 100 Contractors Survey

PAVEMENT Maintenance & Reconstruction is once again conducting a survey to develop verifiable Top Contractor listings in each of five industry segments: Paving, Sealcoating, Striping, Sweeping and Pavement Repair.
Allan Heydorn, editor for the magazine, assures those applying that no sales figures will be reported or published. Rather, sales figures will be used only internally by their organization for determining each list. And, last year, there were not enough respondents in the power sweeping category to fill out the Top 100 listing.
If you're a contractor in any of the above areas, now is the time to establish some bragging rights for the coming year. If you are shown to be a Top 100 Contractor, there's no question you can also use the results in your subsequent marketing and promotional campaigns, so what are you waiting for?!
Take a look and complete the online survey.
---
Schwarze Industries Marks 40th Anniversary
This year marks Schwarze Industries' 40th anniversary in the sweeper manufacturing business. The company was founded in 1974 by Huntsville, Alabama-based sweeping contractor, Ernest "Bob" Schwarze, who wanted to provide contractors with a type of customer experience that was innovative in the sweeping industry.
In 2000 Alamo-Group, a Texas-based corporation that specializes in the design, manufacture, distribution and service of high-quality equipment for right-of-way maintenance and agriculture, acquired Schwarze Industries, Inc. In the interim since the company was founded, it has evolved into an industry-leading manufacturer with a global presence, with an additional sweeper assembly facility in Brisbane, Australia.
Read the press release about the anniversary.
---
Modified Curb Brooms Mowing Around Guardrail Posts: Feasible or Not?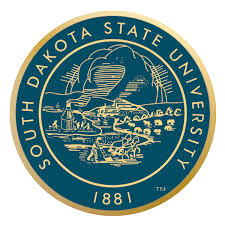 As his senior project South Dakota State student, Brady Jones, is investigating the feasibility of how a sweeper might be utilized to mow the grass around guardrail posts. "Having a person out next to the highway with a weed-trimmer is definitely a known safety issue," said Jones.
"Sweepers have a curb broom attachment on the side and are a machine that's on the highway doing another function. The question we are investigating is whether it might be possible to modify a curb broom apparatus and the type of broom material on it such that it could be utilized to trim mechanically."
You are invited to listen to the approximately 11-minute discussion Jones had with WorldSweeper.com's editor, Ranger Kidwell-Ross, on the topic and then weigh in with your thoughts and ideas on the subject.
Check out the complete details.
---
Beach Cleaning: Cherrington a Leader in a Little-Known Sweeping Application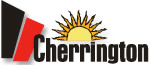 Beach usage is growing and becoming a significant part of the municipal tourism industries. Expectations of beach patrons are increasing, giving a competitive advantage to those beaches that are well maintained.
Screening via a mechanical beach cleaner will remove cigarette filters, broken glass, seaweed, bottle caps, coral, shells, stones – everything bigger than the chosen screen-hole size. The fact is, most of the dangerous or unwanted debris on a beach is hidden under a layer of beach sand. Where beaches are simply raked many dangerous items can be left to be stepped on by users, creating injuries and the potential for liability.
If you are a contractor located in an area with beaches that are not being well maintained, these machines may offer an opportunity for expansion into a new, allied sweeping field. For our public works readers charged with maintaining beachfront property, this type of machine merits your consideration as you promote safety in your city and vie for the customers that your tourism industry thrives upon.
---
Featured Contractor: Algonquin Sweeping & Striping, LLC

When Ron and Karen Lichtenstein were engaged 28 years ago, her father was in the garbage hauling business. Ron had worked in consumer electronics and economic development and was looking for another career. One day Ron saw a TYMCO ad in one of the issues of National Solid Waste Magazine that Karen's dad had lying around. Immediately, he says, the information caught my attention. "One thing led to another," Ron said with a chuckle, "and now we're in paradise."
"Back in those days it was really about educating the customer," said Lichtenstein. "Just as I had looked at that ad for a sweeper and didn't really know what I was looking at, the same was true with customers. When you went to them and told them you wanted to sweep their parking lot, they looked at you like you were from another planet. You really had to educate them as to how it was done, the frequency that was needed — even why it was important. The business was really a lot different than it is today."
For an interesting spin through the history of the growth of the parking lot sweeping industry, be sure to read this interview with Ron Lichtenstein, as well as listen to the audio podcast. Both are provided to non-members for a limited time at our affiliated World Sweeping Association.
---

Buying Made in America Helps US All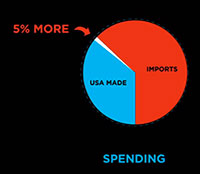 5%: That's not a very big number, right? According to the Million American Jobs Project, if Americans went out of their way to purchase just 5% more products that are Made in America, we would add a million more jobs to the US economy.
We all hear politicians talking about bringing jobs back to America. Here's a reminder that American citizens can have a hand in doing so on their own. Take a look at this brief video that explains how and why; and, if you choose to do so, pass along the link.