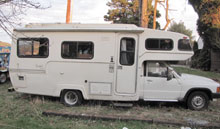 I recently had an interesting experience courtesy of my first outing in a new (to me) 1985 motorhome mounted onto Toyota's venerable extended cab pickup chassis. First off, when I showed a larger version of the photo you see to several industry friends at the recent 2012 NPE in Memphis, I received a gratifying reminder of how dependable that chassis has proven to be over time.
Uniformly, the contractor responses affirmed that Toyota had provided what most considered the most dependable sweeper chassis ever built. Several reminisced about the service life they'd received from their Schwarze 222 sweepers, as well as the mileage and long-lasting service the units had provided. (The latter items are a big reason I chose this particular camper type.)
For a shakedown cruise I met a Seattle-based friend, who has a Volkswagen camper, at a state park located about halfway between our houses at a place called Camano Island State Park. We had researched the state park's amenities online to confirm that the two items at the top of our list were available: nearby clam digging for the season's first minus low tides; and, electrical hookups so we could stay warm in the 40-degree weather that forecasters promised would include plenty of rain or snow along with high winds.
Unfortunately, when we arrived at the beautiful park we got a lesson in how not to provide good customer service. As we came in, a passing ranger told us to pick any campsite from the essentially vacant park and place our $21 apiece in the box provided. "We'll be paying $28 each," we told him, "because we want electrical hookup sites." That's when the interesting part started.
"We don't have electrical sites at this park," he told us. "But the website about the park says you have electrical hookups available," we answered back. "Yes, we hear that alot," replied the ranger.
The question then became what to do next. It was late afternoon and we were tens of miles from any other camping facilities with electricity. Then, John spotted what we figured to be the answer: Five cabins were onsite, none of them occupied and all with outside electric hookups. Armed with this information we re-approached the ranger with the idea of us parking at one of the cabins, paying $28 apiece instead of $21, and plugging into the cabin.
For the ranger, this was a clear no-go. No amount of persuasion mattered. He did, however, refer us to the onsite office. There, another individual was equally unbudging, offering no solution and suggesting we go elsewhere. Or, drive five miles away to another park office staffed with his superiors.
Arriving at the distant office, we explained yet again the situation; we'd seen the hookups on the website, the cabins were being unused, etc. We heard once again, on the topic of the website mis-information: "We hear that alot." However, there was no budging or suggestions other than to go a significant distance to a commercial campground not located near the water and quite a bit more expensive.
Finally, back against the wall and darkness coming on, my friend, John, said he thought we should just rent one of the cabins and split whatever the rental would be. "Can we both park our campers next to the cabin if we rent it," he asked. Receiving an answer in the affirmative, we asked about the price of cabin rental. We couldn't have been more astonished at the answer: $57 per night – or just $1 more than the $56 that two individual campsites with electrical would have cost.
So, that's of course what we did. And, instead of just plugging in our relatively meager heaters, we kept the heat up in the cabin and had a place to dry our wet clothes. It was an altogether satisfactory solution. The problem was, it was one that none of the park employees had suggested.
The organization had completely missed the boat on the topic of customer service. If anywhere along the line someone had just suggested that an additional dollar could secure a cabin, along with its needed outside electrical hookup, we'd have been immediately and totally satisfied. And saved a precious hour or so of vacation time and not missed that day's clam tide.
I encourage you to consider your own organization in light of the above tale. Are there situations where you could solve your customers' problems in a neat, no-muss/no-fuss fashion and leave them extolling your praises – but where in the past you've unwittingly left them to find some other alternative that perhaps didn't involve doing business with you?
In my experience, the best way to grow and safeguard your business is to be a problem solver for your customers. Find a solution to every possible impediment to them doing business with you on their terms. Provide solutions to any roadblocks, rather than turning them loose to do business with a competitor.
As always, the articles in this issue are designed to help you find crucial insight for your business. My hope is you find they all help in one way or the other. If you have ideas about articles you'd like to see in the future, please let us know that, as well. Our goal is to write about what you want to read. And, if you have a sweeping-related need please contact us about it. We'll try to assist in any way we can.
I routinely reference WorldSweeper.com articles and studies, provide information from my "Fundamentals of the Power Sweeping Business" manual and put contractors and city officials in touch with others who may have answers to their informational needs. By the same token, if you have a story you can provide, additional information on any of the topics we've covered – or need more details – please let me know. I'll be glad to help if at all possible.
Good Sweeping!



Ranger Kidwell-Ross, editor
WorldSweeper.com