If You're Not Moving Forward, You May Find You're Moving Backwards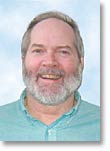 by Ranger Kidwell-Ross, WorldSweeper's Editor
Today marks the seven-year anniversary of WorldSweeper.com in what is my 24th year of involvement with the power sweeping industry. During that time I am proud of my efforts to elevate the knowledge and professionalism of pavement sweeping and those who perform the task.
Accomplishments during this time include creating both the first newsletter (The Supervac Quarterly) and the initial magazine (American Sweeper Magazine) for the industry. I built the first sweeper manufacturer website, which was done for Schwarze Industries, Inc. I initiated negotiations with the IRS that resulted in the first confirmation that the excise tax on auxiliary engine fuel could be rebated. And, along the way, these magazines, websites and other work have received at least one national APEX Award for Publication Excellence every year since 1994, something no other U.S. individual or company can claim.
Still, as they say in the music business, you're only as good as your last album. So, I'm taking this opportunity to announce to our readers where we're headed in the upcoming months. First, the WorldSweeper.com website is in the process of receiving a major upgrade to become a full-fledged content management system. This will allow better searching for past articles as well as faster, more timely posting of current news bulletins and other information. We will also be able to provide our advertisers with targeted placement throughout the site.
Secondly, we will soon unveil an e-commerce site designed to assist contractors in making good decisions when they branch out into performance of other services in addition to sweeping parking lots. In today's economy, with its shrunken margins and rising costs, it is more important than ever to become a "one call does it" contractor. The upcoming Worldsweeper online shopping site will showcase a wide variety of products that will help contractors do more for their customers. We'll also offer some fun products and wearable gear that will make you proud to be involved with power sweeping.
Perhaps the biggest news is that we are founding the World Sweeper Association. This will incorporate a variety of content designed to keep sweeping contractors on the leading edge of industry knowledge and ideas. It will also allow access to benefits not available elsewhere, as well as access to industry insiders and pros.
We are currently initiating benefit arrangements with a variety of vendors, in addition to the discounts we will ultimately make available on the WorldSweeper e-commerce site. However, at this time we are pleased to announce a major agreement with a full lines insurance vendor, Bind Desk, a company that has been thoroughly schooled on risk analysis for the power sweeping and pavement maintenance industries.
The organization has access to a variety of carriers and, given their education on the industry, I am confident they understand the liabilities our industry does and, more importantly, does not face. If you've ever had your parking lot sweeping company initially classed as a street sweeping company, with its considerably higher liability classification, you know what I mean. Although they will be contacting contractors around the country in the coming months, if you would like to initiate a more immediate contact just let us know.
The planned World Sweeper Association is not intended to be a replacement for NAPSA. However, one of the reasons spurring its formation is the ongoing refusal of the current NAPSA Board to recognize the inherent conflict of interest that exists due to having a majority of its Executive Committee involved with the 1800SWEEPER organization.
Although we have applauded and supported the 1800SWEEPER concept from the outset, and continue to do so, 100% of the contractors we've heard from – with the exception of all of the 'conflicted' contractors on NAPSA's Executive Committee and some members of its Board – agreed with WorldSweeper's editorial position that there is a conflict when 1800SWEEPER members and/or board members are running NAPSA.
Back when Carl Barton was president of NAPSA I questioned him about a number of issues, including the seemingly exhorbitant fees being paid to what is now NAPSA's previous management company. Those costs had been reported to exceed $100,000/year. In response, Barton suggested that that many industries had more than one association and, further, that if I had problems with the way NAPSA was operating and thought I could do better I should start my own association.
Although I am taking his advice, only time will reveal the outcome. In any event, I can assure you that we will approach both the WorldSweeper e-commerce site and World Sweeper Association with the same dedication to excellence and information advancement that has made the multi-award winning WorldSweeper.com website into the largest, most professional information resource for power sweeping on the planet.
Finally, I want to take this opportunity to thank all of our readers, advertisers and other supporters for their input and assistance during the past 24 years. I look forward to continuing to provide the power sweeping industry with the information, products and other resources needed to expand and thrive throughout the 21st century.
As always, the articles in this issue are designed to help you find crucial insight for your business. My hope is you find they all help in one way or the other. If you have ideas about articles you'd like to see in the future, please let us know that, as well. Our goal is to write about what you want to read. And, if you have a sweeping-related need please contact us about it. We'll try to assist in any way we can.
I routinely reference WorldSweeper.com articles and studies, provide information from my "Fundamentals of the Power Sweeping Business" manual and put contractors and city officials in touch with others who may have answers to their informational needs. By the same token, if you have a story you can provide, additional information on any of the topics we've covered – or need more details – please let me know. I'll be glad to help if at all possible.
Good Sweeping!



Ranger Kidwell-Ross, editor
WorldSweeper.com