May 13, 2010
Victory Sweepers' R4 Road Sweeper Prototype Spotted at Darlington Raceways
by Ranger Kidwell-Ross, editor, WorldSweeper.com
An alert sweeping contractor and WorldSweeper.com reader sent a picture of a sweeper they'd never seen before on the track cleaning during the recent Showtime Southern 500 at Darlington Raceway. Although there is no way to tell from the photo, they insisted it looked like a Victory Sweepers' road sweeper.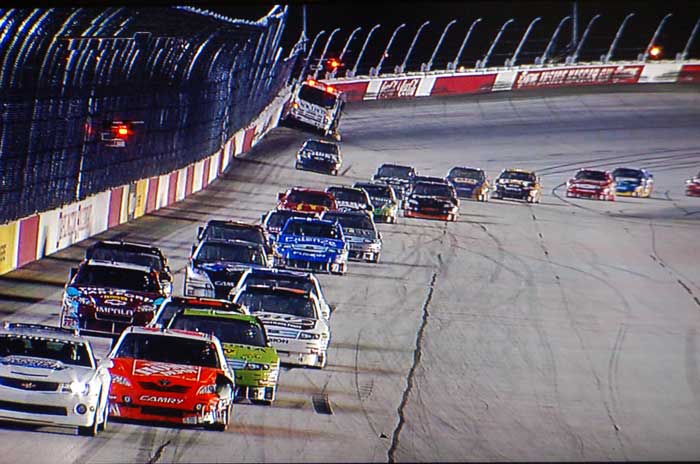 Although the company offers a number of chassis-mounted parking lot air sweepers and their T500 tow-behind, Mark Schwarze's Victory Sweepers organization has not, to date, made a road sweeper. Until now.
I received the photo you see above from a contractor via email on Tuesday. Although apologetic that his picture did not show the sweeper well enough to recognize it, he said it looked like a Victory sweeper to him. And, he insisted, "the Victory-looking sweeper had dual gutter brooms although it was being driven from the left side. That probably makes it a road sweeper, right? Yet, Victory doesn't make a road sweeper, do they?"
As far as I knew, the answer was "maybe" to the first question, since twin-side gutter brooms are routinely put onto parking lot sweepers, but I could give a definite "no" to the second. However, I decided the subject was worth some investigative reporting. I knew that, historically, Dale McCaskill's Southco Sweeping and Maintenance has handled sweeping chores at Darlington. So, I gave Dale a call.
As expected, Southco does, indeed, sweep for all major Darlington events. Put on the spot and confronted with the facts, McCaskill confirmed the sweeper was, indeed, a prototype Victory road sweeper he had obtained as one of the three sweepers Darlington Raceways management requires to be onsite for one of their events. The other two used at the race were A4000 models supplied by Schwarze Industries, Inc.
"As far as I know this is the first time for Victory's new R4 to be used for a commercial sweeping application," said McCaskill. "You'd have to ask Mark Schwarze (Victory Sweepers' president) to know for sure, though."
My inquiring mind just had to ask: "How'd the sweeper do on the racetrack?"
"The Victory R4 actually did a great job," says McCaskill, "although so did the production A4000s. That said, though, because of the way the R4's gutter broom is constructed we learned it was the one that could dig out right up to the wall in the corners. That was both interesting to learn and a valuable asset to have during the race.
"I must admit it was definitely fun to be using a new sweeper model that no one knew about at the race and yet, at the same time, know it was going to be seen by 30 million race fans around the country. I guess, looking back at it, I'm not surprised someone from the industry was able to 'out it' as a sweeper not seen before."
After calling McCaskill, I made the next logical call: to Mark Schwarze at Victory. I explained the situation, along with telling him I had been sent a photo.
"Er, yes," said Schwarze, "that was our new R4 road sweeper. Dale (McCaskill) asked if we could loan him a sweeper to handle the race and we decided to send the R4 down even though we're a couple weeks away from actually launching it as our first road sweeper model.
"Because Dale McCaskill is a past president of the North American Power Sweeping Association and also one of the most knowledgable contractors in America, I was also interested in his opinion of our new design and his assessment of how the machine performs. To get 'two thumbs up' from Dale on the R4 really means something."
When I asked followup questions about the specs, requested photos and more, though, Mark Schwarze demurred... "I promise that WorldSweeper will have the first interview and press release on both it and the larger R6 (six-yard) air sweeper model we'll be introducing at the same time. However, please give me a couple more weeks, okay? By then, I'll be able to provide you with all the information on both of our new road sweeping models."
So, there you have it. We'll publish all the info about Victory's new entry into road sweeping as soon as we get it. In the meantime, I'm afraid the grainy, distant photo at the top of this page is all we have to offer.
To contact Victory Sweepers, Inc., call 866-507-9337 or visit the company's website, victorysweepers.com.
---
Did you, too, see this sweeper at Darlington? If you did, or if you have a question or comment about this article, please let us know. If appropriate, we'll add it to the bottom of this page.
---