April 1, 2018
Street Sweeper Solves Neighborhood's Tumbleweed Invasion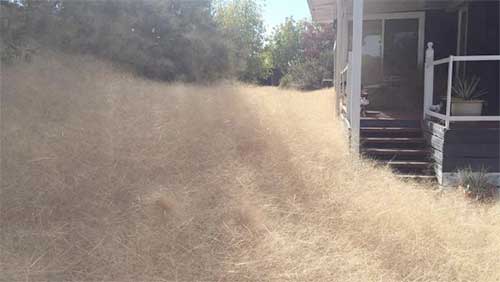 An Australian homeowner says she was out of ideas over how to get rid of a species of tumbleweed from her home. After posting images on social media asking for help with the plague of the grass – which was so out of control it forced the closure of the town's main road as it migrated across its path – a solution appeared in the form of a street sweeper.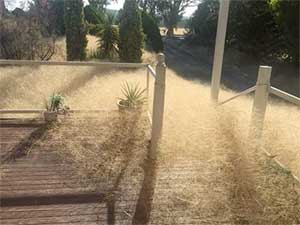 Leanne Gloury, of Laceby in northeast Victoria, Australia, said her property is so overwhelmed by a plague of exotic grass she thinks it has a mind of its own after numerous efforts to contain it failed. A nearby road was so heavily populated with the grass that "cars were being lost in the tumbleweed," Wangaratta Mayor Ken Clarke told news.com.au.
The weed is a constant problem for the area while another form of the grass, known as Hillman's Panic – a species which was introduced from southern America – is reported to be spreading across NSW from Victoria and South Australia.
Ms. Gloury told news.com.au the grass is so light it spreads quickly but there's "nothing you can do" once it starts moving. "I could have cried in the beginning," Gloury said. "I didn't want to deal with it. I wasn't beating it at all." She and other Laceby residents have been left to fend for themselves as the tumbleweed, otherwise known, quite appropriately, as "hairy panic," has been slowly taking over properties after an outbreak that has lasted since January. She said that after trying numerous options to rid her property of the problematic panic, she was totally out of ideas.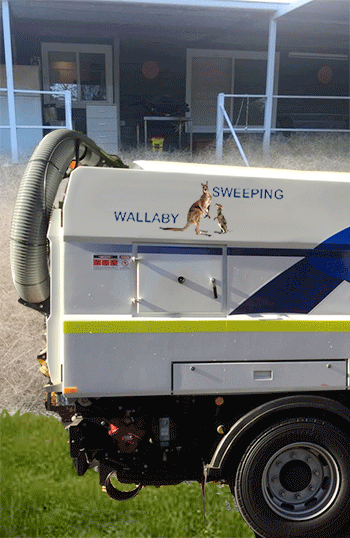 "My daughter and I literally had to push through the tumbleweed to find our rubbish bin. We had a wheelie bin under there somewhere. You couldn't just walk through the stuff and it moved away, you had to push through it." Ms. Gloury told news.com.au that after going public with her problem last week she heard from Carl Jameson, president of a nearby sweeping company, Wallaby Sweeping. Jameson told her he thought one of his street sweepers might be able to handle the situation.
"I told him I'd be willing to try anything someone might suggest," said Gloury. "By the time he called, the tumbleweed had completely taken over. I couldn't use the front door; instead, I had to use a remote-controlled garage door opener just to get inside my house."
"To be honest," said Jameson, "I really didn't know if our air sweeper would be able to take care of the problem or not; for one, because they're made to sweep on pavement."
Skepticism aside, the next day one of Wallaby's top sweeper operators, Kevin Carstens, drove to the Gloury home and set to work. "At first the sweeping head just plowed through the stuff," said Carstens. "It wasn't until I had the idea of raising the front of the pickup head as high as possible that the machine began picking up the tumbleweeds. Once I got the head set correctly, the sweeper did a superb job of cleaning right down to the grass."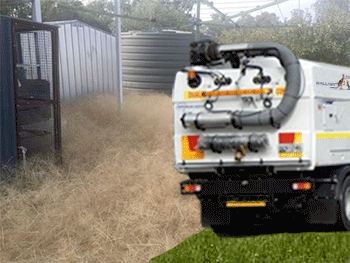 As you can see in the photo animation, showing Ms. Gloury's property before and during the sweeper getting to work cleaning up the tumbleweeds, the sweeper got every bit of it off the lawn. Carstens said that while he concentrated on the yard he had Ms. Gloury use the blower he brought along to blow the tumbleweeds from the porch so he could get to it with the sweeper. Carstens said he couldn't go very far without having to dump the debris containment hopper, though since the debris wasn't toxic he could just go into a nearby field and empty the tumbleweeds out.
Ms. Gloury said she was ecstatic to get the tumbleweed out of the yard and grateful to the company for coming to her rescue, which they did without charging her. "They did tell me that if they had to come back, though, they'd have to bill me their normal hourly charge. I'm sure hoping it all blows away before then."
To see additional photos of the sweeper in action picking up the "hairy panic," and for a link to the original article at the Queensland Times, click here. If you have comments or further information on this topic, please let us know.