Street, Industrial, Airport and Parking Lot Sweeper Manufacturer
TYMCO revolutionized street sweeping in the 1960s with the invention of the Regenerative Air System which is the sweeping technology behind every TYMCO Sweeper. Today, TYMCO offers an entire product lineup designed for multiple applications and industries, all based on Regenerative Air.
Street Sweeping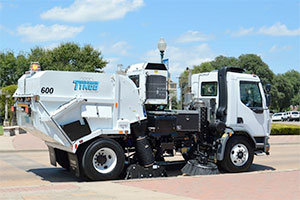 TYMCO builds street sweepers to keep your entire city looking its best. From all of the inner city streets and arterial roadways connecting city centers, to freeways and tollways, TYMCO builds a street sweeper to keep your city clean. Our TYMCO 600 is probably the most recognizable air sweeper in the U.S. marketplace.
Providing routine street sweeping with TYMCO Regenerative Air Sweepers allow you to not only remove larger debris such as leaves, trash, gravel and rocks, but also will remove fine dirt and sand as well as ultrafine particulates out of all of the cracks and crevices throughout the imperfections in the paved surface. TYMCO offers 5 different street sweeper models, including waterless sweepers for nearly dust-free sweeping.
Industrial Sweeping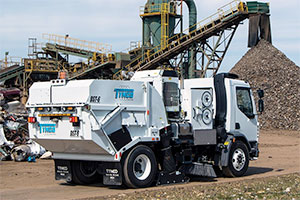 Whether your industrial debris is a light powder or a thick debris with heavy fines such as metals, a TYMCO will pick it up. There is no other sweeper system that compares to the TYMCO Regenerative Air System for removing packed-on heavy debris, while doing what no mechanical broom sweeper can do – pick up the fine particulates such as micron-size dust and ultrafine sand from pavement cracks and crevices.
For more than 50 years, TYMCO Regenerative Air Sweepers have been used to help industries where fugitive dust and contaminated material must be picked up, contained or eliminated.
High Speed Airport Runway Sweeping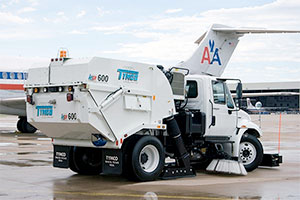 From private airports and heliports to the busiest international airports, it is very important for the airport runways, ramps, aprons and taxiways to remain clean and clear of any debris that could potentially be classified as Foreign Object Debris (FOD).
Considering the high cost of damage that can be done by FOD that might not be any bigger than a piece of safety wire, not to mention any potential injuries from FOD, airport administration should seriously consider implementing routine sweeping as a Best Management Practice (BMP) to reduce FOD at their airfields. TYMCO offers four different airport-oriented models that maximize FOD removal, maximize the stormwater runoff pollution abatement and can even participate in glycol recovery!
Parking Lot Sweeping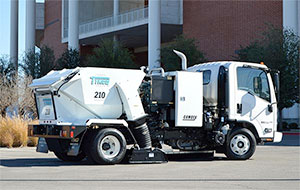 Whether you own your sweeping business, maintain property for a real estate developer or manage large facilities for a sports complex or university, you know that parking lots and areas are a big part of your job. You have a responsibility to keep your parking lot clean and looking great. No matter what, there will always be trash that ends up in a parking area as well as leaves, sand, dirt, gravel and rocks depending on the landscape around the parking area as well as the conditions of the local terrain. Whatever the debris or however big the parking area, TYMCO builds a sweeper to keep your property looking its best. Sweeping with a TYMCO Regenerative Air Sweeper will also remove all of the fine dust particulates out of the cracks and crevices, making them an outstanding BMP for stormwater runoff pollution abatement.
Alternative Fuel Street Sweepers
With the ever-growing need to address environmental concerns and to meet Federal, State and Municipal air quality requirements, there has been an increasing demand for fleets to add more low emission alternative-fuel vehicles (AFVs).
TYMCO began manufacturing alternative fuel sweepers in 1984 that were powered by Liquefied Petroleum Gas (LPG / Propane). In 1992, TYMCO began offering Compressed Natural Gas (CNG) powered sweepers. This experience, coupled with our well-known reputation for reliability and productivity make TYMCO alternative fuel sweepers the smart choice.
Find Out Why TYMCO Sweepers Are a Smart Choice
Use the link shown or click here to visit our website at www.TYMCO.com. You'll find links to a wide variety of information about our sweepers and why they are the leaders in the air sweeper marketplace. Or, call us toll-free at 800-258-9626.