Trombia sweepers are PM2.5/PM10 certified in Europe to the highest, 4-star, rating within the most advanced self-propelled vacuum sweeper category. The Trombia sweeper offers a true water-free environmental alternative to the marketplace.
European sweeper manufacturer Snowek Ltd., based in Finland, launched its North American expansion officially at the National Pavement Expo 2019. At the Nashville show the company presented its flagship innovation, the waterless Trombia sweeper attachment, a machine that makes it possible for municipalities and contractors to use available front end loaders for full-scale city and industrial sweeping of dust and debris.

Trombia sweeper attachments have been developed to exploit the use of front end loaders in year-round street and area maintenance – to assist the public and private sector in sweeping and collecting the finest dust particles while, at the same time, optimizing their loader fleets' idle time. Trombia sweeper attachments have been designed to be completely filter-free by using a globally patented technology combining its Airknife dust cleaning, mechanical sweeping, vacuum and cyclone separation.
Inside Trombia's sweeping chamber the sweeping process is fully waterless, which enables contractors to clean and sweep with higher accuracy and perfection in the sweeping result. For pavement contractors, Trombia delivers a one-pass solution by leaving a dry surface that is ready to pave. The Trombia sweeper also matches well with the new OSHA regulations on worksite silica dust control now in place.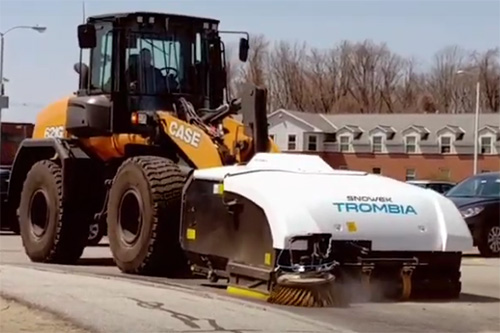 Time is also saved since there is no need to perform water refills and, because a Trombia connects to most front-end loader models, the machine optimizes users' current machinery fleets while it increases the year-round efficiency of the operators. Investment costs for Trombia sweeper attachments are in the range of $50,000 – $60,000, which is much less than the investment of purchasing and operating self-propelled purpose-built or chassis-mounted sweepers.
Trombia products are now available through regional dealerships with Monroe Tractor & Implement, Inc. in the states of New York, Massachusetts, Connecticut and Rhode Island and with Beauregard Equipment, Inc. in New Hampshire, Vermont and Maine.
Complete information, including video footage of the Trombia in action, is available at the company's website, www.trombiaglobal.com You can reach Antti Nikkanen, Managing Director of Trombia Sweepers, by calling 718-690-9287 or via email sent to: antti.nikkanen@trombiaglobal.com.