For the best in effective — and cost-effective — parking area sweeping, look no further than the Twister Alley F1 by Well Made Manufacturing!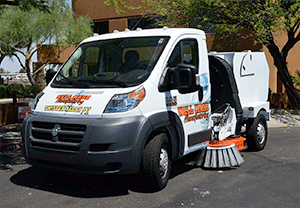 Our custom built sweeper is made with both the technician and business owner in mind. It provides the safest and the highest quality performance all while saving you time and money. The Twister Alley F1™ stands apart from other industry sweeper trucks with its huge capabilities, for the right price.
American Built to Last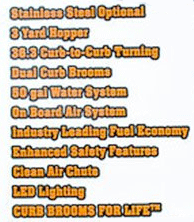 Each Twister Alley F1™ comes standard with industrial grade powder coating; a 3 cubic yard hopper; and, interchangeable non-clogging screens. Mounting is on a new Dodge Ram Promaster cab and chassis that provides outstanding fuel efficiency.
You will experience industry-leading 30" inside turning radius with great agility and maneuverability. The Twister Alley F1 sweeper allows you to sweep the toughest of lots, garages and properties. Standard LED lighting provides better visibility while an automatic sweeper head that lifts in reverse will provide a safer experience.
When you check out our feature list — including our exclusive 'Curb Brooms For Life' program — you will see why Well Made's Twister Alley F1 has become one of the most talked about sweeper models in recent times.
You can also learn more about the history of Well Made by checking out the WorldSweeper article entitled 'Well Made Manufacturing: Making a New Kind of Parking Area Sweeper.'
For more information, call (602) 323-2655 to get the answers to any questions you may have. You will also find a host of information on our website, www.wellmademfg.com.