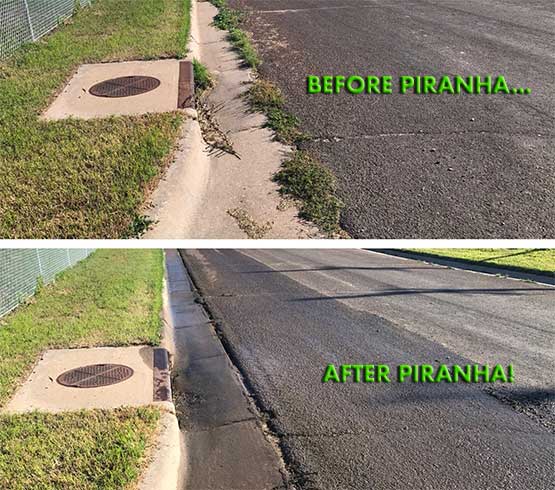 Take a bite out of the expense of curb/gutter broom replacement with the patent-pending Piranha broom extension.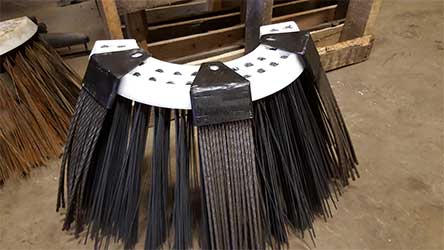 As shown to the right, Piranha segments bolt between any regular gutter broom and your sweeper's curb broom drive plate, extending the service life of your broom up to 200 hours longer — while providing a much better job of cleaning. Over 60 cities and many contractors in the U.S. and Canada currently use the Piranha system and more satisfied customers are being added daily.
Developed by a sweeping contractor, Piranha add-on segments work great to extend bristle life, take a load off hydraulics and aggressively scrub caked-down material and eliminate weed-infested curblines.
Balais Nomad Sweeping Co. needed a weeding brush to respond to customer requests for weeding curbs. The available 'weed attack brushes,' which consisted of large steel cables, were too heavy and did not do a clean sweep. The company's owner, Christian Robertson, came up with the idea of utilizing a design constructed of small, cold-compressed and specially-formulated steel cables.

The secret to the design, says Robertson, is that the cables are small enough to get into the gap between the asphalt and the concrete curb. Piranha doesn't simply cut the weeds; rather, it attacks them at the roots. How well does the Piranha system work? To date, a whopping 98% of customers who have used Piranha have reordered!
Improve performance, extend broom life, put less stress on your sweeper = win/Win/WIN!
Compared to using a traditional cable-wrap broom, the lighter Piranha segments provide a heavy duty brush that puts less stress on sweeper hydraulic systems and gutter broom arm joints and bushings. Piranha segments are universal and will fit on all bolt-on type gutter brushes. Inventory space not needed to stock them for each sweeper type in a fleet. Many organizations are now using Piranha broom segments as an alternative to dumping dangerous chemicals, such as Glyphosate-based herbicides, into the environment.
Take a look at the many features/benefits of the Piranha system.
Piranha is a segmented attachment that is added to a regular bolt-on gutter broom. The Piranha is bolted between your regular gutter broom and the drive plate. A Piranha brush segment gets installed at every bolt that holds the gutter broom in place. Typically there are 6-to-10 segments per gutter broom depending on model of sweeper.
Piranha is light but very aggressive. Piranha only weighs +/- 2 lbs each. The low weight reduces stress on hydraulics and joints on sweepers. Warthog-type brush plates can weigh up to 80 lbs each.
Piranha is stiff and holds up the gutter broom, extending the gutter broom life up to 200 hours of sweeping. You will save on inventory costs and brush changes.
Piranha has small wires that fit into the crack between the asphalt and the concrete border and clears it out. The brush eliminates weeds and grass at the roots therefore delaying any regrowth.
Municipalities sweeping year round with the Piranhas are seeing that there isn't a weed season because they have cleaned up the edges all year and have essentially eliminated the conditions that promote weed growth.
Piranha makes your sweeper versatile and is able to deal with any situation it encounters on the spot. The sweepers can often clean up in one pass what historically would require several passes. This ability saves time and energy — which equals money saved.
Piranha is the obvious choice for anybody requiring a heavy duty, 'does-it-all brush.
Check out this article on Piranha here on the WorldSweeper website.
Here's the web address to see the article at the WorldSweeper.com website:
www.worldsweeper.com/ChooseEquipment/BalaisNomadPiranhaBrush9.16.html
Still not convinced? Take a look at this YouTube video from one of our American distributors:
https://www.youtube.com/shared?ci=Hu5ErxndiNQ
Wonder what your savings might be via using Piranha brushes?
We offer a pdf file that allows you to calculate the savings — based in the savings seen by others of our users — at this location: www.worldsweeper.com/ChooseEquipment/pdf/CalculatePiranhaSavings.pdf
Get all the details!
Our Piranha broom segments are proudly made in Canada to exacting specifications. To find out more and/or to order your first shipment of Piranha broom segments, visit our website at www.balaisnomad.com/en/; call us at 450-530-9873; or, send an email to info@balaisnomad.com.