Where We Make Sweeping — and Property Maintenance — a Breeze
At Swept Away our main focus is to make managing commercial property less stressful for the managers in the field. We do this by being a full service sweeping and maintenance company that offers power sweeping, porter services and general commercial property maintenance for shopping centers and building owners alike.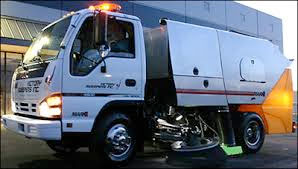 We Proudly Air Sweep:
Covered parking garages

Retail and commercial parking lots

Public spaces

Industrial parks & complexes

Residential properties

Hospitals

Schools

Gated communities
A regularly-scheduled sweeping program for your parking areas and entrances will not only present an attractive, clean appearance for your property — it will also prolong the life of your pavement and striping. At Swept Away we provide a professional, uniformed team, as well as the equipment best suited for your particular requirements.
Many Clients Also Choose Our Day Porter Services:
Swept Away's day porter services are important to our clients that have a high volume of customers. They choose to have one or more of our uniformed "day porter" staff handle the many daily cleaning tasks that are so important for maintaining the perfect curb appeal that quality establishments deserve — and that their customers appreciate.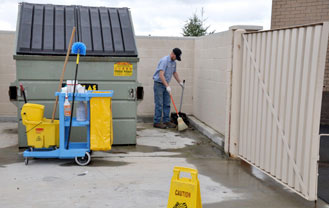 Our typical day porter services include:
Removing debris from sidewalks

Keeping exterior entrances clean

Keeping grassy areas trash-free

Cleaning trash cans

Changing trash can liners

Window cleaning

Cleaning window sills

Hand-picking parking lot litter

Cobweb removal

Cleaning exterior glass entry doors
Additionally, our service personnel are trained to recognize problems, such as pavement damage, abandoned spaces, bird nestings, furniture or appliance abandonment, missing or damaged signs, parking bumper stops, exposed wiring, lighting problems and any other issues that may cause a safety
concern at your location. When such items are found, chances are that other divisions of Swept Away can fix them for you, cost-effectively and quickly.

In Addition to Sweeping, the Swept Away Team Provides:
Asphalt paving, sealing, resurfacing and repairs

Line striping

Pavement seal coating

Concrete curb and sidewalk repair and installation

Pressure cleaning

Bulk trash removal

Magnetic sweeping

Janitorial services
Let us know how we might be of service to you, in keeping your property looking its best. Our services are flexible and can be tailored to work within your budget and scheduling. You will find that our courteous and professional service team will be there to assist you whatever your needs or concerns might be, whenever you need the services performed.
So, whether it is for an emergency, on-the-spot request or an ongoing scheduled maintenance, you can count on the professionals at Swept Away Property Maintenance Inc. to get your job done right.
Give us a call today, toll free, at 1-800-283-6855 to get all the details and to arrange for a free personal evaluation of your needs. You may also see many more details at our website, www.SweptAwayFL.com.