Sunstate is one of the largest sweeping companies in Arizona, with offices in Tucson and Phoenix.
In addition to our World Sweeping Association membership, we are also members of the North American Power Sweeping Association. Our employee and management teams pride themselves on the professional quality of results-oriented work product we provide. That's the reason why Sunstate is the sweeping company of choice for many of the most exclusive homeowner associations in Arizona, as well as a widespread provider of services to all other types of business entities.
Sunstate Serves All of the Following... and More!
Homeowner Associations
Private Streets & Master Associations
Apartment Communities
Industrial Complexes
Retail Properties
Office Properties
Hotels & Resorts
Public Highways
Construction Sites
The Right Sweeper for the Job – Every Time
The pavement sweepers used at Sunstate span the entire spectrum of needs. Our equipment includes small air sweepers designed for parking area cleanup, and extends up to some of the largest air and mechanical broom sweepers in existence. From light-duty parking areas to the most heavy-duty road sweeping and construction cleanup needs, we have the machines and trained personnel to handle the job.
The Sunstate Team is Diverse and Competent
In excess of 60 professional Sunstate team members are currently trained and on the job providing services to nearly 2500 separate accounts. We appreciate the confidence placed in us by our clients, and work continually to find ways to update and improve the level of service we can provide.
Always Professional
Sunstate provides a comprehensive job proposal prior to sweeping based upon your specific needs. Our uniformed sweeping teams utilize the industry's finest air and broom sweepers. This includes Victory Sweepers' new advanced parking area sweeper technology that assures extremely quiet, efficient property maintenance.
Always Dependable
Sunstate takes pride in dependable service for each of our customers. Our radio-dispatched trucks and operators are fully bonded and insured. From the front office staff and our professional field teams to the best designed and maintained Schwarze equipment, you can depend on Sunstate to be there when you need us.
Always Thorough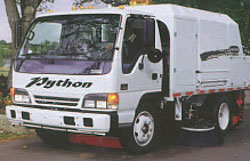 Sunstate uses only the most advanced air sweepers that are capable of picking up any loose material from the pavement. By removing even the small particles in pavement cracks, the chance of slip-and-fall accidents is decreased considerably. Our sweepers feature rotating gutter brooms that will clean your curbline for greater curb appeal. Backpack blowers are used prior to sweeping for hard-to-reach areas such as corners, gated areas and covered parking.
Truly Economical
A regularly scheduled Sunstate maintenance program can actually prolong the life of your pavement and paint striping, thereby delaying costly resurfacing expenses. Sand, rock and debris act as an abrasive. Removing this material on a regular basis assists in preventing potholes, cracking and adding service life to pavement striping.
In addition to complete parking area sweeping, Sunstate Sweeping also performs street and construction sweeping on a large scale. Just give us a call or visit our website using the link shown to the right for more information.
We look forward to serving your power sweeping needs!