Sweeping: From Indoor to Streets and Construction -- Lisbon Maintenance Does the Job Right!
For over 15 years, Lisbon Property Maintenance has been doing all types of sweeping, from indoor sweeping and scrubbing to road and construction sweeping -- and any types of parking lots in between!
When you need any of the services we offer just give us a call for a free professional assessment of your situation and proposal for services.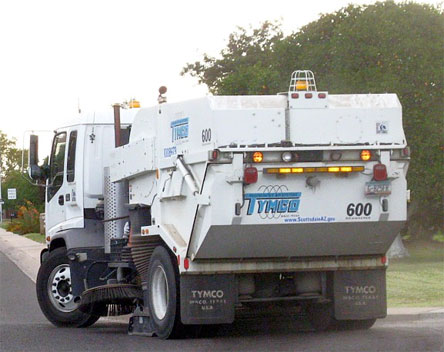 Our fleet of four TYMCO 600s allows us to provide the utmost in quality and value for street and construction sweeping. Because of the size of our fleet, this also means we can provide a backup sweeper in the event of project expansion or breakdown.
Our current fleet of four parking area sweepers are top-of-the-line, twin-engine units designed to provide maximum pickup of the sand and grit that creates wear problems on pavement striping, sealcoating, and all interior floor surfaces.
We are proud to be Founding Members of World Sweeping Association, as well as of its 'Ethics in Power Sweeping' initiative You will find that all Lisbon employees are well-groomed, trained and professional in all they do for you. You can count on our family-owned company to provide the quality level of service that will keep your property looking sharp!
In addition to power sweeping, Lisbon's trained professionals perform a wide variety of other services, including:
• pavement striping and sealcoating
• sign installation/repair/removal
• pressure washing and graffiti removal
• bumper block installation/repair
• in-place foaming of tanks to meet regs.
Located in Garland, NC, we are a listed U.S. government supplier. Our services with NCDOT includes bridge cleaning, drain cleaning, rest stop cleanup, removal of rocks from paving. We also remove highway paint millings for re-striping jobs. We foam underground storage tanks in place, using EPA-approved methods and products, so they never have to be dug up. This has been a great cost-saver for many clients.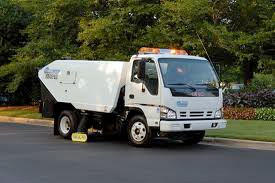 Whether yours is a mall that needs swept or to have other exterior maintenance services performed, a municipality that needs street sweeping, or are in need of most any type of exterior property and/or pavement maintenance, Lisbon Maintenance Company has the trained personnel and experience to do the job right, the first time and every time.
We offer services in an approximate 70-mile radius from our Garland, NC, office. Give us a call if we might be of assistance!