Custom Maintenance Services (CMS) does all types of sweeping, as well as provides a wide variety of other maintenance services, even including laying asphalt.
We are one of fewer than 50 sweeping contractors in America to have gained Certified Sweeper Certification through the North American Power Sweeping Association. Our fleet allows us to provide you with the right equipment -- operated by an experienced employee -- for virtually any sweeping job you might have. This includes roadway and construction sweeping, as well as all types of industrial and parking area sweeping.
CMS has the expertise and sweeper fleet to handle all of your parking area sweeping needs. We know very well the type of cleaning desired by property managers. And, we know they want to work with a company that is equipped to handle any type of other maintenance need on their property. For that reason, we have many clients who are remote managers.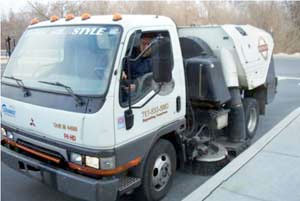 In addition to thoroughly sweeping their parking area, some of the many routine services we perform nightly for customers include:
Handpicking landscaping
Changing out trashcan liners
Checking for dropped-off items
Cleaning loadout and dumpster areas
Sweeping entrance and egress areas
Backpack blowing out corners and crevices
Checking for graffiti or other things amiss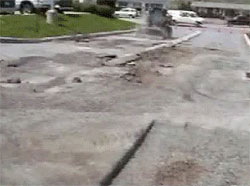 In addition to power sweeping, CMS offers a full spectrum of pavement services, from pothole patching to complete pavement removal and repaving. We provide regular assessments to many of our sweeping clients as a part of their service with us. Our pavement services include:
Pothole patching
Small and large area repair
Pavement removal and re-paving
Sealcoating
Striping to ADA standards
Installation of parking bumpers and speed bumps
Other custom repairs and services by request
In addition to power sweeping and pavement- and landscape-related services, we perform all of the following for our many customers on a routine basis:
Gutter cleaning
Tree trimming
Storm cleanup
Small construction projects
Banner and decoration installation/removal
Pavement patching, repair or replacement
Large object removal
Lights and bulb replacement
Broken window replacement
Graffiti removal
Vandalism repair
Minor building repairs
Lock changes
Cleaning vacant stores
Sign repair and changeout
We look forward to assisting you in providing the best possible exterior to your prospects and clients. Call 717.776.4708 to get complete details.