Clean Sweep Nebraska
Clean Sweep offers a full range of services for any type of commercial property.
General Sweeping Services
We have a fleet of broom sweepers as well as vacuum sweepers that can clean just about any type of debris whether it is sand, dirt, rocks, leaves or trash. Each of our broom sweepers has a water spray system to help control dust while sweeping.
Pavement Marking
Professional line striping equipment and techniques are used on every job to deliver excellent performing markings. We apply commercial grade traffic paints that perform well and look outstanding.
Parking Lots
Warehouses
Garages
Driveways
New Layout
ReStriping
ADA Markings
Traffic Calming
Custom Designs
Reflective Markings
Lettering & Numbering
Power washing
Hot water high-pressure cleaning is a low-cost, highly effective system for enhancing the appearance, safety and value of your properties. When your clients and potential clients decide on using your services or those of your competitors, presentation will be a factor in that decision. Keeping your building exterior, paving, and walkways clean improves your presentation, reduces your risk of injury to people and property, and minimizes the attraction of pests and rodents. Also, cleaning heavy machinery, mobile or on-site, makes it look good, perform well and retain its high value.
Protect your investments and make your business more attractive to your customers. Remove dirt, algae, mildew, oxidization, grease, oil, graffiti, gum, tar, paint, sticky spills, soda, and cigarette stains from building exteriors (brick, concrete, metal, stucco, vinyl, wood, marble, limestone, tile, stone, metal, granite, terrazzo), outside access areas, and heavy equipment.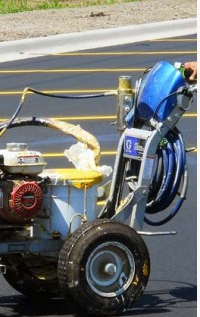 Additional Services:
Spring Clean up

Parking lot Maintenance

Sand & Gravel Removal

Striping/Pavement marking/GLASS BEAD APPLICATION

Hot Pressure Power Washing

Lawn Maintenance

Construction site Clean up

Apartment and Condo Complex clean up

Shopping Centers / Night sweep

Porter Services

Sign Replacement

Hydrant Power Flushing

Graffiti Removal

SIDS/ Townships
10% Discount for multiple services
Established in 1983, family owned and operated.