C & J Sweeping offers full-service sweeping and a host of pavement-related maintenance services.
In addition to all types of parking area and construction sweeping, we provide an extensive array of exterior and pavemente maintenance services. No matter what exterior or pavement-related service you need done, one call to C & J will handle it for you!
Check out our award-winning, Certified level of services.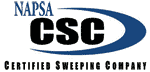 We're Michigan's first sweeping contractor to be nationally-certified by the North American Power Sweeping Association. We're also a Founding Member of WorldSweeper.com's Ethics Program.
This assures you will receive the very best results, from trained personnel, when you specify C&J Sweeping to handle your sweeping and exterior maintenance needs.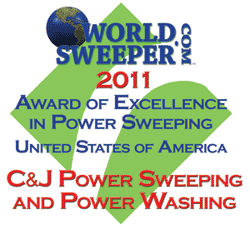 WorldSweeper.com is the power sweeping industry's largest, most professional provider of power sweeping information. We are very proud that C & J Sweeping was WorldSweeper.com's 2011 choice for it's annual Award of Excellence in Power Sweeping. This industry award - arguably the highest honor in the power sweeping industry - is bestowed on only one sweeping contractor each year.
C&J has sweeping programs for all types of business properties, including:
Shopping Centers,
Retail Malls,
Construction Sites,
Apartment Complexes,
Milling Cleanup,
Homeowners' Associations,
Streets and Highways,
and Your Sweeping Need!
In addition to power sweeping, our many services include:
Power Washing
Line Striping,
Graffiti Removal,
Pothole Repair,
Catchbasin Cleaning and Repair,
Drain Line Jetting,
and Much More!
Give us a call today to see how our professional service team can assist in keeping your property, construction site or other area looking its very best.