"We Sweep While You Sleep"
Advanced Sweeping and Steam Cleaning Company offers professional parking lot sweeping in Sacramento and surrounding cities. Our trash/litter removal services which will leave your parking lot clean and your customers feeling good about your business.
We provide service at any frequency and time of day or night that you request. Our equipment is presentable and well-maintained. The sweeper operators at Advanced Sweeping and Steam Cleaning Company are committed to your satisfaction.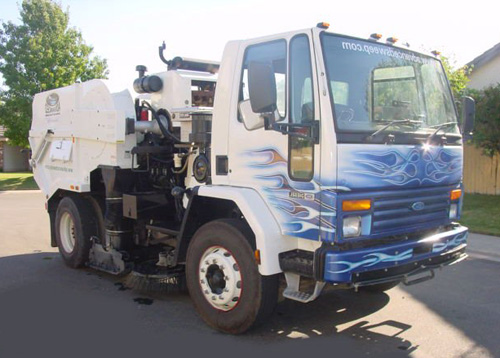 Why Should You Keep Your Parking Lot Clean?
Having a clean parking lot projects an image of success, and people prefer to patronize the successful. A parking lot cluttered with debris can take away from even the most beautiful landscaping.
Sand, dirt and other trash are abrasive. They will shorten the life of pavement, as well as the service time of any seal coating, striping, etc.
Sweeping your parking area on a regular basis can help to minimize pollutants in your storm water stream.
When your parking area is clean to begin with, shoppers are less likely to throw trash out of their cars when they come to shop.
ADVANCED SWEEPING AND STEAM CLEANING COMPANY
Dependable Service, Quality Work, Satisfaction Guarantee
Fully Insured, Bonded, Qualified, Competative and Competent Company
Superior Work Performance Standards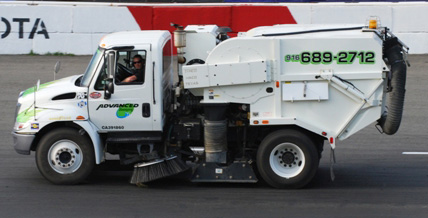 By offering a combination of services Advanced Sweeping and Steam Cleaning and the newest addition to our company, "Advanced Landscape Maintenance" has the ability to keep you with one vendor for your exterior maintenance needs including:
Day Porter Service

Hauling

Pressure Washing/Graffiti Removal

Construction Site Cleanup

Trash Removal

Landscape Maintenance

Race Track Cleanup
We pride ourselves as a company that is making a difference in Sacramento and the surrounding cities.
For more information, visit our website by clicking the link on the right. To make an appointment for an estimate, please call our office at 916-689-2712.