NAPSA: Mid-Year Update 2009
by Ranger Kidwell-Ross

On December 1st of last year, the North American Power Sweeping Association (NAPSA) became professionally managed by a New Jersey-based management company named Association Headquarters, Inc. (AH).
NAPSA Board members voted to make the switch because they felt this new strategic partnership would help NAPSA bring more benefits, education and support to its efforts, as well as to NAPSA members.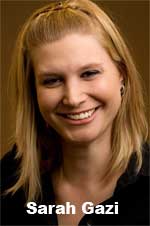 AH's services include association management, convention management, public relations, government relations, creative services, Web site services, industry standardization/certification programs and administrative support.
In late July of 2009, we contacted NAPSA's Executive Director, Sarah Gazi, for an audio update on the progress that NAPSA has made since then.
In addition to a new website address and content at www.powersweeping.org, the NAPSA membership has reached 325 members. For the details, we invite you to listen to the approximately 9-minute interview with Ms. Gazi. She discusses the different parts of the new website, the restructuring of the NAPSA Board that took place early this year, and the work of NAPSA's committees.
---

Note: The following player links to the audio interview with Sarah Gazi conducted in July of 2009. The audio interview will play without downloading any files onto your computer. If you hear the interview at 'chipmunk speed,' you will need to download the latest version of Adobe's free Flash player.




---
Sarah Gazi may be reached via email sent to sarah@powersweeping.org. Kristi Baier is NAPSA's membership coordinator. Here email is: kristi@powersweeping.org. You may also reach either at the NAPSA office by calling 856-380-6845.
NAPSA's new general contact information is as follows:
Address: 15000 Commerce Parkway, Suite C, Mount Laurel, NJ, 08054
Phone: 856-380-6845
Fax: 856-439-0525
Email: info@powersweeping.org
If you have questions or comments about this interview, please, let us know and we can add it in as an addendum to this article.