Trailing 12-Month Charts Offer More Productivity, Better Forecasting, Greater Profits
By Ranger Kidwell-Ross, editor of World Sweeper magazine.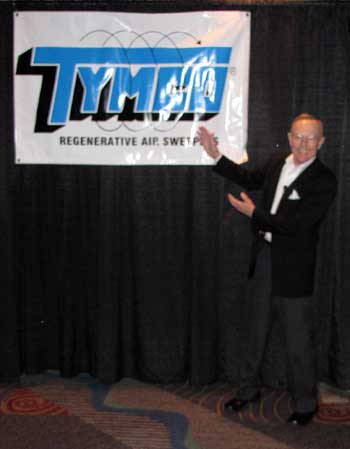 Kraig Kramers' no-nonsese techniques for improving business operations and forecasting were acclaimed by all of his seminar attendees at National Pavement Expo 2010. Many thanks to the TYMCO Sweeper Company for sponsoring this seminar.
Kramers, who has been the CEO of 8 different companies, offered a wealth of information applicable to anyone who runs a business. During his presentation, the dynamic Kramers offered a number of proven techniques for improving business forecasting, sales and management. These were taken from what he calls his "CEO Tools."
Although Kramers provided a comprehensive handout to seminar attendees, the good news is most of the materials are available at Kramer's website, www.CEOTools.com.
---
Effective charting and forecasting techniques are crucial creating a 'blueprint' of how your company is doing. Unfortunately, many managers simply do not have the capability of doing so. That's where the easy-to-use method offered by Kramers comes in.
Kramers basic point is that looking at a chart that shows current (monthly/weekly, etc.) rate of virtually any statistic about your business provides almost meaningless data. That's because there are probably seasonal factors at play in your business, so seeing changes from month-to-month, for example, probably shows significant fluctuations.
Another reason this type of comparison technique doesn't work is because the number of days in each month vary, as well as the number of actual work days. Plus, any such charts show only a snapshot of what's happening now, rather than offering a comparison of some type that will be meaningful and allow realistic decisionmaking and forecasting.
Kramers teaches what he calls "Trailing 12 Month (T12M) Charts." These utilize data from one or more (he suggests that, for many, using two prior years' data may be best) previous years to determine the change in data from one time period to the next. For example, seeing an Excel spreadsheet chart that shows profits as a percentage of costs for a 12-month period is not nearly as useful as seeing the change in profits as a percentage of costs for each of the 12 months as compared to each of the same months last year.
In the audio interview, Kramers discusses how to design and use these types of data-gathering charts in your business, and explains in detail why the information offers faster recognition of trends, both positive and negative, in your business operations. You will be best served if you review the explanation shown below, as well as the graphics that accompany it further down the page, prior to listening to Kramers audio explanation.
How to get started with basic Trailing 12-Months Charts:
The following is an example of charting 3 years of monthly SALES data on a T12M (Trailing Twelve Months) basis. The result is a chart with NO SEASONALITY and every point is comparable to every other point. Look at this chart monthly to see things you never saw before about your business!
It's a ROLLING ANNUAL TOTAL tracked monthly. T12M charts will clearly tell you whether you're doing good or bad. Ordinary monthly charts often mislead (outright lie) and show little other than seasonality (see charts below). T12M charts also show historical perspective, a true trendline.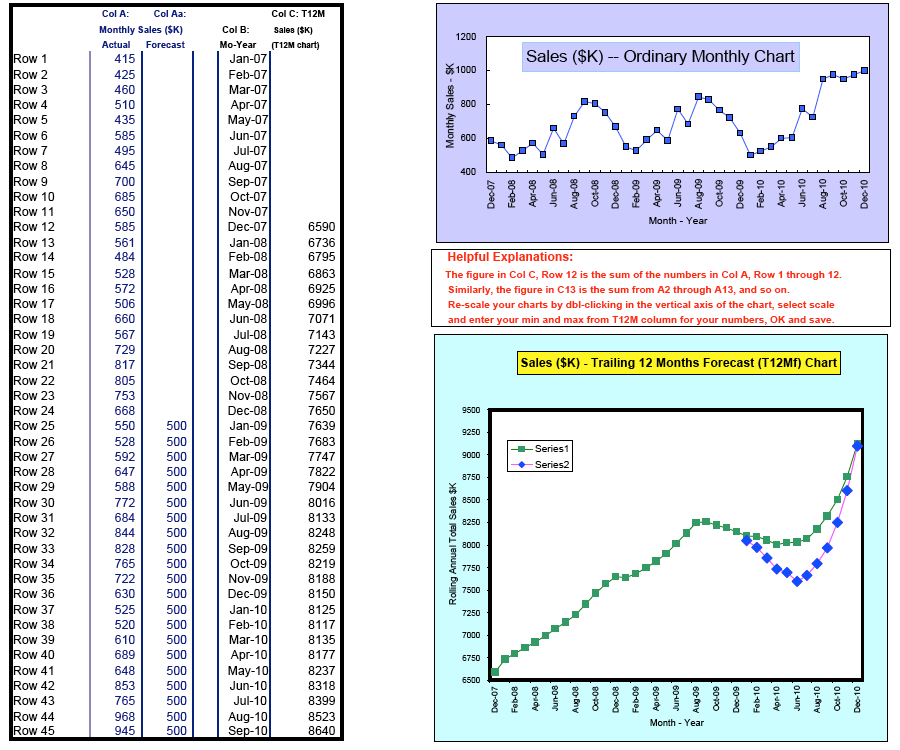 Here are the 'nuts and bolts' of using this system: Using a regular spreadsheet software package like Lotus or Excel, you enter the month/year in Column B (below) and monthly data in Column A as shown here. Then, enter a sum function in the spreadsheet in Column C, Row 12: =sum (A1...A12) and now copy it on down that column.
This is a 12-month sum that moves forward one month (and down one row) at a time. Then chart it on the same page using the spreadsheet's Chart Function. Better yet, enter your data in Column "A" in the next page down (shown in blue), re-scale the charts, and voila - instant T12M! Now do forecasting by entering forecasts in Column "Aa" on that same page below this one. You'll be tracking actuals against forecast and working to get back to goal.
Fortunately, Kramers offers for a modest fee on his website, CEOtools.com, Excel spreadsheet templates that make it easy to track a wide variety of company data. These are found in the 'CEO Tools Catalog' area of his website.
In the following 11-minute audio recorded during his NPE seminar, Kramers offers an overview on why this type of charting is much better than what most business managers know how to use.
Note: the audio will play without downloading any files onto your computer. If you hear the interview at 'chipmunk speed,' you will need to download the latest version of Adobe's free Flash player.
Note: To play the interview, click this link or on the small triangle inside the circle you see to the left. If you have any trouble accessing this audio, please let us know.
---



If you learned from this article, you will want to check out the other articles by Kramers we have at WorldSweeper.com:

You may reach Kraig Kramers via email sent to info@CEOTools.com.

This article was added to WorldSweeper.com in February, 2010.
---