Understanding Google Places
by Norm Denroche
Start of Part I

Social media is real and it's definitely gaining in importance. However, Google is still the center of online business activity.

Think you don't have a listing with Google? Think again! Google has independently catalogued most business entities in the United States. And, Google is now adding review features directly to your company's listing, like it or not.
There are more pieces to the marketing puzzle than ever before. The Internet is the largest and fastest growing by far, so focusing in that direction is an easy decision. The tougher part is in breaking down the many functions that make up Internet Marketing. Social Media is the hot topic of the day and for good reason. It's new, exciting and most businesses don't know where, when or how to get started. This also makes them easy prey for so-called experts that may make promises they can't keep; beware, and open your wallet with caution.
Social media is real and it's definitely gaining in importance. However, Google is still the center of online business activity. I recommend that your time and effort will be better served by getting your business listed on Google Places before doing anything else. After having a website, Google is the second most important piece of the Internet Marketing puzzle at this time. It is being utilized right now for finding and buying virtually every service or product imaginable, including yours.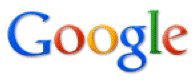 I'm calling Google "second" only because without a high quality website you won't be able to influence prospects to nearly the same degree as a company that has one. This article is being written with the assumption that you have already set up a high quality website for your company and now need local prospects to find it.
Marketing your business successfully on Google is an ongoing process. It's not overly difficult for the novice computer user, but it does require your time and attention on a regular basis. Google, like the Internet in general is steadily evolving and you have to put the time and effort in to keep up.
Right now Google Places is a free service and very worthy of the time investment required to be properly listed. There is no guarantee that it will remain free in the future. Many Internet services have been developed through free trials now have fees instituted once the masses moved in and popularity grew. Don't be caught by surprise if it happens with Google Places sometime in the future. The results that you receive from your free listing may be worth a modest monthly fee in the future. Getting started now while it's free will give you the ability to measure results. If or when any payment becomes required you will be able to make an informed decision.
You have probably noticed the map and business directory listings that show up on the first page of Google when searching. To keep everyone on the same page lets use this for an example. In the Google search bar enter: roofing contractor 08734 and you get the following results as of (12/31/2010). (Editor's Note: This article was originally written for general contractors. Except for this graphic, all information has been modified, if needed, to suit the power sweeping industry.)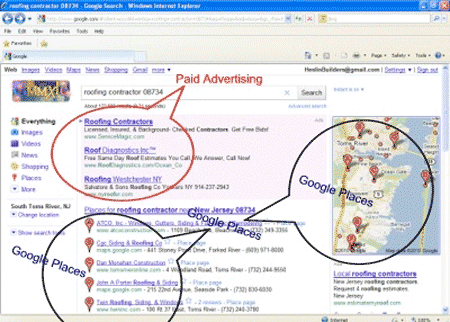 The top three results are paid advertising. This article isn't about that part of the page. Our focus is on the next section of listings with the title: Places for roofing contractors near New Jersey 08734
There are 7 listings on this part of the first page with their corresponding location shown on the Map. Our goal is to help you get your listing on to this part of the first page.
Like I said from the beginning, marketing your business is a process and not a one and done event. Getting your business on the first page of Google Places is dependent on several factors. Some you can control and some you can not. The ultimate key to success is a persistent effort of refinement and improvement. By following our guide and devoting time to your Marketing on a regular basis you can get there.
Variables out of your control:
Competition
If you live in a densely populated area there will be more competition for first page positions. The good new is that there are not a lot of businesses that will work with a great deal of persistence to get there.
Google Algorithms
From time-to-time, Google changes the factors it uses in determining and awarding top positions. Staying on the first page once you get there requires a constant effort.
Variables you can control:
Information Quality
You control what Google sees online when it searches for your business (more on this in step 3). The quality and consistency of the information that you make available is a big part of what we will be covering here.
Information Quantity
When ranking your website Google looks at all of the other locations that your company is listed for credibility. Once again, this is what we're addressing in this training session.
Get Started NOW
The old saying goes; The best time to plant a tree is 20 years ago. The next best time is right now. The same goes for the Marketing of your business.
Step One
Set up a Google email account specifically for all of your Internet Marketing functions. If you have an existing Google email account it will work fine, skip this step. From http://google.com click on the Gmail link on the top of the page. Then select the Create an Account box on the bottom right side. Complete the process and move to the next step.
Step Two
Be organized and keep all of your user names and passwords in a single location for easy access. A simple text file in a folder dedicated to your Marketing activity is important. Enter your Google email account user name and password as a starting point.
I'm working with Microsoft XP Pro operating system and the following directions should be helpful for beginners..
Organizing for beginners; select start on the bottom left of your computer screen, select my computer, select Local Disk C drive. With cursor in the C drive, right click and select new folder, name it MARKETING or something similar.
Now, go back to your start button, bottom right, click on Notepad, type in the name of your new Google email account and the password. In Notepad select file and save as and name it DETAILS and navigate to your new Marketing folder on your C drive and save the file. You will be adding information and using this file on a regular basis for all of your Internet Marketing details.
Step Three
Develop a consistent online business profile. One of the things that Google looks at when determining your eligibility for a listing is the consistency of any business listings you may have in other online location. This includes your website, business directories like Contractor Power, Yellow Pages and others. The key here is the consistency of your profile. Here's an example of problematic information.
ABC Sweeping Company
1512 West Wilson Drive
Lakehurst NJ, 08733
William Burger Owner
ABC Construction Co.
1512 W. Wilson Dr.
PO Box 469
Lakehurst NJ 08733
Contact Bill Burger
It is very important that you develop and maintain a consistent profile. The best way to do this is to type it out in your DETAILS file from Step Two. Give it some thought and develop the profile that you would like to use everywhere from this point forward. Each time you are required to submit a profile, refer to your DETAILS file and keep it consistent, it matters. Save your file and get ready for part 2 by doing the following.
Locate any and all of your online business listings. Use Google, Yahoo and Bing to find your company online. Don't assume that because you didn't list your business in a directory or search engine that it is or isn't there. Many online directories have been created using readily available business lists, other listings may have been submitted by your website creator or gathered by a spider. Once you locate your listings, update your information to match your newly created profile.
End of Part I; Start of Part II
Step Four: Pictures / Graphics / Photo / Prep
Each step of the Google Places set up process has value towards your eventual placement and this includes photos. You may enter up to 10 photos into your Google Places profile and I suggest that you fill all 10 positions. Your listing might be approved without them but, being listed on the first page is our goal. You can purchase a good quality digital camera (5 mega pixel or better) for less then $50.00 and every business owner should have one. Do not use photos taken with a cell phone, the quality will not reflect well on your company. This goes for Google Places, your website, and any place else on the Internet.
This is Google's Photo Policy... Photos must depict your business/organization or business product. The image must be specific to your listing - no default logos or images. For example, if you are a Home Builder, you cannot upload the logo for a specific window manufacture. You are, however, permitted to upload a logo of your specific business.
Have your 10 photographs ready to upload before moving to the next step. I suggest that you create a PHOTOS folder inside of your MARKETING folder which you created in Step Two. Keep the photos that you are using for Google and a company logo graphic if you have one in this folder. If you do not have a logo you should use a snap shot of your website (your web tech can help you with this either way).
Video Intro
Unless you already have a company video promotion ready to go, you should skip this entry for now and address it after your listing has been submitted to Google. Your listing can always be changed and upgraded at any time. You will always have full access to your Google Places profile.

Google owns YouTube.com and now includes video and YouTube Channel locations in their search results. As a result, you better believe video counts when handing out 1st page positions on Google Places.

Creating video is the most time-consuming piece of this process but it counts and must be included in order for us to help you reach your First Page goal. Make it a priority to follow and execute our Google Places training to completion. There are many online places you can check out your video options.
Some basic information direct from Google before we get started filling out the form.
How it works
Each business listing on Google is in fact a giant 'cluster' of information that we get from a few different places: Yellow Pages, for example, as well as other third-party providers. However, the basic information that you submit through Google Places is the information that we trust the most. This means that it will appear instead of any basic information that we get from anywhere else. To make sure the basic information you submit is accurate, we'll ask you to verify it first by entering a PIN that will be sent to either your business address or phone number.
Every business listing must have a mailing address. This is the physical address where mail can be sent to your business. If you work from home or you are a mobile-only business you can specify service areas and choose to hide your physical address later on!
There shouldn't be more than one business listing per physical location. Even if you're a doctor who is a cardiologist and a chiropractor or a service that covers multiple towns, you shouldn't have two listings. Instead, use the description of your business or categories to explain the different services your business offers.
Do not include phone numbers or URLs in the business name field, unless they are part of your business name.
Do not attempt to manipulate search results by adding extraneous keywords or a description of your business in the business name field.
Business Location: Use a precise, accurate address to describe your business location. (profile from Step Three / Part 1)
Do not create listings at locations where the business does not physically exist. P.O. Boxes are not considered accurate physical locations. Listings submitted with P.O. Box addresses will be removed.
Do not include information in address lines that does not pertain your business's physical location (e.g. URLs, keywords).
Website & Phone: Provide a phone number that connects to your individual business location as directly as possible, and provide one website that represents your individual business location.
Use a local phone number instead of a call center number whenever possible. Do not provide phone numbers or URLs that redirect or "refer" users to landing pages or phone numbers other than those of the actual business.
Categories: Provide at least one category from the suggestions provided in the form as you type. Aim for categories that are specific, but brief. Categories should say what your business is (e.g. Hospital), not on what it does (e.g. Vaccinations). Only one category is permitted per entry field. Do not "stuff" entry fields with multiple categories.
OK let's submit your business profile!
Step Five
Start at the Google home page http://google.com. From the bottom of the screen select Business Solutions. Next page select Google Places (middle of page left side).

On this page you will have to sign in or your tracking cookie may have already done it for you. If not, sign in with your new Google email account details (from Step One / Part 1). That should bring you to this page: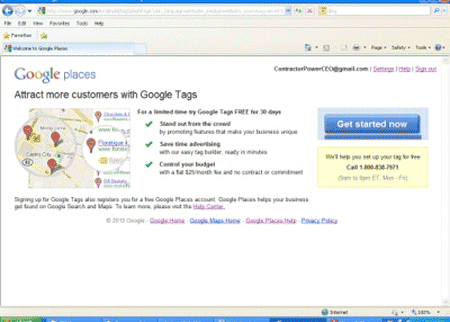 Click the blue 'Get Started Now' button
You should now be here: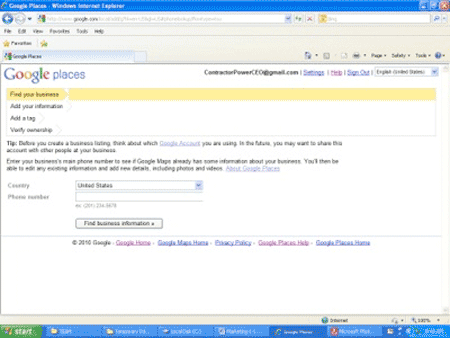 Business phone number check: Your company may already be listed with Google places. There is also a slim chance that your web development company has provided this service for you. By entering your business telephone number where indicated your company listing will appear, if there is a current listing. Most likely there is no listing and you will be starting from scratch on this page: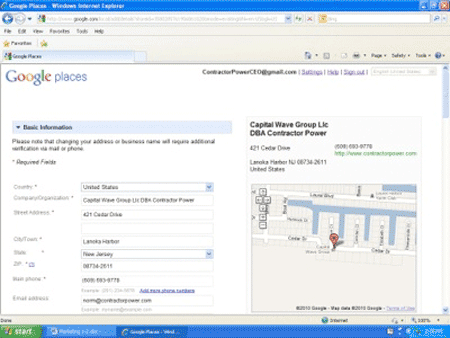 If you do have an existing listing you will be on the same page, but some of these fields may be already populated.
Review any pre-entered data and correct as needed.
Enter all or the balance of your company information
Make sure that you use your standardized business profile that you created in Step Three.
Include multiple categories if your company provides more then a single service. You can enter up to five categories and should maximize the opportunity.
Follow through and complete each category / questions. Each of the fields is an important factor in your eventual listing. Make sure each one with the exception of possibly the video is complete.
Basic Information & Standardized Business Profile
Service Area and Location Settings -
Hours of Operation
Payment Options
Photos & See Step Four
Video & See Step Four
Additional Details
Ok, once everything is complete click the continue button on the bottom of the screen. I'm not sure if Google has a bug in the process or if they are really trying to make it difficult to receive a free listing. The last time I submitted a profile for a client I got stuck on the TAGS page. To finally get to the verification process I had to close the screen out and log back in. If you run into the same problem, log back in starting at Google.com.
At the end of the sign-up, you will be asked to verify your submission by phone or postcard.
Use the phone verification process, it's automated and the call will come instantly. The phone message will be "thank you for using our phone verification system, your pin is 12345." Enter this number immediately into your Google Places submission form and submit it.
That's it; nice work! See, that was (sort of...) easy, right?!
End of Part II; Start of Part III
Google is the center of online business activity. Your company could be and should be listed on the first page of any search for your particular services. Right now there is an opportunity to grow your business with a FREE first page Google Places listing in your local service area. This article / training is designed to assist you in gaining that FREE first page advertising. (If you have not yet read and followed the procedures in (parts 1 and 2) you will want to do that before continuing with Part 3.)
Step Six
Video

To understand the importance and relevance placed on the use of video in the Marketing of a business you have to look no further then the Google purchase of YouTube.

Original Headline: Google Acquires YouTube for $1.65 Billion in Stock
"MOUNTAIN VIEW, Calif., October 9, 2006 – Google Inc. (NASDAQ: GOOG) announced that it has agreed to acquire YouTube, the consumer media company for people to watch and share original videos through a Web experience, for $1.65 billion in a stock-for-stock transaction." Yep, $1.65 billion for a company that had no revenue at the time, but millions of daily users.
Video Creation Options
Video Camera
Digital video recorded directly on to a video camera hard drive or flash drive. The cost of a good quality video camera starts at $200. I recommend a 30x Optical Zoom as a minimum requirement. Most cameras now come with some form of editing software that will allow you to edit your video and splice together a 2 – 5 minute presentation. This time frame is long enough to highlight a job / product / service and short enough to keep your viewing prospect interested. Longer presentations should be broken into multiple videos.
PowerPoint to Flash
Creating a presentation in MicroSoft PowerPoint and then converting the PPT file to a flash format is a great alternative to shooting video. The requirements are digital photographs, 5 mega pixel or better, a copy of Power Point Office software installed on your computer and a video file conversion software. My personal favorite is: Leawo PowerPoint to FLV. http://www.leawo.com/powerpoint-flv-converter/
YouTube
Getting started and using YouTube is relatively simple. If you have created or paid to have a video produced you have already completed the hardest portion of this process.
Let's go to YouTube.com and get started. (Link opens in a new window.)
Click "Create Account" at the top right. Fill out the information with your standard marketing profile details from Part 1 of this series. When selecting a user name you want to make it your business name or at least specific to your business identity. It's a name you will have to live with so chose carefully, create your account.
Starting from within your account window select the drop down menu top right under your user name. Now select "My Channel" and click; this is where your video will be uploaded. Select upload from your top navigation bar and then Upload Video button. Locate your video on your hard drive and upload it.
Direct from YouTube: As the video file is uploading, enter as much information about your video as possible in the relevant fields (including Title, Description, Tags, and Category). You're not required by YouTube to provide specific information but, the more you include the easier it is for users to find your video. Since being found is what we're trying to accomplish this is extremely important.
Copy and paste the URL and Embed code into your Marketing Information File that you created in Google Places – Part 1. You will be using this information to complete your Google Places profile and also to display your video directly on your website.
Sharing Options Example
URL: http://www.youtube.com/watch?v=4Rcdfrees
Embed:
Click: Save Changes
Step Seven
Now it's time to complete your Google Places Listing. Start at the Google home page: http://google.com. From the bottom on the screen select Business Solutions. Next page select Google Places (middle of page left side). Log in when required and you will arrive at your profile page. Click edit and scroll down to video. Now copy and past the URL that you just received from YouTube for your video.
Something like this URL: http://www.youtube.com/watch?v=4xxxxxccdsxx
Scroll to the bottom of the page and enter the video link in the appropriate box and submit. You will now be asked to verify your listing. You can select phone or mail by post card. I suggest phone verify, it happens the moment you push submit button so be ready for the phone call. The call will be made to the primary phone number used in your profile. The recorded message will give you a pin number to enter into your listing verification. Complete this process immediately and your initial Google Places submission is complete.
Step Eight
Monitor your submission weekly. Your submission should now be either marked as pending if you verified by phone or waiting verification if you selected the post card process. Each week you should login in and monitor the process / status of your Google Places listing.
If your initial submission is rejected, make corrections as required and resubmit. Patience and persistence are required during this process. Getting your business listed on the first page of a Google search could mean the difference between growth and stagnation in a slow economy.
FYI:
YouTube Channel created by Contractor Power for Global Demolition
http://www.youtube.com/globaldemolition
* YouTube Video embedded on website:
http://www.globaldemolition.com/news/3.htm target="_blank"
The author of this information is Norm Denroche, President of Contractor Power. For more info on him and the company he represents, visit http://www.contractorpower.com. You may also reach Norm via email sent to: norm@contractorpower.com.
You should know about the author... His company, Contractor Power, produces flash video from $199.00. The organization also offers a variety of other turnkey marketing options. To learn more, check out the company's website.
If you have any questions or comments about this article, please let us know.