Basic Website Site Finding and Search Engine Optimization Techniques
by Ranger Kidwell-Ross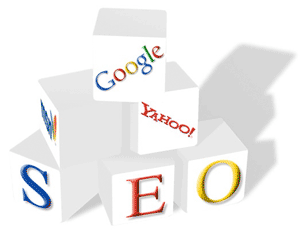 I actually thought I might have been 'late to the party' back in the mid-'90s when I designed, for Schwarze Industries, Inc., what I believe was the first-ever sweeping industry website. After all, by then there were a whopping 100,000 websites already on the Internet. In the summer of 2008, little more than 10 years later, Google announced the number of websites it catalogues had reached a trillion: 1,000,000,000,000.
Since then, I've written and designed dozens of websites, mostly for sweeping contractors and municipal equipment dealers, as well as a few friends. Plus managing the 4,000+ files that make up the website here at WorldSweeper.com.
Along the way, I've done my best to keep up with emerging ways to promote companies on the web, along with the new social media sites (which we won't cover here). As time goes on, all of these continue to become more important for local sweeping contractors, and others, to maintain a competitive business image.
In this article are some basic Search Engine Optimization (SEO; think "promotion") tips that anyone with a website should be employing. If you're having your website professionally done, they should already know and be implementing all of them on your behalf. If they aren't, my recommendation is that you go elsewhere.
First off, a few of you hold-outs probably still don't believe that your prospective customers might actually use the Internet to find sweeping contractors. How's this for a statistic:
---
According to leading digital world measurement company, comScore.com, "in April 2010, Americans conducted 15.5 billion core searches, with Google Sites leading the market with 64.4 percent share of core searches conducted."
---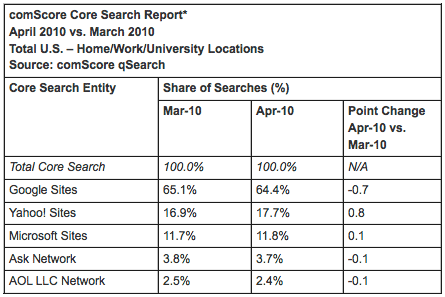 Core searches are the ones conducted through the 'Big Five' search engines and their partner networks. These account for over 95% of all searches. The chart to the right shows the current distribution of these searches, according to comScore.
Let's assume you already have a website. If you don't, the above information should be enough to definitely spur you to having one made, by the WorldSweeper.com Team or someone else.
Of course, everyone wants their business to come up first in any search engine lookup. When it comes to search, Google is the '500lb gorilla' of the Internet with, as of early 2010, a 65.4% share of the total search market. Yahoo.com is second with 17%, and Microsoft's new Bing search engine gaining market share at 11.3%. That leaves all other search engines with a paltry 6.3% among all of the rest, and Ask.com and AOL have most of that.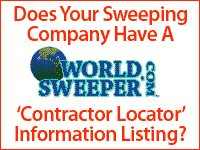 One thing this information means is there's little need to broadcast your website information out to 'thousands of search engines' as Internet ads for SEO encourage. Better is to make sure your website is known to the big five of Google, Yahoo, MSN's Bing, Ask Network and AOL.
Submitting Your Site to The Big Five Search Engines
Here are the links you use to submit your website to 'The Big Five:'
Microsoft's Bing Search Engine Submission
Google Search Engine Submission
Yahoo Search Engine Submission (do the free, not the $$ expedited)
The Open Directory Project handles website submissions for AOL. To find the category that best to suits your particular sweeping business, depending upon what it is you do, I suggest this link as a good starting point:
http://www.dmoz.org/Business/Construction_and_Maintenance/Maintenance/
Most sweeping contractors should go there first and then pick their category.
Website submission to Ask.com is based upon the site's 'spiders' finding a link to your homepage from some other source. This underscores the importance of getting links to your website from other sources, such as any trade associations, Chambers of Commerce, etc., that you belong to.
The Importance of 'Meta-Tags'
Be sure you have what are called 'meta-tags' embedded in your website. These are words that convey the key information about your website, but are not visible to those who view your site. Rather, they are visible to the search engine 'spiders' that collect information for the various search engines.
The invisible tags are placed at the start of your website pages. If you had your website professionally done, the company should have included meta-tags for you. If you cousin's kid who's a whiz on the Internet did it for you, probably not. Here's a free website that will generate specific meta-tags for your website or, if you already have meta-tags, will analyze how well the current ones reflect your site's contents:
http://www.submitexpress.com/
You'll find several other free services that the above website offers. Don't be intimidated about checking out the links down the left side of the page.
An additional website that provides a host of useful Search Engine Optimizaton links and tips is: www.seoconsultants.com/seo/tips/
Claiming Your Business Location on Google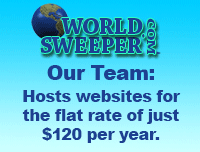 Another very important, relatively new, feature offered by Google is termed 'claim your business." This makes sure Google shows your business location when people search for you in your city; just try looking up "street sweeping contractor new york" in Google. You'll see there are 543 total companies that come up in the Google Maps section, but most have not 'claimed' their business so that Google lists all their company information.
There is no charge to go through the 'claiming' process, but Google requires you to have a free Google account. If you have a gmail account or have had other dealings with Google, you probably already have an account. If you don't yet have one, get one here.
To 'claim your business' on Google, you'll need to be in your Google account. This is the link to go to the right page to claim your U.S.-based business. If you're not already logged in to Google, you may do so using the log-in box provided.
For Larger Websites: Make a Sitemap
If your website just has a few pages, it probably doesn't matter whether or not you have a 'sitemap' as one of your files. However, for medium-to-large websites, this is a file that will help search engine spiders find your site better. Having a visible sitemap link on your site can also be helpful to your potential customers who are visiting. It's a way for them to more easily find what they're looking for on your site.
Here's a place to go where you can generate a sitemap for your website: http://www.xml-sitemaps.com/
Having a comprehensive, positive Internet presence is becoming more important every day. The cost for a 'starter website' is very modest, definitely in the hundreds, not thousands, of dollars. The yearly cost for hosting your site so it is automatically backed up and available 24/7 is also modest. At WorldSweeper.com's hosting service, for example, the current charge for hosting your website is just $10/month.
If you have questions about information in this article, let me know. At WorldSweeper.com we have designed dozens of contractor websites, so we definitely have a competitive advantage in that area. We even have a number of stock and permission-granted photos available for website usage.
Finally, to get ideas about what you should have on your sweeping company site, no matter who you choose to design and write it for you, go here to see some of the many sweeping contractor websites we've done.
If you have any questions or comments about this audio article, please let us know.