Ways You Can Generate LOCAL Web Traffic For Free!
by Ranger Kidwell-Ross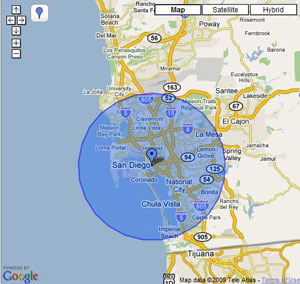 Do you have a Local Search listing on major search engines like Google? It has long been important to create a local listing to go along with your website.

Now, with increased search being done for local companies like power sweeping contrators, this has become a necessity!
Google is now adding review features directly to your company's listing. Think you don't have a listing with Google? Think again! Google has independently catalogued most business entities in the United States.
When someone does a search for terms like "power sweeping" and "your city," chances are your company will come up, no matter what search engine is used. With some, like Google, the info will include a map to your location. However, it's up to you to make sure the information shown is accurate. And, unless you 'claim your listing,' another unscrupulous area business might do so.
Equally important, Google now allows customers to review the service they've received from a given company. These reviews, which used to be hidden on other pages, rank your business from 0-to-5 stars. Failure to update your profile and garner positive reviews means your business will look like a zero star business – even if it's a five star business!
Taking advantage of this FREE service by Google helps you:
Expose your business to thousands of online searchers in your community
Generate a professional presence on the web
Compete on a level playing field with rival businesses
Increase awareness of your business
In addition to reviews about your company, there is a link to your Place Page, which is where Google organizes all the information they can find about your business. Help build and customize this page so prospects can easily see the benefits of your business.
Google has already begun this process, so it's clear that the other search engines won't be far behind. It is important to sign up for a local profile to ensure you will be listed in search results for your industry. Creating a profile with these companies is free, but the sign-up pages are often difficult to find. We've done the leg work for you, so make sure you click on the links below to sign up and get your business noticed!
Also, for targeted traffic from remote property managers and others, you should have a WorldSweeper.com Contractor Locator listing. Your listing is only $249.95/year, and we are getting extensive traffic from property managers and others looking for sweeping contractors local to their remote properties. Click here for more information.
---
Google Local Business Center
https://www.google.com/local/add/login
---
Yahoo Local
http://listings.local.yahoo.com/csubmit/index.php
---
Verizon Super Pages
(Also signs you up for White Pages.com and 411.com)
http://advertising.superpages.com/spweb/products/business-listing
---
Yellow Pages
http://store.yellowpages.com/post/
---
MSN Live Local
Microsoft's new search engine uses data from InfoUsa, so signing up below signs you up for Live Local. http://dbupdate.infousa.com/dbupdate/startupdate
---
Bing Local
https://ssl.bing.com/listings/ListingCenter.aspx
---
Merchant Circle
MerchantCircle is the largest social network of local business owners in the nation, combining social networking features with customizable web listings that allow local merchants to attract new customers. Company is dedicated to connecting neighbors and merchants online to help build real relationships between local business owners and their customers. To date, well over 1,000,000 local businesses have joined MerchantCircle to get their business more exposure on the Internet, simply and inexpensively.
No charge for listings, many of which have already occurred due to company's catalogue system. Use link shown; see small letters at the bottom of the log-in area for link for joining.
https://www.merchantcircle.com/auth/login
If you have any questions or comments about this article, please let us know.