Millennium Emphasizes Proactive Customer Services
Whether for inclement weather, holiday needs or any other time, the 'Millennium Power Rangers' are on the job – and their customers know it in advance.
by Ranger Kidwell-Ross



David Ross, President of Millennium Maintenance & Power Sweeping, offers his customers a full slate of exterior maintenance services. Equally importantly, the organization notifies its customers when any type of situation is forecast that might require advance or special prepations.

These notifications include email, as well as text messaging and any other forms the customer might prefer. The messages remind Millennium's customers that the organization has personnel available 24/7/365. In the event of inclement weather, the messages also remind customers of the many services offered by Millennium's Power Rangers, the name used for the company's maintenance team.

In this instance, Ross spoke about what the company was doing when 2012's Hurricane Sandy struck the areas Millennium covers, which include Greater Boston, Rhode Island and Connecticut. Using the audio link, shown below, we invite you to listen to the brief interview held on October 30, 2012, at the time Hurricane Sandy was passing through.

At the time, the company had been providing emergency services for approximately 40 hours, with an estimated 48 hours to go. In addition to the audio, we invite you to check out the email messages Millennium sent to its customer base. Immediately below is the one sent prior to the storm. Below that you will find the one transmitted toward the end of the storm's damaging incursion. Finally, at the end of the second graphic is the audio link to the interview with Ross, which is just under 8 minutes duration.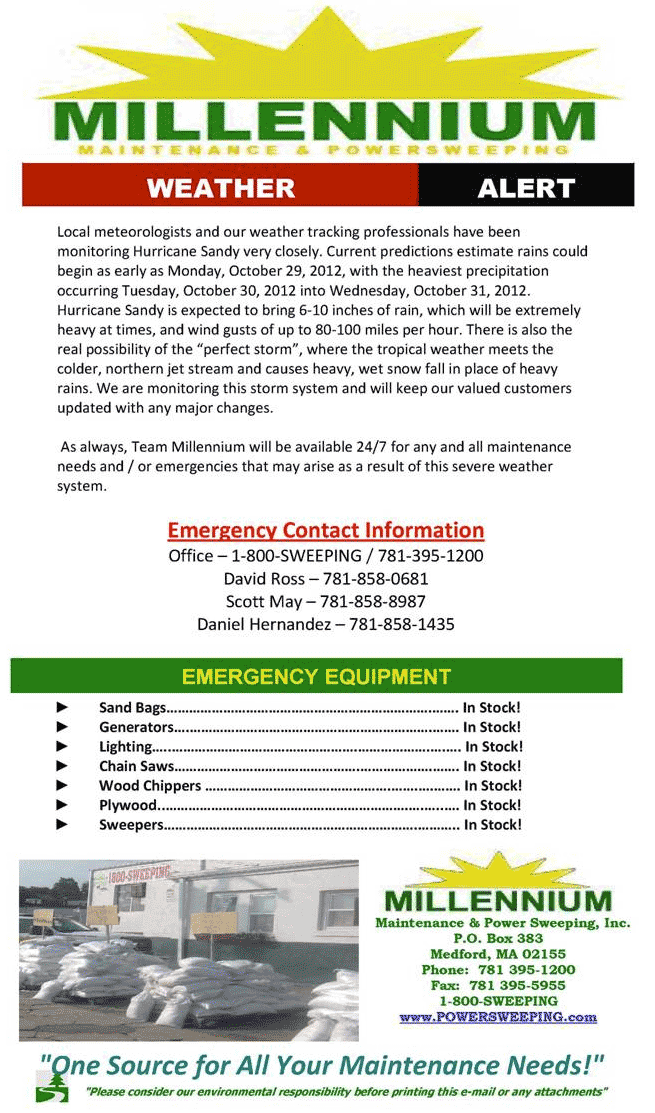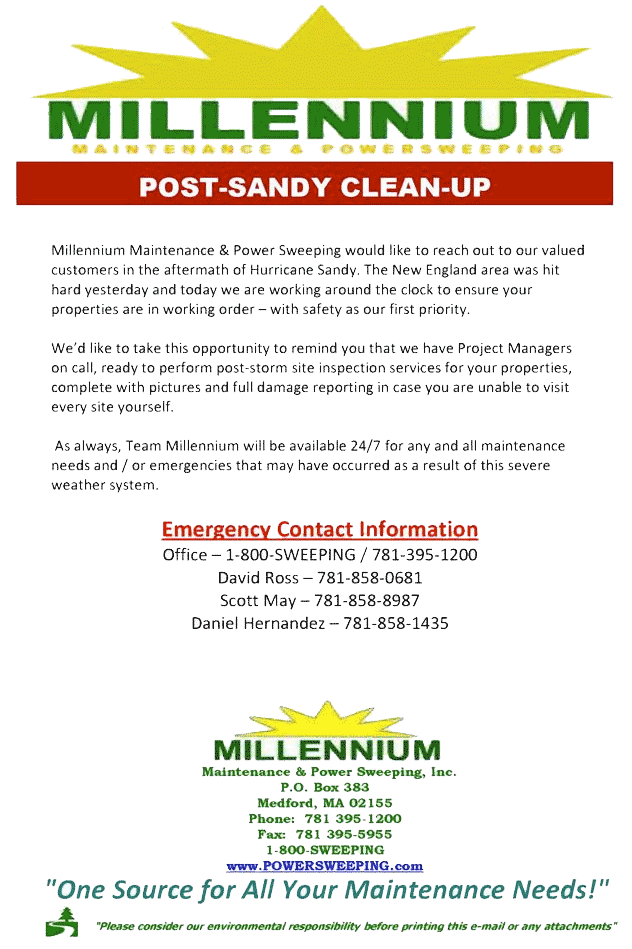 Note: The audio podcast with David Ross, which is approximately 8 minutes in length, will play without downloading any files onto your computer. If you hear the interview at 'chipmunk speed,' you will need to download the latest version of Adobe's free Flash player.

To play the interview, click this link or on the small triangle inside the circle you see to the left. If you have any trouble accessing the audio, please let us know.

David Ross may be reached via email sent to dave@powersweeping.com. You may also reach the company by calling 781.395.1200. The company's website is located at www.powersweeping.com.

If you have questions or comments about this article and interview, please, let us know and we can add it in as an addendum to this article.