Diversification: Developing Multiple Baskets for Your Eggs
by Ranger Kidwell-Ross
This article was inspired by reading an article by Doyle Sumrall, Senior Director of Business Development for the National Truck Equipment Association, in the May 2010 issue of NTEA News.
The last 12 – 18 months have marked the last for some sweeping contractors. Even the most experienced are being tried to the limit of their creativity and endurance. However, because of their willingness to make creative and substantial changes in their business models, some contractors are carving a new pathway through the recession.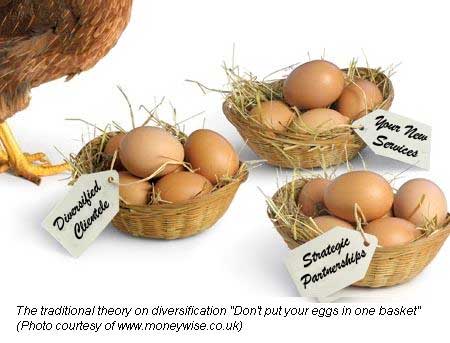 If there is one overall key word to describe this phenomenon, it's 'diversification.' Although many times one thinks first of new products and services, there can be more than that to becoming increasingly diversified. In addition to an expansion of products and services, I suggest you also expand your thinking to include your company's business approach and partnerships.
Product/Service Expansion
The first creative steps toward sustainability most think of are an expansion of the products and services your company provides. You have a specific mix of clientele, customers who have grown to trust and believe in the products and services you now provide. Plus, because many customers need sweeping to be done frequently, you have the advantage of having a stronger, more frequent relationship with them than do most other types of contractors.
However, this positive relationship can be a double-edged sword: Precisely because they respect and believe in your company, you must be careful not to compromise that trust through being slipshod in whatever new services you offer to provide. Even though a product or service may be new for your team, make sure your personnel are well-trained so the customer never has an idea that is the case.
One way you might proceed is to put together a list of products and/or services you are confident you can add to your current product mix. Then, poll your customers on the topic. When you talk to current customers, let them know the areas you are considering and see which of them have appeal. Don't be afraid of asking; at the same time, you may find they have problems that need solved that point you toward services you didn't consider.
Market Diversification
Another strategy some industry contractors have found successful is market diversification. This means finding other, alternative markets for your existing services and contacting types of clients you haven't worked for previously. If your typical work is now done on retail properties, for example, consider expanding your marketing toward industrial sweeping or homeowner associations.
Consider if your existing sweeper fleet might be suited for a particular type of sweeping you don't currently handle. For example, if you have any low-profile machines look toward parking garages. Have high-end parking lot sweepers like Schwarze S348s or Victory Mark IIs? These are powerful enough to do construction sweeping if there's a need in your area.
You may find new markets to diversify into and/or new customers for current services by joining locally-based associations, like BOMA, Chambers of Commerce, Apartment Owners Associations, etc. In these tough times, people tend to trust those they have a personal relationship with. If you have been a member of these types of organizations but haven't gone to meetings, start attending and networking with other attendees.
Forming Partnerships
Another way to diversify is to form partnerships. This is a long-standing way to do business for some sweeping contractors. Alliances with other companies in pavement-related businesses that do not perform sweeping services can reap quick benefits.
You may find paving, sealcoating or striping contractors who have one or more salespersons, for example. Work with them to include information about your sweeping capabilities when they call on customers. They get a percentage or commission when they provide you with a lead that turns into a customer, and you get new customers you wouldn't have otherwise.
An emerging trend in some industries is the 'temporary partnership.' This is where you form strategic alliances with other types of contractors to go after sub-contract work that requires services from all of you. You align to complete the project, then disband once the project is completed.
You can repeat this process as new opportunities surface, with different contractors involved depending upon both your needs and those of each of the projects you might be able to bid on. In some instances, new specialty areas can arise for you by your involvement in these types of multi-requirement projects.
Get Creative
If you're not now getting the work you need to stay busy, involve your management and employee team in putting on your collective 'thinking caps.' Solicit ideas for where new business can come from with existing equipment, as well as other, natural areas you might branch out into.
Think creatively about both additional services you can provide and new customer types you might provide them to. Have all your employees stay on the lookout for poorly swept commercial lots, apartment complexes, churches, drive-throughs, etc.
Make sure your drivers are all on the lookout for anything that's amiss at customer locales and elsewhere. Whatever they spot, seriously consider if the repair is something you can do. Sign knocked over but you don't do signage? How tough can it be to go buy a 4x4 and a couple bags of concrete, get a replacement sign from an online vendor, and then do the repair?!
If your business isn't where you want it to be, get creative.
Do all of your employees carry 'generic' company business cards they can hand out whenever they spot a potential opportunity?
Do your cards list all your services on the back side?
Do you have a reward system for work brought in by employees?
Have you asked ALL of your existing customers for referrals?
If you continue doing things the way they are NOT working, you'll find yourself in a downhill slide that may end up with you working for someone else.
I challenge every contractor to investigate how they might change their current operations to become more competitive, even if your profit margin is still good. These are changing times we find ourselves in and they're not likely to change anytime soon.
For even more ideas and information on this topic, I refer you to an article I previously wrote based on information provided by Louisiana-based sweeping contractor, Warren Burge, at the 2007 National Pavement Exposition. Burge is extremely creative in his services and products mix and the previously published article is certain to spark ideas for what you might do in your own marketplace.
Ranger Kidwell-Ross is editor of WorldSweeper.com. If you have new information to provide on this topic, let him know and we can add it in as an addendum to this article.