Getting Involved in Local Volunteer Activities

by Ranger Kidwell-Ross
Posted in June, 2009.
The volunteer cleanup of the Town of Crawford, New York, has become an annual event. One weekend day a year many Crawford residents get together for a day of pickup, cleanup and general beautification of the place they live. The results make the city shine, and the camaraderie developed during cleanup make the borough a better place to live all year long.
The Town of Crawford holds an annual town cleanup day each year. This year it was held on June 7, 2009. A local sweeping company, East Coast Industrial Services, Inc., donated a sweeper and operator to the event. East Coast's owner, Jay Presutti, also pitched in to help for the day, along with his son, Neil.
Participating in community events is a high-visibility way to become more involved with the 'movers and shakers' in your market area. Most of the time -- and as was the case in the Town of Crawford -- the events will be organized by the local chamber of commerce or other organizations populated with community leaders.
A city-wide cleanup day, like this event, is also a type of civic event that's closely allied with the concept of sweeping. Although little recognized by citizens, sweeping is one of the leading environmental businesses. In this time when more value is being given to environmentalism-related concepts, it can be a good way to increase the visibility of both your business and your industry.
This can have far-reaching effects, especially when you meet political leaders who you can educate about the overall value that sweeping provides, not just on a 'cosmetic' level, but as a first-line defense against stormwater runoff pollution and air quality improvement. Many in government and politics do not realize that pollutant removal on the street level with sweepers is much more cost-effective than doing so at 'the end of the pipe.'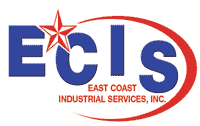 In this instance, Jay Presutti, vice-president of East Coast Industrial Services, Inc., said his motive was simply to help his community become a better place. "I didn't look at this as a way to get more business, or to necessarily meet people in a position of power. Rather, I wanted to do what I think everyone should do, which is to support the efforts of my local community leaders to make where I live a better place.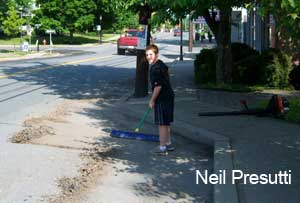 "That's the reason I involved my son, Neil, in the effort, as well. My other son, Bryan, had a prior commitment or he would have been there, too. I know that one of the best ways to have adults with civic pride and community involvement is to get them involved when they are young. Neil and Bryan are the future of our company and our family, and I want them to realize that it's important to contribute back to make the world around us a better place. That will help them grow up with ethics that include thinking about others and the general welfare, not just what seems best for him alone. I'm very fortunate that even at the age of 12 and 15, respectively, Neil and Bryan appear to be getting the message already."
An annual cleanup day event is something that many communities have in place. If your community doesn't and you are a contractor or municipal public works' manager, consider becoming the driving force behind organizing this type of event in your community. Because of Presutti donating the use of a company street sweeper, this year's debris cleanup was accomplished in record time. That's the kind of positive publicity that any amount of advertising simply cannot buy, even though it isn't the motivation behind the decision to get involved.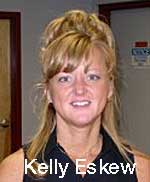 As you will hear in the following interview with Kelly Eskew, Clerk for the Town of Crawford, the effect on the entire community is a positive one. She also provides some ideas about how to make the events run smoothly, and gives a background on the other values the Town of Crawford receives from its citizens getting together in such a good cause.
Note: The following audio interview with Kelly Eskew is approximately 10-minutes in length, and will play without downloading any files onto your computer. If you hear the interview at 'chipmunk speed,' you will need to download the latest version of Adobe's free Flash player.
If you'd like to contact Kelly Eskew, you may do so via email sent to kellytoc@hvc.rr.com. To reach Jay Presutti, send email to jpresutti@eastcoast-inc.com.
If you have comments on this article, or new information to provide on this topic, let us know and we can add it in as an addendum to this article. (Be sure to note the web URL address for the article you're referencing.)