Fuel Surcharges:
When, How, and How Much?
In a time of fast-moving fuel prices, don't let your margins erode because you haven't added in a fuel surcharge to customers.
by Ranger Kidwell-Ross
posted April 2008
Since the majority of sweepers operate on diesel fuel, the majority of this story will deal with diesel pricing and other issues. However, much of the information also applies to the use of gasoline, as well.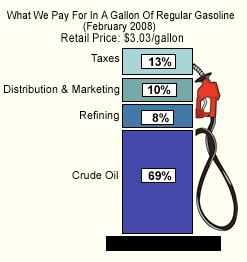 Rising fuel prices are fast becoming a way of life. With prices currently approaching, or rising above, $4 per gallon, without imposing a surcharge to customers there's no longer any way to keep current pricing and reasonable margins -- unless you were charging too much for your sweeping in the first place.
If you watch, you'll notice that the chart to the right changes every 10 seconds from the distribution of prices for diesel to the same information for gasoline. As I write this, in April of 2008, average fuel prices for diesel are over $4 per gallon in several areas of the U.S.
Yet, the latest 'gas pump charts,' as shown, show prices averaging about $3.50. That, in itself, illustrates the rapidity with which fuel prices have risen in the last several months.
Why diesel fuel prices are higher than gasoline prices
Until several years ago, the average price of diesel fuel was usually lower than the average price of gasoline. In some winters when the demand for distillate heating oil was high, the price of diesel fuel rose above the gasoline price.
Since September 2004, the price of diesel fuel has been generally higher than the price of regular gasoline all year round for several reasons. Worldwide demand for diesel fuel and other distillate fuel oils has been increasing steadily, with strong demand in China, Europe, and the U.S., putting more pressure on the tight global refining capacity.
In the U.S., the transition to low-sulfur diesel fuel has affected diesel fuel production and distribution costs. Also, the Federal excise tax on diesel fuel is 6 cents higher per gallon (currently 24.4 cents per gallon) than the tax on gasoline.
If you are not currently getting an excise tax rebate on the tax you pay for your parking lot sweepers' engines, contact us.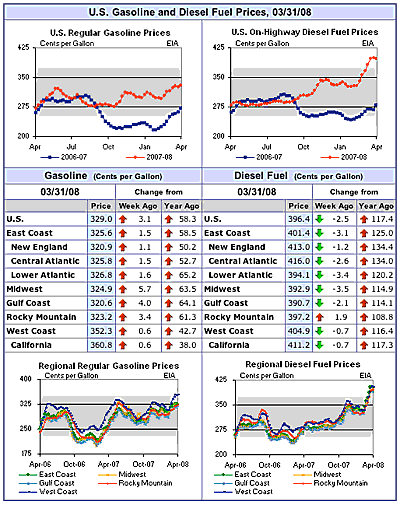 The leading government resource for fuel information is the U.S. Energy Information Administration (USEIA). At the agency's website you'll find a comprehensive explanation of current fuel policy, tax rates, refining and other information.
By looking at the agency's most recent chart, which will be similar to the one shown to the right, you can see what the changes have been to fuel prices in your region of the country. Click on the chart to access the USEIA page that offers an up-to-date fuel pricing chart.
So, we've established that fuel prices are skyrocketing (as if you didn't already know...), and you can see roughly how much is paid in taxes, etc. The question is, how can you deal with this situation in a way to minimize its effect on you and your business?
Since the price of fuel is so volatile, one way to soften the blow to your customers -- as well as to show them that you are, indeed, passing along a real cost increase, is to align any surcharges with the current USEIA pricing chart. This can be very helpful for billing purposes, because it shows the reality of the cost increases from a solid source. To keep cancellations to a minimum, you want to do anything you can to reduce sticker shock for your customers.
---
This article also contains first-person information to help you better understand how other sweeping contractors in the industry are handling this situation.
First, read on to find out what veteran contractor, David Ross, of Massachusetts-based Millennium Maintenance and Power Sweeping, is doing in terms of proposing surcharges to his diverse customer base. Millenium sweeps the full gamut of outdoor sweeping, including parking areas, streets and roadways, and construction.
Ross' approach is very thorough and numbers-based, and is a recommended way to ensure that your customers understand the reasons for your surcharges.
In addition, I have conducted audio interviews with several other sweeping industry veterans. Each is identified as to both the part of the country in which they operate, as well as the type of sweeping operation they primarily run, i.e., parking area, street, construction, etc. Each is asked to specifically explain how they are dealing with the price increases in terms of passing along the costs to customers.
---

In just one year, Ross told me, Millennium's fuel bill has more than doubled to its current level of over $50,000 per month. Although Ross has resisted adding a separate fuel surcharge, he says the company simply can't continue to do so. Millennium is now in the process of implementing a fuel surcharge to its customers.
Ross makes it clear that his company is not profiting from the surcharge, but simply trying to maintain its reasonable profit margin. His company personnel are also, he said, doing everything possible to get better fuel consumption throughout Millennium's fleet.
This includes checking tire pressure every day, changing fuel filters more often, training drivers on better driving techniques, shutting off engines whenever possible to eliminate unnecessary idling, buying their fuel in bulk, shopping for the best fuel prices, and tightening up and/or combining routes.
Ross has developed a very professional, understandable plan that prepares his customers for the surcharge. Part of that includes providing simple charts showing fuel cost increases for the last several years, using the information from the U.S. Energy Information Administration's website, as discussed at the start of this article. Ross also includes, in some cases, fuel consumption information for the trucks they use.
Millennium personnel are also exploring other options, including biodiesel and conversion to propane. As a component of his strategy, Ross feels it is vitally important to assure customers that Millennium employees are all doing their best to not waste a drop of fuel and that they have their clients' best interests in mind.
---
The following are three audio interviews on this topic with leading companies in other market segments of the U.S.

First we speak with Brian Oxtal, Director of Operations for Forida-based Central Sweeping Services, Inc. As you will hear, Central Sweeping is imposing surcharges to its customers. Oxtal provides some tips on how to best implement these extra costs and discusses his customers' reaction to date.
powered by ODEO
---

Next interview on the topic of fuel surcharges is Kerry Armstrong, president of Denver-area based Armstrong Power Sweeping .Armstrong's company was the first to become Certified through the North American Power Sweeping Association and is also a past winner of WorldSweeper.com's Award of Excellence in Power Sweeping.
powered by ODEO
---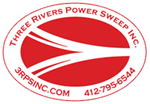 Our third interview on this topic is with 25-year-veteran, Kathy Stotler, principal in Pittsburgh-area, 3 Rivers Power Sweeping. Also participating in the discussion is her son, Leroy, who is also an active participant in the business operations.
As you will hear, 3 Rivers has had a fuel surcharge system since 2003, and management is now in the decision-making process about rolling all surcharges into their basic cost of sweeping and then only re-imposing the surcharge system as deemed needed given future fuel price increases.
powered by ODEO
If you have questions or comments on this article, let us know and we'll post them here at the end of the article.