by Sharon M. O'Donnell

It's inevitable. The day will come when you find you can't compete with other contractors who are using a computer to route and schedule their sweepers, invoice their customers and more. And, discovering that your company has outgrown its record-keeping capabilities can be a rude awakening, especially if it occurs during your busy season and you already feel pushed beyond your limits.

There are many software choices. However, the needs of sweeping contractors are unique: once a month sweeps, partial and complicated routing. Because sweeping is so different from other industries, features that match your exact needs may be difficult to find. However, difficult is not the same as impossible. CLIP software was specifically designed to meet the unique requirements of the service industry. Now, after years of success with other industries, and with a very large installed base of users, a CLIP program has been designed specifically for the sweeping industry. By using this software, you'll find that the hours you now spend on repetitive tasks will be reduced to just minutes - and your profitability will increase.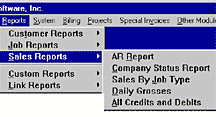 CLIP can handle the unique scheduling needs of the sweeping contractor. Whether an account needs swept every day, or only on certain days of the year, you can count on CLIP to handle even the most demanding scheduling requirements with ease.
We realize certain clients have specific requests. CLIP route sheets can contain unlimited work order notes, to ensure happy, satisfied clients. Your work orders are generated quickly and easily, and print in geographic order. When your drivers report for duty, all you do is hand them their route sheet. The route sheets will instruct them on where to go, as well as include any specific information about what needs to be done for each property. At the end of their shift, drivers turn their route sheets in to office personnel.
Your daily functions in CLIP are connected to monthy functions. Your work orders that have been completed are recorded as done. The billing information associated with each of the Work Orders is automatically placed in a journal. Then, at the end of the month when you generate invoices, CLIP searches the journal and applies the appropriate charges and description of service for each client. Invoices are generated quickly and accurately. You can even choose the specific invoicing system for each customer, either in a balance forward or an open invoice system.
Your business generates a lot of data. CLIP keeps track of that data and categorizes it for you so that you can make speedy, informed decisions. The reports in CLIP are divided into five basic types: Customer, Job, Sales, Link (those producing databases for exporting to other programs) and Custom. If CLIP doesn't provide the report you need, its 'Custom Reports' feature gives you the flexibility to create reports based on any data field in CLIP. For example, exporting customer information to Word or Excel takes only a few simple steps.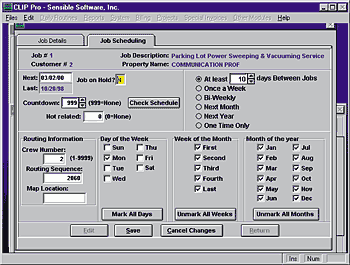 You work hard to build your client database. You work even harder to retain satisfied clients. CLIP's automation helps you to keep even the most difficult clients happy with your service. CLIP's unlimited client notes feature gives you the flexibility to record conversations, personal details, compliments and complaints. As you grow, your service can stay both personalized and thoughtful.
The most important commodity your business has is time. The more you free yourself and your employees from performing repetitive tasks, the more time you and they have to grow your business. Off-the-shelf software may be adequate for the fledgling business, but customized financial software will serve you best.
Don't suffer from the information gap. Spend more time on your business and less time on paperwork! See why over 5,000 service industry businesses rely on CLIP's versatility, integrity, and ability to help turn time into money.
---
The author, Sharon McDonnell, is Marketing Director at Sensible Software, makers of CLIP. For more information, to place an order, or to request a free demo, call 1-800-635-8485, or email them at: sales@clip.com.

The web address for Sensible Software, Inc. is www.clip.com.