Best Practices for Dealing With Insurance Adjusters
by Ranger Kidwell-Ross with Kevin McNamara
In most sweeping organizations, sooner or later a sweeper accident will occur. You will then be dealing with one or more insurance representatives and/or adjusters. Here are some tips gleaned from a conversation with an independent insurance claims adjuster, Kevin McNamara, who owns Chugiak, Alaska-based Denali Adjusters.
Communication is a key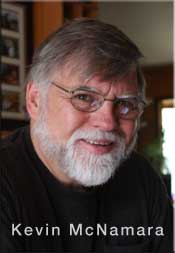 "Know who you are talking to," said McNamara, who has been in the collision repair world since 1973 and was with a major insurance company for 23 years. He started Denali Adjusters in 2009, specializing primarily in heavy equipment. "Are they a representative of your insurance company or someone connected with the other person's insurance? You might also want to know if they are an employee of the insurance firm or an independent adjuster."
Either way, says McNamara, you want to establish a good line of communication. Especially in the case of a total, be clear about any and all aspects of the vehicle. Since most insurance adjusters will not be all that familiar with power sweepers, help them out in their understanding in any way you can.
If the adjuster is not aware of information resources in the sweeping industry, you might let them know where they might find comparable sweepers for sale. In this instance, McNamara contacted WorldSweeper for advice.
At one of the sites it was suggested that he review, he was able to find an almost exact match that had recently been sold after being advertised nationally. This provided him, McNamara says, with a good baseline for typical value of that make and model.
Be sure to discuss anything special about a sweeper that has been wrecked. For example, let them know if the wrecked vehicle had any items that were not standard equipment, like light bars, special paint or decals, dust suppression systems, backup cameras, etc. For any non-stock items, offer to provide the insurance representative with cost information. Then, when the adjuster looks into the used marketplace to try to find comparables, they will be comparing 'apples to apples.'
"If your auxiliary engine has recently been rebuilt, make sure the adjuster is made aware of that fact," said McNamara. "the 'hours' at time of rebuild is critical information. Rebuilding the auxiliary on a sweeper is no different than rebuilding the main engine or transmission. With any major overhaul, document hours and/or mileage at time of overhaul. These references are more important than date of overhauls. Any recent major replacement items are better supported with an invoice vs. date of install.
"Point out new tires, gutter broom, special paint or anything else that might affect the value assessment. Then, make sure your final figure reflects an add-on for each item if that was agreed upon."
Is there a clause in your policy that provides for rental of a replacement sweeper while repairs are being made or in the event of a total? Even if not, if a replacement sweeper is needed to handle a nightly route make it clear that you need immediate action. Don't jeopardize the reputation of your business by not communicating that fact to the adjuster.
If the accident was caused by someone else and you are dealing with their insurance company, make sure that their adjuster knows your situation, as well. Take time to document, via email or other written means of communication, all important information transmitted back and forth in a personal meeting or phone call with an agent or adjuster.
If you will be purchasing a new sweeper, many manufacturers will provide a loaner or low cost rental sweeper during the interim. You may also be able to arrange a rental machine from another sweeping contractor.
Keeping good records in advance will help
"When I see strong maintenance records on a vehicle or on a fleet," said McNamara, "that provides proof of how serious a company is about maintenance. That's much different than just being told by the owner that a transmission had just been replaced, for example, and then being expected to take that info on face value."
Was there something on a totaled vehicle that you want back? If so, McNamara's suggestion is to bring that into the discussion early on. However, keep in mind that anything that is removed from a totaled sweeper may affect the market value of the sweeper.
For example, if you want to replace the new tires that are on the wreck with a set of old ones. Although most adjusters will accommodate in that type of situation, removal of items that are subsequently replaced with worn items also may affect the market value. Depending upon the deduction and any labor involved, though, it still might be a good deal.
If needed, explore your options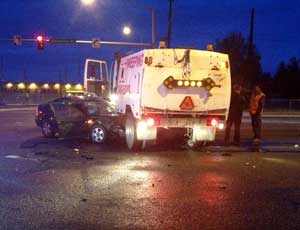 If you simply cannot come to terms with an adjuster, you probably still have options. For one, you could hire your own independent insurance adjuster to represent your interests. This probably would cost in the range of a few hundred dollars, which could be a good deal if it skewed any payoff significantly in your direction.
In the event of an accident caused by a third-party – and especially if you have any misgivings about how things are going with their insurance representative – you may want to request that your insurance company represent your interests. In that case, be sure to provide your company's representative with all of the above types of information.
If all else fails, many policies have a 'Right to Appraisal Clause.' These typically allow each party to choose an independent adjuster, who then agree upon a third party 'umpire' who will make a final determination, if need be. Keep in mind that when a Right to Appraisal Clause is invoked, the umpire's decision is usually binding upon all parties involved.
As a final reminder, don't wait until you have an accident to know what your policy provides for. Be sure to read it in advance or, if need be, have it reviewed by your attorney. A serious accident can have serious consequences, sometimes to the extent of putting a company out of business or bringing in personal liability.
Choose your policy and agent carefully, then read the policy through and ask questions about anything you don't understand. Remember, when a serious accident occurs, what counts is what is written in the policy, not any personal assurances you may have been given that conflicted with the policy wording. Be sure you understand all of your policy's wording before you need to count on it.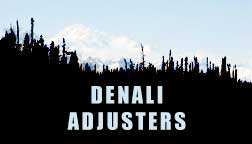 You may reach Alaska-based independent insurance adjuster, Kevin McNamara, by sending email to kevin@denaliadjusters.com.
If you have questions or comments about this article and interview, please, let us know and we can add it in as an addendum to this article.