Broom Materials Price Increases Causing Burden to Industry
by Ranger Kidwell-Ross
posted June 2008
---
The price volatility of the raw materials for sweeper brooms, primarily polypropylene and steel, has never been higher.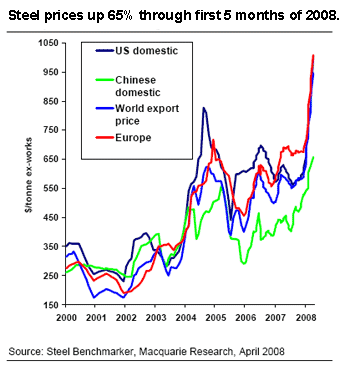 The cost of these raw materials has basically doubled in just the last year -- steel is up 65% already in 2008 and further increases are widely predicted. And, at least in the case of polypropylene, there is some talk that allocations may be on the horizon. If this occurred, the lack of availability of broom products would raise the prices even higher.
The following are audio interviews held with several of the U.S. sweeping industry's leading broom suppliers. All are individuals with at least a decade in their area of expertise. They discuss the implications of these rising prices, as well as offer recommendations to contractors and municipal users about how to keep their costs as low as possible. They also provide ideas about how contractors can structure their bidding so as to take the market's upward tendencies into account.
If you are a sweeping contractor, unless you can build in these and other rises in your cost of doing business there is no way you can continue to provide the same level of service at your previous pricing levels. The only alternatives are reductions in frequency and/or quality of the sweeping you provide. In many cases, doing either of these will not keep the customers happy or provide the level of exterior quality they need to ensure their customers remain faithful to their retail operations.
I suggest that, as you listen to these interviews, you have the ability to take notes on what is said. These individuals offer some good insights into ways to re-orient your business to minimize the impact of these rising prices. Some of these can be translated to other areas of quick-moving price increases, such as fuel, that are being faced by U.S. sweeping operations.
---

If these interviews do not play at the proper speed automatically, you will need to go to the Adobe website to download the latest version of the free Flash player.
---
---
---