As a 'World Sweeper,' What's Your Commitment to Cleanliness?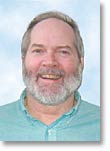 by Ranger Kidwell-Ross, WorldSweeper's Editor
As a result of the nearly 25 years I've been involved with power sweeping, I've gained a somewhat non-standard perspective on debris. Unlike most of the population, many of you readers probably share my recognition of littered areas when you see them. However, the fact is that many people simply do not recognize the ugliness of debris on the ground or even notice when – often after a sweeper has been by – an area is once again clean.
Personally, I take my commitment to helping the world become a cleaner place to a level that surprises many who observe it. When I travel, for example, I often take a few minutes to clean up around a rest area, campground, state park, etc. When I hike, I have a plastic bag along I can put trailside litter into for proper disposal. Some people, including a few of my friends, don't initially understand why I'd 'waste my time' on such an activity.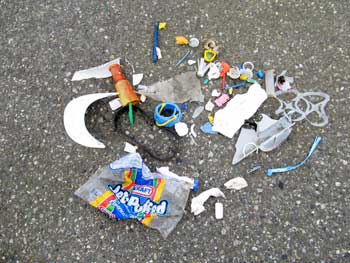 My long run experience, though, has shown the dividends. For example, the debris collection you see to the left I gathered up recently while waiting for a Washington State ferry to arrive. Sad to say, all this was within a single step to my right or to my left as I went from the waterline straight through the log stacks toward the shore.
When I got back to the edge of the parking area where others were waiting for the ferry, I put it all on the ground to take the photo you see. This prompted several other people to come over to find out what I was up to. I told them, including the fact I was editor of WorldSweeper.com, a website dedicated to making the world a cleaner place to live.
Right then and there, two in the assemblage decided they'd like to do some cleanup themselves since the ferry wasn't due for another half hour. They soon headed toward the beach, one with a plastic litter collection bag and the other with a small backpack.
Later, I posted the collection of debris photo on my personal Facebook site. It spurred a number of comments, including several people who said they were inspired to do some cleanup activities – including involving their kids – next time they were at the beach or other recreational area that had litter. So, the way I see it, a little time invested personally resulted in an expanding number of people becoming more aware of debris and the clutter it causes, as well as a willingness to do something about it.
One logical conclusion might be that these 'litter aware' people will be more likely to notice debris left in parking areas and, as a result, choose to shop where the management prioritizes keeping their center exteriors clean. And, when the streets in their neighborhood and town need swept, they'll be more likely to call their town officials and ask for a sweep.
Another related story: In Washington, our budget deficit has led to extreme cuts in the state park budget. On an early visit to one of our state parks this past spring, it was easy to see what budget cuts had done to the area. In addition to the campsites being more unkempt than I'd seen before, the short gravelled access road to our campsite area had a couple of large potholes.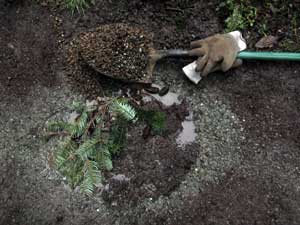 That afternoon, from our campsite vantage I saw a number of incoming campers struggle with bringing their large rigs over the two deep dips. So, after breakfast the next morning I found a shovel and a place the gravel was deep enough to spare some, and then filled in the two potholes. It took about half an hour and, even though no one after that knew what I'd done or that there had even been a problem area in the access road, I did.
My point: positive involvement. Be proud of your association with keeping the world a cleaner, better place. You are in the business of keeping roads and parking areas cleaner; however, at the same time you are also the first line of defense in keeping our water cleaner and paved areas both safer and more attractive for everyone. As a 'World Sweeper,' recognize that you are helping to make where you live a better place to be. Make it a badge of honor.
We are currently looking for story ideas that you would like us to cover. If you have story suggestions, please let us know. And, if you have a sweeping-related need please contact us about it. We'll try to assist in any way we can.
I routinely reference WorldSweeper.com articles and studies, provide information from my "Fundamentals of the Power Sweeping Business" manual and put contractors and city officials in touch with others who may have answers to their informational needs. By the same token, if you have a story you can provide, additional information on any of the topics we've covered – or need more details – please let me know. I'll be glad to help if at all possible.
Good Sweeping!



Ranger Kidwell-Ross, editor
WorldSweeper.com