Happy Anniversary to WorldSweeper.com!
Celebrating Six Years – or is it 23 – of Sweeping Industry Leadership.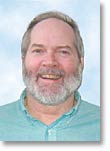 by Ranger Kidwell-Ross
In the spring of 1988 I started producing the first-ever newsletter for the sweeping industry, the Supervac Quarterly. Today, after an interim that included 10 successful years of producing American Sweeper magazine, we celebrate the sixth year of the founding of WorldSweeper.com.SM
Back in 1988 I was a young business consultant with a wife who was an actual rocket scientist. Her work with NASA required that we live in Huntsville, Alabama. My client list included a number of high-tech companies, who sold to either NASA or the Army. Then, early in 1988 I responded to an ad from someone named Mark Schwarze. He was looking for someone to produce a company video showing his parking lot sweepers in action.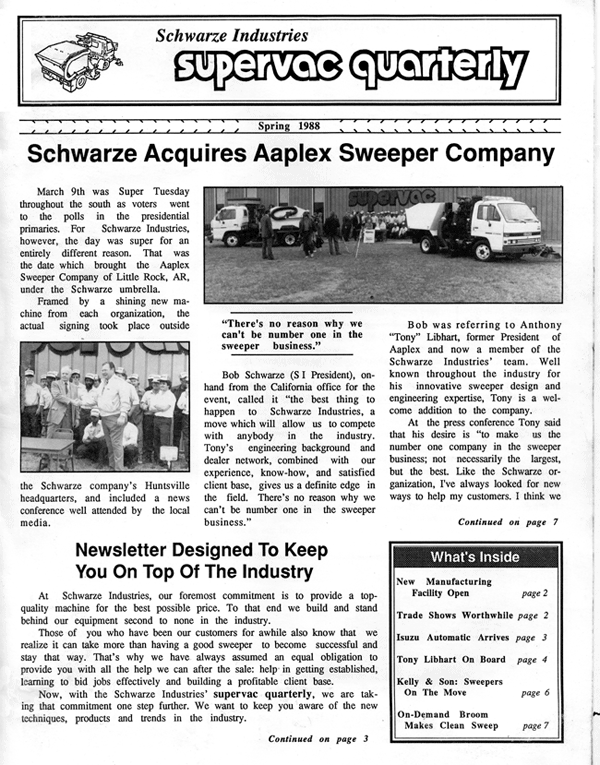 By the time I interviewed for the project he had already picked someone else for the job. However, impressed with my writing credentials, me said he would call me in a few months to produce a newsletter for his clients. Right. To be honest, although I wrote a thank you note I then forgot all about it.
A couple of months later, though, Mark Schwarze called to ask me to come to his manufacturing plant for a ceremony marking the purchase of a street sweeping manufacturer called Aaplex.
"What we would like," said Schwarze – who was company vice-president and the son of Schwarze Industries' founder, Robert Schwarze – "is for you to write an article on the acquisition, then make that the headline story for the first of a series of quarterly newsletters."
The rest, as is said, has become history. We decided to name the newsletter after the company's main line of parking lot sweepers, at the time called 'Supervacs.' I produced the newsletters for several years, as well as all the owners manuals, spec sheets, brochures, press releases, marketing letters and other material needed by a growing manufacturer. Along the way, I learned much about an industry that most people, even today, don't even know exists.
One of the many realizations I came to in that regard was that many public works officials didn't recognize the importance of street sweeping in general, and pollution-laden small-micron debris removal in specific. Most simply didn't understand that sweeping was the first line of defense in keeping our waterways unpolluted and our air clean.
So, when we moved from Alabama a few years later back to my relatively pristine home state of Washington, I determined to 'spread the word.' Two occurrences after I moved back spurred my decision to start American Sweeper magazine. For one, I learned that debris in the nearby, waterfront city of Bellingham was being dumped into a low spot on the property of the brother-in-law of the public works director. Where kids could play in it. And, they hadn't cleaned their catch basins for over two years because the material had gotten so toxic that no one quite knew what to do with it. The upshot was an unacceptable level of pollutants was flowing directly into Bellingham Bay.
I'm proud of the progress that's been made in raising the awareness of power sweeping, as well as in the capability of the machines that perform the task. In the intervening years I've met with officials in charge of sweeping in many parts of the world, including Australia, China, Singapore, Japan, Thailand and many European countries. My reporting on sweeping, combined with judging of my American Sweeper and WorldSweeper.com websites, has garnered over twenty national writing awards, including an extremely coveted Grand Award in 2004 for 'Sweeping Around the World – Europe.'
I would like to think we're again at a point where sweeping will become even more recognized for its environmental benefits. The topic is gaining increasing emphasis in jurisdictions throughout the U.S. and the world. More than ever – and especially given the many machine improvements we've seen in recent years – power sweeping is being looked at as a front-line necessity for reducing stormwater runoff pollution and gaining NPDES compliance.
The information archive at WorldSweeper.com now contains over 5,000 photos and files on the topic of power sweeping. There is no question we truly are 'Earth's Largest Power Sweeping Resource.'SM If you have a story to add to our trove of material, please let me know.
As always, the articles in this issue are designed to help you find crucial insight for your business. My hope is you find they all help in one way or the other. If you have ideas about articles you'd like to see in the future, please let us know that, as well. Our goal is to write about what you want to read. And, if you have a sweeping-related need please contact us about it. We'll try to assist in any way we can.
I routinely reference WorldSweeper.com articles and studies, provide information from my "Fundamentals of the Power Sweeping Business" manual and put contractors and city officials in touch with others who may have answers to their informational needs. By the same token, if you have a story you can provide, additional information on any of the topics we've covered – or need more details – please let me know. I'll be glad to help if at all possible.
By the way, if you don't have a listing yet in our Contractor Locator section, you are missing out on what is arguably the best advertising value in sweeping. At the same time, you'll be helping to keep WorldSweeper.com online and active.
Good Sweeping!



Ranger Kidwell-Ross, editor
WorldSweeper.com