January 28, 2014
World Sweeping Association's Inaugural Presence at NPE a Success
The 2014 National Pavement Expo marked the World Sweeping Association's first-ever tradeshow. The results were gratifying and the conversations insightful.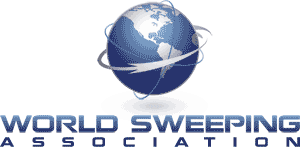 by Ranger Kidwell-Ross
The World Sweeping Association booth at this year's National Pavement Expo offered me an opportunity to gain further insight into the needs of the U.S. sweeping contractor community. The plan was that my assistant, Regina Wollenberg, would be at the booth while the exhibitor area was open, allowing me to do my normal routine of flitting from seminar to outdoor demonstration to sweeper manufacturer booths throughout the event. Unfortunately, two days before we left she learned she had pneumonia so wasn't able to attend.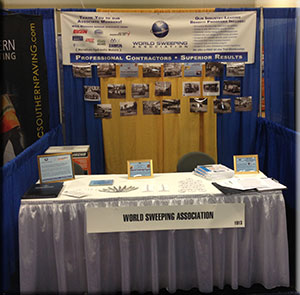 So, for the two exhibitor days of the show I manned the booth and took it as an opportunity to discuss a variety of sweeping topics with the many contractors who came by. Since I had known most of them for a number of years, in many instances we were able to 'cut to the chase' and drill down directly into how they saw the industry changing, were navigating it today, and what expectations they had for the future. I came away with a better understanding than ever of the challenges being faced by today's sweeping contractor community.
Topping the list was, as one might surmise, the issue of third party vendors. This will lead us to redouble our efforts in this regard in the coming year via the vehicle of the World Sweeping Association. Although WSA Members at the show were uniform in liking the third party listings and ratings offered as a part of membership in the organization, a number of others were very lost about what to do on the topic.
Having the booth helped in getting the word out that WSA is providing a host of ideas on this issue. This also spurred me to propose to NPE staff that WSA sponsor a panel discussion on the topic as a seminar at next year's NPE, which will be held January 28-31 in Nashville, Tennessee. I'm glad to say we have received approval from NPE management to do so.

As first-time exhibitors, we had to decide what to do as a booth backdrop. It was decided to design a banner that would showcase on one side our Associate Members, who provide the Association with its product discounts, and on the other some of the major membership benefits.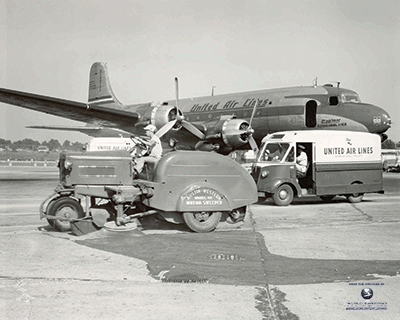 Then, to draw people's interest in coming into the booth and looking around, we printed a total of 20 8x10 photos of vintage sweepers from the WorldSweeper.com archives. These are shown to the right in the slideshow. There's no question attendees liked looking at the old photos; a few were prompted to reminisce about how they got started in the business, the type of equipment they first used and how sweeper design has changed since then.

To get into the show, everyone has to wear a name badge that shows their name, company, events signed up for, etc. So, for the bottom of those we also printed up small name tag 'banners' for our WSA Member attendees to add to the bottom of their name tags. As shown, these included a separate banner for Advisory Board Members, Founding Members and General Members. It was enjoyable seeing these being worn at the seminars, Sweepers Roundtable and other events.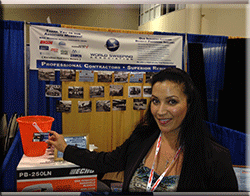 Advisory Board Member, Michael Nawa of Custom Maintenance Services, Inc., procured from his equipment dealer a blower for us to give away as a 'door prize.' This was done by having those who stopped by put their business cards into a container.
At the end of the show I asked Elaine Seth, National Coordinator for Atlantic Southern Paving, who was exhibiting in an adjacent booth, to pick out the winning business card. Shown to the left in sequence with Elaine is Bob Anderson, owner of Davidson Macri Sweeping in Seattle, Washington, who was the lucky winner of the Echo blower.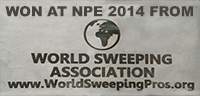 Thanks to Clayton Boyd, manufacturer of the Mystic Washer, for making for WSA the stainless steel plaque you see to the right to fasten on the blower in commemmoration of the giveaway.
We invite all sweeping contractors who do not already belong to the World Sweeping Association to check out the Association. There are many reasons why joining WSA may be the best investment you can make in your sweeping company. Although our manufacturer discounts more than make up for the modest $325/year membership fee, WSA is much more than just saving money.
In addition, WSA Member Teams have exclusive access to over 200+ articles and 70+ podcasts, all of which are targeted to helping contractors make more money, run their business better and, in short, be more successful in a shorter time period. Perhaps even more importantly, WSA Members receive a bi-monthly e-bulletin with the latest news and ideas in the industry. This includes the latest info on the different third party vendors and much more. This insider information is, frankly, invaluable.
WSA Membership is offered with a 90-day complete satisfaction guarantee. Or, if you want to just check out the benefits, you can try everything but WSA's Contractor Locator listing and the product discounts for 60 days before you pay for anything. WSA Members will tell you that belonging is a Win/Win all around. WSA is doing something important for the industry; if you're not already a WSA Member, isn't it time you and your company become a part of it?!
---
You can contact Ranger Kidwell-Ross, editor of WorldSweeper.com and executive director of the World Sweeping Association, by calling toll free to 866.635.2205. Alternatively, send email to ranger@worldsweepingpros.org. The World Sweeping Association's website is www.worldsweepingpros.org.
---
If you have a question or comment about this article, please let us know. If appropriate, we'll add it to the bottom of this page.
---