Stewart-Amos Sweeper Co. Launches New Website and Online Dealer Marketing Support Program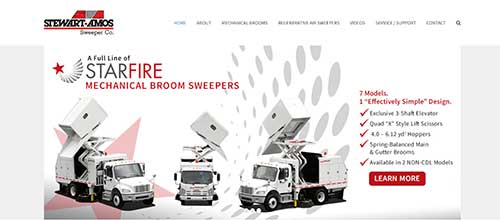 The new Stewart-Amos website, located at www.stewart-amos.com, has been designed to provide visitors with quicker and simpler access to key features, benefits, and capabilities of the company's street sweepers including 7 mechanical broom and 3 regenerative air models.
Stewart-Amos Sweeper Co. – June, 2017
Stewart-Amos Sweeper Co., a leading manufacturer of highly productive and easy-to-operate chassis-mounted street sweepers, has officially launched its new website. New to the website are illustrations that allow visitors to get a closer look at the key features and benefits of the various Stewart-Amos street sweepers. The site is also smartphone and tablet-friendly and allows photos, videos, product literature, and service and support information to be accessed at all times.
Stewart-Amos will also be introducing a new Dealer Marketing Support Program as part of the website, which will allow authorized dealers to quickly browse, request, or customize marketing materials including advertisements, direct mail, emails, trade show banners and promotional pieces, product literature, and more. The Dealer Marketing Support Program will also provide the latest technical information and up-to-date specs, data sheets, and warranty information.
"Because we are relatively new to building street sweepers, many in the industry are unaware of the storied past of Stewart-Amos," said Chulick. "As part of our rental organization, we have provided rental mechanical broom sweepers to the construction and mining industries, both of which are very destructive of equipment.
"In 2004 our rental business had grown to be a significant part of our business. At the same time, we were having trouble finding a heavy-duty broom sweeper model that could stand up to the harsh conditions that many of our rental customers subjected their sweepers to. That's when we decided to build our own, combining the talented employees we already had on board in engineering, fabrication and manufacturing with the capabilities of sweeper specific personnel we brought on board to spearhead the product line. "
In the intervening years, Stewart-Amos Sweeper Company's mechanical broom product line has developed into one of the most full-featured broom sweeper product lines in America. Currently, the company makes five different mechanical broom sweepers in three different size categories. Each incorporates the company's exclusive "3-shaft elevator system" that minimizes chain wear, slashes maintenance costs and ensures more effective sweeping of all types of debris – especially bulky materials.
Responding to the many customer requests to develop an air sweeper line, Stewart-Amos started investigating that addition in 2007. "Instead of doing this design work entirely inhouse," said Chulick, "we turned to Mark Schwarze, whose air sweeper designs had long been regarded by many as the best in America. In collaboration with Mr. Schwarze, Stewart-Amos introduced the R-4 and R-6 air sweeper line in 2009. These have been extremely well received by the marketplace and are now a valued part of the Stewart-Amos line.
For more information on the Stewart-Amos Sweeper Company, go to the company's website at www.stewart-amos.com. You may reach the company by phone by calling 800.482.2302; the general email address is sales@stewart-amos.com.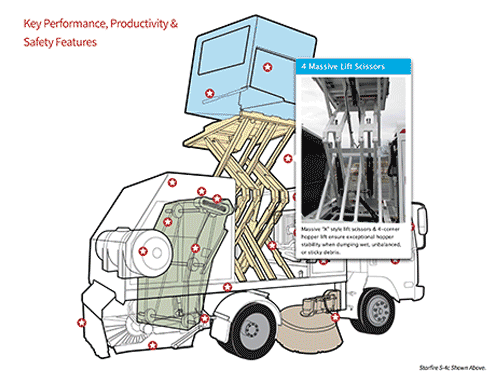 ---
Started in Harrisburg, PA in 1938, the Stewart-Amos Equipment Co. is a leading supplier of construction and mining solutions. The Stewart-Amos Sweeper Co. was formed in 2004 and manufactures a full line of chassis-mounted mechanical broom and regenerative air street sweepers.
---