Schwarze Industries Unveils New Customer-Focused SuperVac Parking Lot Sweepers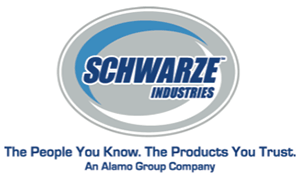 (Huntsville, Alabama) January 8, 2014 –
Schwarze Industries unveiled its new SuperVac UpdraftTM and SuperVac Aero HyDumpTM parking lot sweepers at the 2014 National Pavement Expo in Fort Lauderdale, Florida.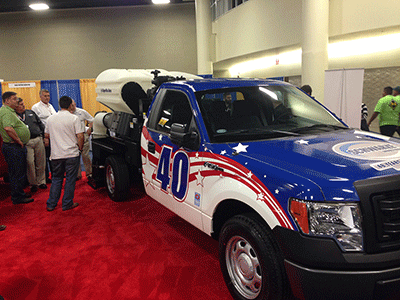 The new SuperVac Aero HyDumpTM is a twin-engine sweeper that provides the convenience of high dump with automatic dump door activation, full in-cab controls and an easy-to-access, rear-mounted sweeping head.
Mounted on a fuel-efficient V6 chassis, the rotationally molded polyethylene hopper is highly corrosion and abrasion resistance and has an easy glide hopper interior.
The Schwarze® SuperVac UpdraftTM twin-engine sweeper, mounted on a choice of three fuel-efficient V6 chassis, has a durable, fully-welded, stainless steel hopper that offers a high level of corrosion and abrasion resistance along with increased structural strength. The Updraft also has all LED safety lighting, external stainless steel inspection door latches and easy-open lever to open the dump door from ground level.
Both models received a sophisticated water cooled electronic fuel injection 31 HP auxiliary engine, the industry leading Schwarze WhisperWheelTM Fan Technology, and optional gutter broom or curb blower.
"Schwarze Industries is excited to have unveiled and showcase their latest customer focused products, and continue innovating as our customer base grows," said Greg Heyer, Vice President of Sales, Marketing, Customer Service and Product Management. "It was great to have had the opportunity to exhibit at the NPE and share our latest product innovations. The show provides the ideal platform for us to show our new products to so many sweeping contractors."
---
For forty years in the street sweeping business, Schwarze Industries has been committed to providing an exceptional level of customer support. Schwarze Industries offers one of the most comprehensive sweeper lines in the sweeping business, including models for parking area cleaning, industrial sweeping, mall and shopping center sweeping, airport runway sweeping, street sweeping, milling cleanup and stormwater runoff (PM-10) management and a complete line of velocity pothole patchers, featuring the, single operator/automated, Schwarze® RoadpatcherTM. For more information on Schwarze Industries, Inc., visit www.schwarze.com. You may also reach the company by calling 800.879.7933.