Schwarze Industries Announces Executive Appointments to Management Team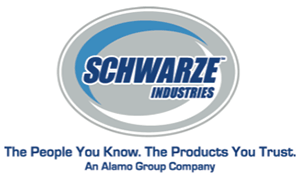 (Huntsville, Alabama) May 17, 2012 –
The Schwarze Industries organization has announced a number of significant changes in its management team, most notably at the positions of President, VP of Sales and Marketing, and at Plant Manager. Read the following press release information to learn more about the new personnel that have become part of the Schwarze Team.
Howard May, Sr. Announced as President
We are pleased to announce that Mr. Howard May has been appointed President of Schwarze Industries Inc. effective immediately.
Mr. May, who has been on assignment at Schwarze since November 2011, joined Schwarze's Selma, Alabama based sister company, Bush Hog, in 2007 as Vice President- Operations. Prior to joining Bush Hog, Mr. May Sr. was Vice President-Operations for Textron-Jacobsen in Charlotte, North Carolina.
Commenting on the change of leadership at Schwarze industries, Jeff Leonard, Executive Vice President at Schwarze's parent, Alamo Group Inc., added: "I am delighted to have Howard join Schwarze management team in Huntsville, AL. He brings over 30 years of successful industrial manufacturing and operations management experience to Schwarze Industries. Since coming to Schwarze late last year, he has made an immediately, positive impact and I look forward to working closely with him to further develop Schwaze' operations in the future."
---
Kevin Lozen Joins the Schwarze Company as its Plant Manager.
Kevin comes to Schwarze from Florida Production Engineering, Inc., where he served 5 years as that company's Plant Manager. While at FPE Kevin was in charge of 130 people.
Kevin went several years running with no lost injuries. Kevin has had over 18 years in the automotive industry. He has 14 years at Textron. Kevin has spent most of his career improving processes and working with others to gain improvements.
Kevin states that he is a firm believer in working in a team environment to get the best and safest solution to many problems. Kevin also has experience using techniques like Visual management and Six Sigma tools, as well as one-piece work flow. He believes that safety is the number one priority as well as in leading by example.
---
Gregory Heyer Becomes Vice President of Sales and Marketing
Greg comes to Schwarze from Heil Trailer International, where he served as their Global VP of Sales, Marketing & Customer Service. Heil is a global manufacturer of specialty transport trailers including liquid, dry bulk, oilfield, construction, platform, specialized, towing and defense product lines.
Prior to that, Greg held various management positions at Jacobson and Maytag. Greg graduated from Minnesota State University where he earned a BS degree in Business administration. He went on to get his Masters Degree in Business Administration from Southern California.
Howard May, Schwarze President, commented, "We are delighted to have Greg join our management team. Greg's wealth of experience developing customers and driving Sales and Marketing strategies makes him an excellent addition to our company."
Reporting to Greg will be: National Sales Manager, Joe Hendrickson; International Business Manager, Malcolm Cameron; and, Customer Service Manager, Brenda Bell. Greg will also provide the Australian sales team with Sales and Marketing support. In addition, Greg will lead Bill Manning, Schwarze's Warranty/Refurbished Manager. Technical Service Coordinator, Felix Crunk, will be supporting Bill Manning.
In his new role, Joe Hendrickson will lead the Dealer and Contractor sales force. Joe has held several roles within the Sales and Marketing department during his 5 year tenure. Direct reports to Joe will be Schwarze's Dealer Regional Sales Managers: Terry Parsons (West Region), Raymond Massey (Central Region) and Ray Milkie (Northeast Region). Contractor Sales Managers include: Chris Crews (West Region), Don Harvey (Northeast) and Clark Word (Southeast). The Sales Administration Coordinator is Linda Anderson.
Brenda Bell has been promoted to Customer Service Manager. Brenda has held several positions and had several roles in Sales as well as in finance during her 10-year career at Schwarze Industries. Reporting to Brenda will be Parts Sales Representatives, Carla Cagle and Daniel Akins.
---
Schwarze Industries, a company of the Alamo Group, is focused on delivering high quality, innovative, high efficiency industrial sweeper products supported by friendly and efficient service.
---
For more information on Schwarze Industries, Inc., visit www.schwarze.com. You may also reach the company by calling 800.879.7933.