Wanted: Name for Schwarze Industries' Lake Oswego, Oregon, Sweeper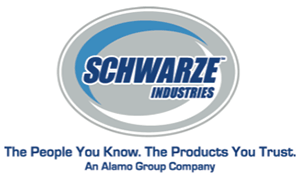 (Huntsville, Alabama) February 11, 2013 –
Lake Oswego's newest street sweeper needs a name. Currently, one is called 4411. Another goes by 4405. Typically, the city's street sweepers are known according to their place in the city's equipment inventory – although there are exceptions.
"We did have one everyone called 'Louie's sweeper,'" said Jim Bateman, street superintendent in the city's operations division. "That was the sweeper Louie always drove. Louie's sweeper was still called that even after he retired 10 years ago."
But Lake Oswego's newest street sweeper will be known by a name rather than a number.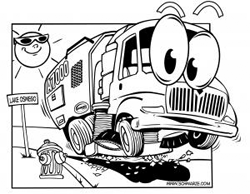 The city has launched a contest for citizens to help dub the new piece of heavy-duty equipment, purchased with money set aside in this year's budget. There's a coloring contest, too.
Officials said the idea is to give the sweepers a "voice" and some personality. They also hope to open a window into the public services the vehicles' giant brooms and vacuum action provides.
"We all associate them with streets being less slick for driving on, with getting leaves picked up and the streets look better," said Christine Kirk, the city's spokeswoman. "The reality is, we're required to do it for water quality."
The city has three street sweepers in its fleet. The older ones are at least eight years old and reportedly average one hour undergoing repairs for every day spent on the road. Second- and third-place winners in the contest will have the honor of naming those older machines.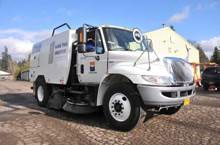 The city's stormwater management permit requires public works crews to sweep most streets at least four times each year. That helps Lake Oswego meet government standards aiming to keep pollutants from being funneled into streams, rivers and lakes via rainwater that picks up debris as it runs over the streets.
Lake Oswego's heavy-duty street-sweeping machines pick up leaves and debris on the city's streets, a service that prevents flooding during rainstorms and helps keeps waterways clean. The machines pick up leaves and debris on the city's streets, a service that prevents flooding during rainstorms and helps keeps waterways clean.
When trees are dropping leaves in the fall and early winter, the city deploys two sweepers each day, five days per week – "if we can keep them running," said Bateman, who has worked for the city for about 15 years.
Street sweepers typically have a life span of about five years. During that time, they do a lot to clean up the roads. Areas with a lot of trees, such as the Westlake area, get more sweepings than other spots — sometimes as much as twice a week in late fall to ensure leaves are picked up.
"That's a judgment call," Bateman said. "If we let them go and do it once a month, they'd be knee-deep. People call in with requests, and we get to them as quick as we can," he added. "It's really hard with our limited staff (of four) to be able to put out an actual schedule. It's very hard to have a set day. ... We've had a real problem with breakdowns, with mechanical failures."
Bateman said the newest sweeper is a different brand than the city has purchased in the past. "So far we think it's going to work out really well," he said. "It's a regenerative air sweeper; you get less dust and particulates. The way it sweeps, it picks up more fine dust material off the road – a water quality feature."
The Schwarze A7 Tornado can haul up to 8.4 cubic yards of debris before needing to unload. It has two diesel engines, one to power the motor and the other to power the vaccum that sucks up debris, along with remote cameras and GPS tracking capabilities.
Made of steel, the machine's 90-by-36-inch sweeping head has a "larger area of influence," according to the company's website, and 14-inch suction and blast tubes boost its ability to pick up debris.
Optional equipment includes 27-degree hydraulic tilt that allow on-the-fly adjustments of the machine's gutter brooms from up in the cab, where the driver can choose between two steering wheels — sitting curbside while working or in the regular driver's seat.
The machine can sweep in reverse. It moves at 6 miles an hour when working but can go faster when it isn't sweeping, according to specifications.
The sweeper was projected to cost $221,000 in the city's list of needed capital improvements. Last year, the council voted to move $624,000 from the city's general fund to the surface water fund to buy the sweeper along with a truck that cleans manholes and catch basins.
That money was not without controversy. The citizens budget committee had recommended a tax rate reduction last year; by foregoing it, the council had the extra funds to earmark for one-time expenses such as the new street sweeper.
Contest Details
The deadline to enter the city's contest is March 10. At that point, a committee will choose coloring contest winners and five top names. The community will be able to vote on the finalists in April, and winners for both the naming and coloring contests will be announced in May.
For more information, visit www.ci.oswego.or.us/publicworks/name-sweeper.
---
For more information on Schwarze Industries, Inc., visit www.schwarze.com. You may also reach the company by calling 800.879.7933.