Global Environmental Products Rolling Out Demo Tour of 100% Electric M3 and M4 Street Sweeper Models

In May of 2019, the management team at Global Environmental Products (Global) announced that it would be adding 100% all-electric models to its M3 and M4 sweepers' currently available CNG and Hybrid (diesel/electric) models. Now the electric machines, says the company's management, are being readied for a demo tour of the U.S.
San Bernardino, CA – June 2020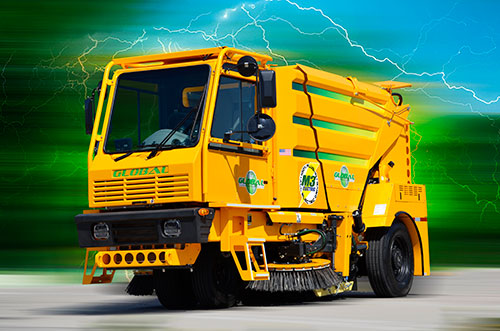 Global's Mission to Become America's Leader in Zero Emissions Sweepers
In 2012, Global Environmental Products (Global) became the first sweeper manufacturer in the U.S. to release a hybrid (diesel/electric) purpose-built mechanical broom sweeper. In 2017, Global became the first to produce a sweeper powered by a hydrogen fuel cell. Then, in May of 2019, the company announced it would be producing all-electric powertrains for its M3 and M4 broom sweeper models. The following provides a closer look at the ground-breaking electric-powered models, which will be embarking soon on a demo tour of the United States.
What Global management believes is the first 100% electric Class 7 (26,001–33,000lb GVWR) sweeper to be built in the USA is its M4 electric model. The sweeper is powered by a battery-electric power train, which makes it a zero-emission machine. Operational time for the M4's battery is 11 hours.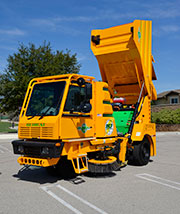 The M4 all-electric, which was previously available in hybrid, diesel and CNG configurations, is mounted onto a 33,000 GVWR purpose-built chassis with a 55 mph top road speed. The standard M4 also offloads to the rear of the sweeper; however, the companion M4HSD model dumps to the side.
Global is also rolling out an all-electric M3 model, which is a three-wheeled sweeper mounted onto the same purpose-built chassis as were its previous M3 models. The M3, which has been available previously as diesel- or CNG-powered, is mounted onto a 24,700 GVWR chassis that's been 100% designed for sweeping. The top road speed of the M3, which offloads debris to the rear, is 25 mph. Battery life per shift is 14 hours.
In their all-electric configurations, these sweepers perform 100% via their onboard electric motors and so are extremely quiet in their operation. During operation, all the noise the sweepers make – which is not much – come from the broom systems. Sweeping speed is up to 8 mph and the M3 and M4 both have heavy-duty sweeping systems the company says can handle up to three tons of sand per minute.
Global's Director, Sebastian Mentelski, says the company's electric models offer a wide range of advantages: no engine means no noise and there is no heat generated during operation. Also eliminated are items like a DPF system, with the fluid and filter to deal with, as well as oil changes, dealing with coolant and a radiator, fuel filters and a normal hydraulic drive system's issues and maintenance.
---
Global's Battery System was Developed by US Hybrid


For its battery technology, Global has partnered with US Hybrid, a leading-edge American company that has taken a top position in the design, development and production of advanced electric and hybrid powertrains for a wide range of vehicle types, makes and models.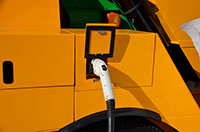 The company estimates the life of the batteries used in Global's sweepers to be up to 10 years, at which time there should be an efficiency loss of just 15%. That means the 11-hour runtime per charge of the sweepers when new would only be reduced by about an hour after 8 years of operation.
The sweeper models charging system meets SAE 1772 Level II Charging System Standards: 240 Volts with an 80 amp breaker and a 9-to-11 hour charge time. Optionally available is a J1772 SAE Level III Supercharging System, which allows for a recharging time of only four hours.
The front-mounted cooling system is maintenance free, self-cleaning and, because it is in front of the work environment, is considered to be zero maintenance. The entire control system is located above the batteries for easy access in the event troubleshooting is needed. The sweepers drivetrain is a conventional rear axle driven by the electric motor via asynchronous alternating current.
The brake system on the electric models is discs all around, with the parking brake a drum-type located on the rear axle. The most interesting part of that system is that the operation of braking provides regeneration to the electrical system whenever the brakes are used. The machines water tank capacity is from 230 to 280 gallons.
---
Says Mentalski: "We believe in innovation; most importantly, we believe in building a company that takes a leading role in making the planet better. We believe every municipality should be operating zero emission sweepers and, in the long-term, we think every municipality will want to move toward electric sweepers. Today's diesel-powered sweepers use about 30 gallons of fuel on a daily basis – that's almost 400 gallons/month. That's another cost, and issue, we're able to completely remove.
"Then there's the issue of serviceability. With an all-electric sweeper fleet the cost of maintenance is reduced significantly. Think for a minute about the constant maintenance that's required involving oil, fuel filters, DPF, to say nothing of transmissions and hydraulics. With our electric sweepers there are also zero emissions polluting the local community and the planet.
"The M3 and M4 all-electric sweeper configuration is also extremely easy to work on if that does need to occur. For example, the battery can be removed in less than 90 minutes; however, with an estimated 10-year lifespan that's unlikely to be needed. The batteries are not like those in a cell phone. They are slow-charging/slow-discharging and made to last the life of the machine.
"The electric operation is also very powerful. Users will truly be impressed at the sweeping power these machines offer. Plus, after being used to standard sweepers, users find they are eerily quiet. Basically, the only noise the sweepers make are the brooms turning and the debris belt in operation. That's it."
General Info on Global's M3 and M4 Models
Global's M3 offers a tight 12'6" turning radius and the M4 turns within 18'6". Both have a full front suspension and multi-adjustable suspension seats.
Hoppers are 5.6d cu yd volumetric. A rear-viewing camera is standard and their squeegee-type elevators are an 11-flight system that's 58" wide and features replaceable corded-rubber tips. Gutter brooms are 47" diameter with disposable segments that offer quick changeout. The Heavy Sweep Package available on both machines allows sweeping of up to a ton every 20 seconds.
Hopper floors are stainless with all sheet metal surfaces powder-coated for both primer and topcoat paint. A load-leveling device is included, along with a hopper access door and hopper full indicator. For complete details see Global's M3's complete specs or choose the specifications page on the M4 model. For additional information contact:
Global Environmental Products
Email: info@globalsweeper.com
Website: www.globalsweeper.com

---
Click on image to view or download Global's product brochures:


---