Exprolink Acquires All Madvac and Certain Allianz Product Line Assets
Company is also taking production orders for certain models.
July 8, 2011; Montreal, Canada
In April, WorldSweeper announced that a group of former employees had formed a new company to continue support for the the Madvac and certain Allianz models of sweepers. Initially called 'Madvac Products,' this organization is now moving forward under the new name 'Exprolink, Inc.'
Hisham El Sherif, VP of Sales and Marketing for the new company, started with Madvac in 1989 and was Director of Purchasing and, later, VP of International Sales for Allianz when the company dissolved. With El Sherif are several other key members of the former Allianz-Madvac organization, including 14+ year employee Donna Alderman, who is the new company's Sales Manager.
The following is a press release provided by the company on July 6, 2011:
Exprolink Inc., a Viconnex company, and its partners, announced today that it has acquired certain assets of the Allianz Madvac sweeper and vacuum collector product lines, in addition to the entire existing spare parts inventory pertaining to those assets.
All assets pertaining to product lines and intellectual properties acquired include the LN/LR50 Small Vacuum Litter Collection Vehicles, PS300 Pedestrian Sweeper, CN100 Compact Sweeper, LX300 and LT500 High-Capacity Vacuum Litter Collection Vehicles, 61 SKID Mobile Vacuum and MS/ MT350 Truck-Mounted Mechanical Sweepers.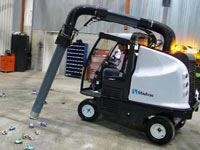 Since its start-up in early April of this year, Exprolink has established what is currently the largest North American, Allianz Madvac OEM spare parts depot to house the inventory related to all mentioned product lines.
"The support we've received from our dealer network and end-users since our start-up has been tremendous, we will take this momentum into Phase 2 of our venture - moving forward with vehicle production", stated Hisham El Sherif, VP – Sales & Marketing of Exprolink. "It is operating 'business as usual', on all levels, namely parts order taking and delivery, service and mobile service support and unit production. To service and support the current machine population, Exprolink can count on its 35 experienced distributors worldwide."

The Company is currently processing orders for the LN50, LR50, PS300 and SKID61 product lines which are being manufactured for delivery during the month of September, 2011. "Right now, we are also in the process of actively gauging the market's needs for the CN100, LX300, LT500 and MS/MT350 units with our distribution network and end-users to forecast when production of these product lines can resume," stated El Sherif.
"This acquisition of several product lines is a major step for Viconnex and its subsidiary Exprolink toward becoming a leader in providing and integrating equipment for public works and solid waste sectors," stated Jean Bourgeois, Managing Partner of Viconnex, the parent company of Exprolink.
About Exprolink
Exprolink is a company dedicated to offering equipment, spare parts and service for the international solid waste and public works sectors. To support all the equipment it brings to the market, Exprolink operates a parts depot that can ship parts worldwide within 48 hours. Exprolink's dealer network, management and operational teams have a concrete and experienced background in the solid waste and public works industries, as well as, in customer service and support.
For more information relating to Exprolink, please contact:
Hisham El Sherif, VP Sales & Marketing
Toll Free: 1-855-651-0444 (USA/Canada)
Telephone: 450-651-0444 (International)
Fax: 450-651-0447
Email: info@exprolink.com Web: www.exprolink.com
About Viconnex
Viconnex is a holding company specialized in providing and integrating equipment for targeted waste management challenges. Viconnex addresses two specific market segments: solid waste through its Exprolink subsidiary, and organic waste through its Terix subsidiary.
As a group, Viconnex' expertise, acquired through the team's years of operating in environmentally-related industries, assists major private waste management companies and government-run waste management operations to succeed in meeting and overcoming challenges they encounter in their day-to-day operations.
For more information relating to Exprolink, please contact:
Jean Bourgeois, Managing Partner, Viconnex
Toll Free: 1-855-651-0444 (USA/Canada)
Telephone: 450-651-0444 (International)
Fax: 450-651-0447
hjb@viconnex.com
Web: www.viconnex.com