Elgin Sweeper Introduces Crosswind Glycol Recovery Sweeper

Optional model ideal for sweeping, removing fluid runoff on airport runways and gate locations.
ELGIN, Ill. (Oct. 20, 2010) – Elgin Sweeper recently introduced a glycol recovery sweeper (GRS) option for the Crosswind® high-performance regenerative air sweeper. The optional model includes all the sweeping performance, maintenance and design features of the Crosswind sweeper, which has been popular with users worldwide for more than 20 years. The Crosswind GRS is ideal for efficient sweeping and removal of debris as well as environmentally damaging glycol and other deicing fluid runoff on airways and gate locations before it migrates into the ecosystem.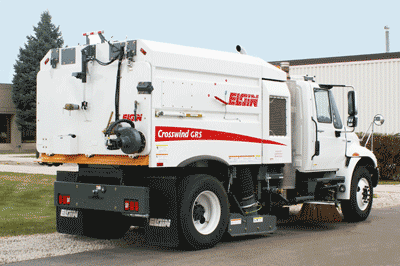 "Elgin Sweeper customers are looking for equipment to help them comply with tough environmental regulations year-round," said Brian Giles, sweeper product manager at Elgin Sweeper. "We're confident the versatility of the Crosswind GRS model will not only help airports comply with rigorous standards for controlling glycol and other deicing fluid run-off, it will revolutionize the way they manage their cleaning equipment use through the ability to sweep debris and remove glycol with the same piece of equipment."
According to Giles, the optional model doesn't require any modifications when switching from sweeping debris from runways and taxiways throughout the year to glycol removal in snow and ice conditions.
The sweeper's rear dump body design is equipped with a high-flow pump system that makes it easy to safely pump off a load of glycol into an evacuation tanker or at a dump site. For below-grade catch tanks, the fast rear door dumping capability of the debris tank gets the Crosswind GRS back to work quickly, whether sweeping runways or removing glycol.
Specially designed baffles installed in the sweeper's hopper help reduce liquid slosh without impeding sweeping or dumping operations. For convenience, the operator can monitor the liquid level of the hopper from outside the sweeper or with the in-cab indicator light on the control panel that signals a full hopper load.
The Crosswind GRS is suited for airport applications in all weather conditions, all temperatures and in wet or dry environments.
For additional information on the optional Crosswind GRS model or to schedule a demonstration, please see your local Elgin Sweeper dealer, or visit www.elginsweeper.com to find a dealer near you.
---
Sold and serviced through a network of more than 100 dealer locations worldwide, Elgin Sweeper products are the sweepers of choice for a variety of general street maintenance, special industrial and airport applications. With more than 90 years of experience, Elgin Sweeper offers municipalities, contractors and industries the most sweeper options in the country, using the latest sweeping technologies—mechanical, pure vacuum, regenerative air, alternative fuel and waterless dust control.
Elgin Sweeper is a subsidiary of Federal Signal Corporation's Environmental Solutions Group. For more information, visit www.elginsweeper.com or see your local Elgin Sweeper dealer.
---
If you have a question or comment, please let us know. If appropriate, we'll add it to the bottom of this page.
---