January 2011
SPECIAL REPORT:
Prices of Polypropylene, Steel and Carbide on the Rise
by Ranger Kidwell-Ross
We all hope the economy will be better in 2011 than it was in 2010. At the moment, however, the sweeping industry is faced with rising prices in several key raw materials areas.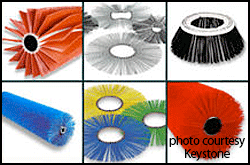 The price of main brooms and curb brooms is being impacted on two fronts. First is the price of polypropylene, which has just been impacted by the largest single price increase in memory, a whopping $.17 per pound.
The central component of polypropylene, which is what curb broom blocks and 'plastic' bristles for sweeper curb and main brooms are made from, is called 'monomer.' This raw material is produced from crude oil and used in a wide variety of end products. As you have noticed, all types of fuel prices are on the rise as well. Monomer is sold to the highest bidder, so it is no surprise that polypropylene prices are rising.
The market for steel-bristled sweeper brooms, as well as the sweepers and aftermarket replacement parts, are being impacted by increased pricing for steel. Steel producer's cite rapidly escalating raw material, energy, transportation and production costs, in addition to increased pricing for steel scrap.
Plus, the flooding in Australia has significantly impacted the mines that produce 40% to 50% of the annual supply of coking quality coal, which is used by the global steel industry. Add to this the current iron ore export ban by India and it's easier to understand why there has been an increased base price of $280 per ton from U.S. mills since November.

Jack Moran, of Keystone Sweeper Brushes, says end-users will need to expect a price increase or surcharge in the broom marketplace. "Whenever we have a price increase," says Moran, "our preference is to provide our customers with at least 60 days notice.
Unfortunately, in this case we received only one day's notice that polypropylene would be rising by an unprecedented $.17 per pound! There is simply no way we can hold the line even though we are a large supplier with a substantial reserve stock in our inventory.
"Our commitment is to hold the line on our current prices through the end of January. We are sorry to report we will be implementing a surcharge starting February 1. Until then, we will accommodate normal, everyday business orders at our current prices. Even more worrisome is the fact that virtually all of our suppliers have indicated to us that these increased prices are likely here to stay."
According to the January 14, 2011 edition of The Plastics Exchange Market Update, the 'Bible' of the plastics' pricing industry, "Numerous processors were in the market, but generally seeking low volumes of material, as many waited to see how contract prices would ultimately shake out. Producers are trying to raise January resin contracts by as much $.11/lb for Polyethylene and $.19/lb for Polypropylene.
Other suppliers are no doubt impacted by similar costs, so our WorldSweeper recommendation is to check with your current supplier to find out how to best lessen the impact on your company.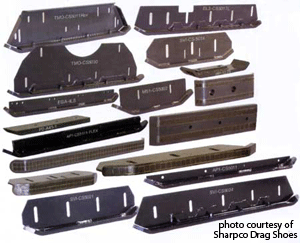 The sweeping industry needs to prepare for price increases on drag shoes, as well. Prominent in the news as of late has been that China has drastically cut its export level of rare earth metals. Expectations are that China will export 35% less in the first half of 2011. What many people do not realize is that carbide is considered a rare earth metal.
According to the Wall Street Journal, December 29, 2010, China supplies around 95% of the world's rare earth metals which are used in high-tech batteries, television sets, cell phones, defense products – and sweeper drag shoes. Although the US trade Representative's office reports that they have "raised our concerns with China and we are continuing to work closely on the issue," there is no question that carbide prices will increase substantially over the course of 2011.
China boasts rich tungsten resources with 60% of the world's tungsten reserves. Its output of tungsten concentrate, APT, tungsten powder, tungsten carbide, and tungsten filament – as well as its tungsten trade volume – ranked first in the world in 2009. As tungsten is a strategic resource, and the country wants to guard against exploitation, since 2002 China has implemented a quota on the total tungsten it ships out of that country. The quota of total tungsten concentrate in 2010 was 80,000 tons, which was 11,445 tons, or 16.69% more, than the 68,555 tons it allowed for export in 2009.
Although China has implemented years of total exploitation amount control on tungsten, the actual output has always exceeded the quota in each of the years. For example, China's tungsten concentrate (65% WO3) output was 104,800 tons in 2009, which was 36,000 tons more than the quota.
For this article I spoke with James Sharplin, owner of drag shoe supplier, Sharpco. Sharplin confirmed that the Chinese carbide market has been a roller coaster in recent years. That has increased the prices and availability of virgin carbide, as well as impacted prices for scrap carbide. To learn more about the scrap carbide market, Sharplin put me in touch with one of the major U.S. suppliers of scrap carbide. You will find the information from that interview below.
Sharplin also confirmed what's happening with pricing of other raw materials used in drag shoes. "Rolled flat bar, carbide and silver solder are the main ingredients in drag shoes," Sharplin said. "We have seen significant increases in our costs on all three ingredients over the last several months. Although we're doing all we can to keep a line on pricing, I predict by May our prices will have to increase.
"The only reason we can keep at our current prices now is that we stock over 3000 shoes in our warehouse. I suggest that customers who know they will be needing shoes in the next few months, no matter who their supplier is, should buy now before there is an increase in prices."
The major U.S. scrap carbide supplier Sharplin put me in touch with offered some additional insight. "In case you don't already know it," he told me, "so-called 'scrap carbide' procured in the U.S. and elsewhere provides the same wear quality as carbide directly from a mine.
The term refers to carbide chunks that have been used for other applications; most often, they are significant chunks that have been used for things like cutting and boring. The carbide surface that would be used in a sweeper drag shoe will have received no prior wear.
"When it comes to what will happen with carbide out of China," the gentleman told me, "I threw my crystal ball out the window a few years ago. In 2008 and 2009, suppliers had stockpiled quite a bit of inventory and then were stuck with it when the recession depreciated prices.
"Then, toward the end of 2010, they found themselves in exactly the opposite predicament when the supply of carbide from China became nonexistent. Although prices were posted for carbide there simply wasn't any available.
"In February we will be reaching the Chinese new year which is usually when the Chinese government makes its export decisions known. In recent years, China has reduced its exports by about 6% even though the quota restriction was even higher.
"What I actually expect, unless they are our surprises coming from China, is an overall leveling off of carbide prices as once imports start flowing from China once again. I hope the market becomes stabilized, though I don't expect much if any of a price decrease."
As a follow-up to this article, in the February 2011 issue of WorldSweeper's online newsletter we will provide a feature article that discusses the various qualities of carbide and how to determine if your supplier is using an appropriate carbide insert in your drag shoes.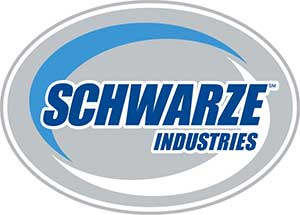 On the topic of steel price increases that have occurred and appear to still be taking place, I contacted Raymond Massey, Director Sales & Marketing for Schwarze Industries, Inc. Here's what he conveyed on that topic: "Worldwide steel prices are up 30% over the past few weeks along with indications that additional increases are expected throughout 2011. This unfortunately equates to higher costs for end-users, as this cost increase cannot be absorbed by various OEM manufacturers.
"We are hoping that the worldwide increased demand is a positive economic indicator that the worldwide economic conditions are improving. As for fuel prices, we've all seen the dramatic increases at the pump in the past few weeks and current information is indicating further fuel price increases throughout 2011 and into 2012.
"Last, we have the problems in Australia, which is the largest supplier of iron ore and coke coal to China, the #1 steel producer in the world. Unfortunately, the recent Australian floods have flooded and closed most of the coal mines. China is forced to pursue other, more expensive, alternatives to supply its demand for these raw materials.
"Schwarze Industries, Inc. has been able to eliminate this increase from being a factor in the pricing of our product through the end of March 2011 due to contractual agreements with our suppliers. However, beginning April 1st our pricing will be susceptible to the current increases at hand.
"We strongly encourage any of our current or prospective customers considering a purchase during the first half of 2011 to place their orders prior to the end of March to eliminate any additional charges that will be the result of a continuing volatile steel market."
We're sorry to have to convey this negative news to our industry readers. However, it's always best to have the information needed for better business planning.