New Advance SC350TM Micro Scrubber Provides Efficient, Versatile Cleaning Performance with a Compact Design
The SC350 is an ideal solution for small area applications ranging from convenience stores to food service and restaurants.
Plymouth, MN – June 22, 2012
Advance introduces the new SC350TM Micro Scrubber, the most recent addition to the company's line of small scrubbers. With its fully-adjustable rotating deck, the SC350 is the industry's first compact unit capable of delivering effective cleaning results in both forward and backward directions.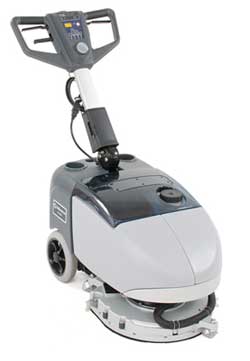 Designed to replace traditional mop and bucket cleaning procedures, the SC350's compact, maneuverable design allows users to tackle diverse cleaning jobs, ranging from convenience store entryways to quick serve restaurant kitchens. The innovative rotating deck features an integrated squeegee, providing simultaneous clean and dry capabilities in all directions.
Operators can push the machine forward like a "normal" scrubber, or they can easily flip the machine up, triggering the deck to rotate for backward scrubbing performance – providing an ideal scrubbing option for tight, restricted spaces or behind counters.
"For areas that require quick, efficient scrubbing, such as gas stations or quick serve restaurants, the SC350 ensures a clean and dry appearance, without having to worry about slip and fall accidents," said Jill Kohls, Healthcare and Hospitality Vertical Market Manager at Nilfisk-Advance. "With flexible scrubbing performance, operators can employ one single machine for their cleaning needs—saving time and allowing foot traffic to get back on the floor faster."
The SC350TM delivers superior scrubbing performance and effortless operation through the following benefits:
Reduced physical labor with brush-assisted technology and full battery-powered operation.
Quiet operation at only 64 dBA allows for daytime cleaning without interrupting facility occupants.
Extended operation with two-hour battery-operated runtime and convenient on-board battery charger.
The SC350 is ideal for use in small area applications that require reduced noise and safe, clean floors. Applications include, but are not limited to: convenience stores, educational facilities, healthcare facilities, food service restaurants, gas stations and retail stores.
Advance is a brand of Nilfisk-Advance, Inc. For more information on the new Advance SC350TM Micro Scrubber, call 800-850-5559 or visit this link.
---
About Nilfisk-Advance
Nilfisk-Advance is one of the world's leading manufacturers and suppliers of professional cleaning equipment. The company has developed professional cleaning equipment for over 100 years. Nilfisk-Advance has production facilities in North America, South America, Europe, and China, and has an extensive network of sales entities in 43 countries and is represented in more than 100 countries around the world. The company currently has over 5,000 employees worldwide, with global sales of over $1 Billion USD in 2010. Nilfisk-Advance is a part of the NKT Group and listed at NASDAQ OMX Copenhagen.
---
If you have a question or comment about this press release, please let us know. If appropriate, we'll add it to the bottom of this page.
---