Horse-Drawn Studebaker Sweeper Used in Oregon Logging Town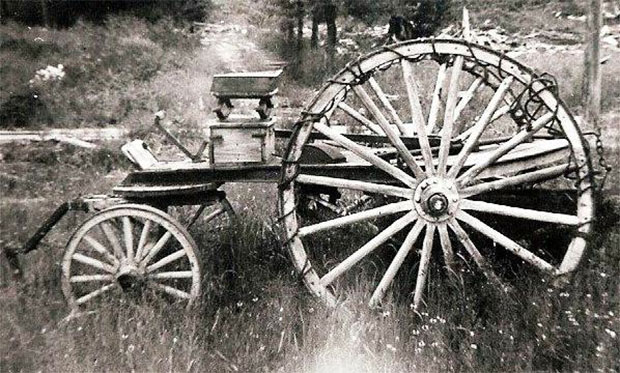 In 2013 WorldSweeper reader, Wayne Warner, sent us the above photo and the following brief story to share with the industry.
"Attached is the photo I mentioned when I contacted you," said Warner. "I shot it with an old Kodak Brownie Hawkeye in about 1947. The photo shows a Studebaker street sweeper. Maybe you or staff members can identify the model. Here is the background information.
"Booth-Kelly Lumber Co. was a regional lumber manufacturer in Western Oregon during the first half of the 20th Century. One of their mills was at Wendling, a small town they created and maintained in Lane County. My eight siblings and I grew up in this company-owned town. Our Dad worked in the sawmill, which was the major employer in the little valley. But in 1946 the company ran out of timber, closed the mill and eventually liquidated the town.
"In the background you can see the remains of houses that were razed; many of the houses were hauled in pieces to set up in nearby Springfield, Eugene, and other towns. The only landmark remaining is a white, covered bridge.
"Now about the street sweeper. Booth-Kelly used it to sweep the docks where lumber was stored, and for the plank floors throughout the mill and planer area. The town had a lot of plank roads, so it could have been used there, as well. I have been told that horses pulled the sweeper in the early days, but then a "jitney" was used later.
"Because I liked to shoot photos in my early teens, I shot the street sweeper – which was probably waiting to be scrapped. As you can see, wire cable is wrapped around the large wheels, probably to keep the wheels from sliding. As I understand the mechanics of the sweeper, the brush would rotate with the turning wheels."
If you have any information to further clarify this sweeper model or anecdotes surrounding its usage, please let us know.
Also, we're always on the lookout for more sweeper-oriented information we can add to the website, so keep us in mind if you find interesting information about sweeping.