An Overview of Elevator-belt Street Sweepers
A few examples of elevator-belt street sweepers (US Patent number, Year)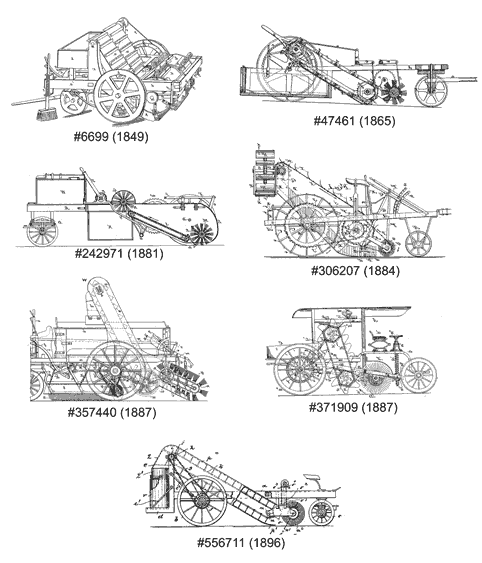 At the bottom of the above diagram is Charles Brooks' street sweeper cart patented in 1896. Above it are a few examples of earlier street sweepers of a similar type (having a revolving brush, elevating belt and refuse receptacle). Brooks' design, far from being the "first street sweeper," was just a variation of what already existed, and the patent for it was among the more than 300 street sweeper patents issued in the United States before 1900.
Most 19th-century sweepers, including the one in Brooks' patent, were horsecarts with no engine on board. The wheels on the cart turned gears or chains which drove the brush and belt.
A few other types of early sweepers
First self-propelled sweeper vehicle patented in the USA, driven by steam engine and intended for cleaning railroad tracks.
Another steam-propelled sweeper, this one for roads.
The inventor of this machine, Eureka C. Bowne, was the first known woman to get a patent for a street sweeper. "Her success was great," wrote Matilda Joslyn Gage in The North American Review, Volume 136, Issue 318, May 1883.
US patents for street sweepers, prior to 1900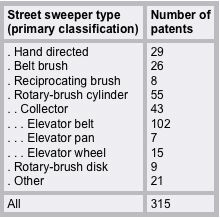 Thanks to the Brinkster.com website for contributing this information.
Also, we're always on the lookout for more sweeper-oriented information we can add to the website, so keep us in mind if you find interesting information about sweeping.