Bill Ackendorf Reminisces on 30+ Years Selling Street Sweepers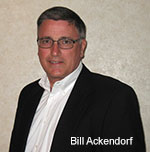 Bill Ackendorf's tenure in the power sweeping industry started in 1983 when he began working for an equipment dealer that represented Elgin Sweepers. Within two years, his considerable talent recognized by Elgin, Bill took a job with them as regional sales manager. As you will read, Bill's impact on the power sweeping industry was to last for over 30 more years.
by Ranger Kidwell-Ross

Bill worked for Elgin until 2003, when he quit to help Elgin's powerhouse Canadian dealer, Joe Johnson Equipment, establish a presence in the United States. Today, that company is a subsidiary of Federal Signal, Elgin Sweepers' parent organization.
Successful with that mission, Bill quit in 2007 to pursue other interests. However, having been "bitten by the sweeping industry bug," he made a surprising re-entrance to the industry by taking a job with Johnston Sweepers in 2011, where he stayed until his retirement in early 2019. With Johnston, Bill covered territory throughout the United States and Canada as he helped Johnston – the largest sweeper manufacturer in the world – establish its presence in North America.
In this interview, which was done to capture Ackendorf's experiences for posterity, Bill discusses his experiences over those many years as well as catalogs some of the changes he saw along the way.
"During the 15 years I spent representing Elgin sweepers in the Northeast part of the U.S., I was exposed to some of the most significant sweeping contractors and sweeping jobs that anyone could possibly come across. I left Elgin in 2003 only because I was offered the opportunity to stay home at night rather than travel the country. My new job description was to help Joe and Jeff Johnson launch their USA operations in New York State. We were very successful at this over the next four years and in 2007 I left to do some other things.

"After the bankruptcy of the Allianz Sweeper organization, Johnston Sweepers decided to establish a presence in the U.S. and, in 2011, I joined them to assist in that process. Allianz Sweeper was considered a master dealer by Johnston U.K. since the organization was responsible for the distribution of Johnston products in North America. When Allianz went bankrupt, Johnston U.K. was presented with a decision about how to proceed: should they continue to distribute their products in North America the same way or do they do it a little differently? Johnston management decided to establish a direct presence, Johnston North America, and I helped with the process of developing the North American marketplace."
Bill spent his last three years with Elgin Sweeper as head of the company's governmental marketing arm. In that job description, shortly after 9/11 he found himself working with the Marine Corps. The Corps was interested in the Elgin Crosswind for sweeping its runways. At the time, the Crosswind was available in a high-speed model for runway sweeping or in its normal configuration for more typical sweeping.
"I showed up at Quantico to do a presentation and demonstration," Bill said. "Due to the recent 9/11 attack, when I got there I was virtually strip-searched. Plus, their searching of the sweeper included putting a mirror underneath it as part of the inspection process. Then, as if that wasn't enough, they put a German Shepherd into the hopper of the sweeper to sniff for explosives! I can still recall the sound of the poor dog's claws trying to gain a foothold on the steel floor of the hopper. Frankly, it was a little unnerving for both of us.
"Then, it got even a little stranger when they escorted us out onto the runway. Most readers will probably not know that the president's helicopters are based at Quantico. That's one of the reasons why security there is extremely tight. The runway was also quite clean: When we got out to the place where I was supposed to demonstrate the sweeper, it would've taken a microscope to find any debris. So, I turned on all the water on the machine and traveled around the runway leaving a 12-to-14 foot swath of darkened pavement where the water hit it and everyone was duly impressed."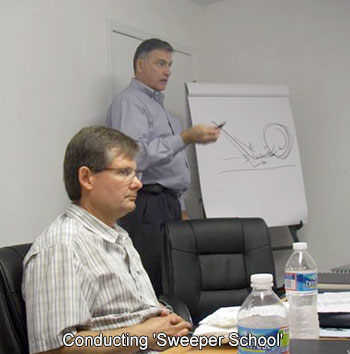 Later that day Bill says he was scheduled to finish by doing a PowerPoint presentation. Unfortunately, no one could make the interface work between his computer and the Quantico system. However, knowing the military's penchant for redundancy Bill had made up a number of printed booklets, just in case something like that occurred. When the PowerPoint projection didn't work, the powers that be started to call the meeting. That's when Bill pulled out the dozen booklets that were printouts of his PowerPoint presentation. The result? Elgin secured a contract for every street sweeper the Marines owned and used throughout the world.
"As I recall," said Bill, "we sold 38 sweepers in just one transaction, four of which ended up on aircraft carriers. By the way, most people don't realize that carrier-based planes take off and land on an asphalt surface that has to be kept up and repaired constantly. The aircraft carrier runways also have to be kept spotlessly clean and free of anything that might fall off of other vehicles, airplanes, etc. This is called 'Foreign Object Debris,' or FOD. Absolutely no FOD can be left on runway surfaces."
Bill also reminisced about working with one of the early industry trade associations, called the Contract Sweepers Institute. "As hard-working as those guys all were, I quickly learned they were equally hard partiers. Although that made the job enjoyable, it was sometimes difficult to get up the next day and go to work. The education I got in working with those industry leaders was invaluable, though, and bringing the information I learned back to the manufacturer, initially Elgin and then later on Johnston, was very important.
"I learned so much about what the contractors wanted that when Johnston decided to build a four-wheel mechanical sweeper I knew I didn't want to just leave the design to a group of engineers. As proficient as they are at a drafting board, the designs don't always translate to the real world. So, I put together focus groups with contractors, marketing people, dealers, engineering people and, together, we dissected the entire industry's product line in terms of what was bad, what was good and what was needed in the marketplace. Eventually, we came up with the design that is now known as the Johnston Easy Sweep, which is a single-engine, mechanical broom sweeper mounted on a standard chassis.
"In my experience, many manufacturers do not take the time to find out what the customer really wants. I have always thought that one of my strengths was that I did not have an engineering degree but, rather, a degree in marketing. Because of that I have an ability to recognize and address the human side of the equation and, fortunately, that always worked out quite well."
As you can hear in the accompanying audio interview, should you choose to listen to that as well, I asked Bill to recall street sweeping back in the early 80s, before there was much emphasis on the environment. "Back then," Bill responded, "sweeping was done to remove dirt and debris off the road surface. Because I was based in the Northeast, when winter is over and sweeping becomes even possible you need machines that are extremely aggressive in order to remove all the accumulated material.
"Typically, that means a mechanical broom sweeper. Initially in my career, there was absolutely no consideration of any environmental impact. It was only later on, when storm water runoff legislation became more prominent and people started looking at the more health-related concerns, that these factors really started to become paramount.
"In that regard, I take my hat off to the TYMCO organization, which was really the first sweeper manufacturer to recognize the environmental aspect and leverage it into making more sales, naturally preaching that their regenerative air sweeper was a better answer to the fine material targeted by environmental legislation. Even with little direction from the government, TYMCO directed that regenerative air was the only way to sweep if there was concern about air and/or water quality.
"At the time, the government just said sweeping should be part of a best management practice, without any kind of distinction between different types of sweepers. Rather than any concern about the type of sweeper, there was a movement to just sweep more often. As time went on, with the information campaign being led by TYMCO, the government gradually started recognizing that air sweepers would do a better job when it came to environmental concerns."
Since sweeping has been shown to be conclusively a more cost-effective way to get material off the streets, when compared to end-of-the-pipe solutions, Bill suggests the sweeping industry should better educate the buying public about that fact.
"There's a lot of misinformation out there," Bill said, "some intentional and some not. I can't tell you how many times I sat and talked with a potential customer who had read an industry article someplace and all they could talk about was regenerative air sweepers. Now, keep in mind that both Johnston and Elgin make regenerative air machines, as well as other types. Some manufacturers only make a certain type of sweeper. That said, the people I worked for made all different types.
"However, I think part of our jobs as ambassadors of the industry is to be a solution provider for the customer's particular situation and need. You cannot ignore application, because application will dictate which sweeper is going to be the best for a certain job. For me, the important thing was to find out everything I could about the application the customer was interested in. That was the only way to make a recommendation and, further, if we didn't offer a machine that could handle their situation I would probably recommend they would go in a different direction. That's what I thought our role as a solution provider should be.
"Again, since my territory was the Northeast, where you can only sweep from five-to-eight months a year – and most typically did not have the luxury of having a whole fleet of sweepers – the sweeper I sold them better be aggressive and be able to handle the bulk accumulation that occurs in that area of the country. I continually found myself telling people who were concerned about getting rid of the fines that, before they could do that, they had to get rid of the bulk material first. A regenerative air sweeper might be great at getting up the fines, but if you have to get through 18 pounds of material before you can get to them... My point is, there's a lot of education needed in our business."

As an example, Bill cited an Elgin sales statistic from the late 1990s, when the company sold 98 Elgin Pelican sweepers just in Western Massachusetts, even though regenerative air sweepers were readily available and widely discussed. This was due to the Pelican's greater maneuverability combined with its ability to pick up heavy material. In his opinion, the Pelican still dominates that area today because it remains the right sweeper for the job in that area of the country.
Another 'war story reminiscence' Bill offered was when Elgin management decided to conduct an analysis along with the president at the time, Roger Parsons. The idea was to put every one of the Elgin models through a process called a 'maturity curve.' In management meetings around 1988, the Elgin team plotted where each of its products was in that curve; whether it was on the upside with continued prospect of strong future sales or, on the other end of the scale, was it maxed out where the product design would be dropping off in terms of sales. At the time, the consensus was that 'the Elgin Pelican was well past its maturity curve and was foreseeably going to go away.' Of course that has not occurred with the Pelican still being a dominant sweeper in the Northeast and in general.
In the audio interview, Bill also discusses the impact of some of the innovations the industry has seen, including alternative fuels and waterless/dustless models, noise reduction initiatives, broom-in-heads for regenerative air machines to make them more aggressive, advent of the strip main broom and properly applying the correct sweeper to porous pavement surface cleaning. Today, the next big thing is predicted to be electric, rather than fuel-consuming, sweepers.
He considers some of them to be 'flavor of the day' items. The example he cited was alternative fuels, which were hot as long as the government provided subsidies but not so much without a subsidy program.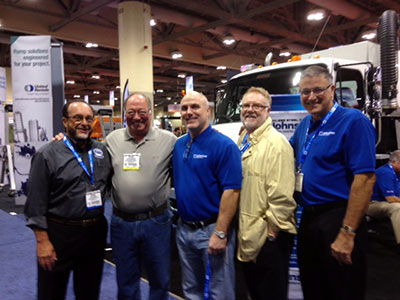 What does Bill think is most important when it comes to the sales and marketing of sweepers to consumers? "I would like to see a much higher level of education given to manufacturers personnel and then, subsequently, to their dealers. That's the only way they can go to their customers with qualified information that really allows the customer to understand the nature of street sweeping and how to best decide upon the correct machine.
"Mistakes are being made and the fact is, these sweepers are not cheap anymore. When you're looking at the average truck-mounted sweeper running at least $275,000 and up, you can't afford to make a mistake. It's our job as professionals to educate the buyers about which type of sweeper is going to perform best for them so they can wisely plan for and spend their tax dollars appropriately."
I asked Bill why he thought sweeper manufacturers, to date, have been unable to develop a united front organization designed to educate the buying public about the cost-effectiveness sweeping offers over other end-of-the-pipe solutions for reducing stormwater pollution runoff.
"Inherently, there is a distrust – maybe paranoia is a better term – when you put multiple manufacturers together to try to develop a one voice/one message for sweeper users. They don't want to share any numbers, give away any trade secrets, etc. I get that. It's also difficult to combine stormwater managers with public works directors in order to work together to develop the most cost-effective overall stormwater management plans. I think that's because stormwater managers tend to be engineers and public works directors are typically somebody who started in the department out of high school and never left. It's hard to get those two types of people, as well as the fiefdoms they control, together."
To end our conversation, Bill reflected upon an interesting meeting he had while working for Elgin Sweeper. "I was in a meeting at a military base and a woman who was an environmental engineer asked how long I'd worked for Elgin. I answered something like '16 or 17 years,' which was correct at the time. She said 'Oh, so you've made a career out of representing sweepers.' I don't believe it was until that point in time that I'd ever looked at my professional life as having a career as a professional street sweeper salesman.
"Reflecting upon her observation, that was when I realized she was right. Mine was a sweeper sales career filled with knowing many wonderful people; we would get together at shows and share stories and at least some amount of information. It was a pleasure to be a part of this industry and I want to thank everybody that gave me the opportunity to know them and to participate in this industry for their assistance. As long as you're selling a quality product and bring a level of education to the table then I think it works very well. I'm glad to have had the privilege of working for two of the top manufacturers and contributing in some small way to their sales and to the education of their customers."
We have posted the 40-minute audio interview held with Bill Ackendorf that comprised the basis for this article. You may reach Bill via email sent to ackendorfb@gmail.com

Also, we're always on the lookout for more sweeper-oriented information we can add to the website, so keep us in mind if you find interesting information about sweeping.