Street Cleaning Simulator 2011
Street sweeping simulator available from UK-based Excalibur Publishing Ltd. simulates operation of a Ravo-type sweeper.
"Brush off the dirt and make a clean sweep as you embark on a career to become an accomplished street cleaner. Use your highly detailed sweeping machines to roam the city in search of muck. As your experience grows so will the tasks you have to deal with!" Get swept up into fighting the flotsam and jetsam of city life with Street Cleaning Simulator!"
So starts the info page for the PC program called "Street Cleaning Simulator." The program, which was introduced on June 10, 2011, is the first entrant into the PC realm of simulation. Prior to this, however, we have featured another computer program designed by Ravo called "Sweeping Mania."
According to the promo for the program, here's what you will find: "In Street Cleaning Simulator you are the proud owner/operator of a small firm specializing in keeping the town's roads free from all the leaves and dirt that accumulate over time. Visit your office to learn what work the Mayor's office has for you.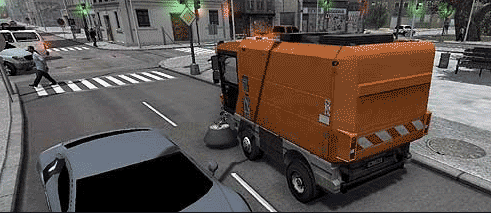 "Your vehicle is a highly sophisticated street cleaning machine. It's equipped with three highly powered and independently operated brushes... Whose work can be supported by highly powered water jets which are needed to remove that stubborn street dirt.
"You'll be operating on busy streets so you'll have to use your driving skills to avoid pedestrians and other road users. Remember to use your wing mirrors to help prevent crashing your vehicle. Don't forget to fill up with fuel... and water... and empty out the muck from time to time. Street Cleaning Simulator features highly detailed vehicles and a wonderfully crafted town for you to explore & and keep clean!"
Minimum System Requirements are...
Windows XP (SP3)/ Vista / 7
Processor with 2.6 GHz Duo Core
2 GB RAM
2 GB free hard drive space
NVIDIA GeForce 98xx or equivalent ATI graphics card
DirectX 9.0c
Sound card
DVD drive
At its introduction, cost for the program was 24 English Pounds (about $40US). Use this link to transport to the game's download page.