Calgary Stampede 'Sweeper Critters' Retired After 13 Years
by Ranger Kidwell-Ross

In 2014 the 'critters' shown in the story below were 'retired,' and a new set of four animals designed for the 2015 Calgary Stampeded. To see the new ones, use this link.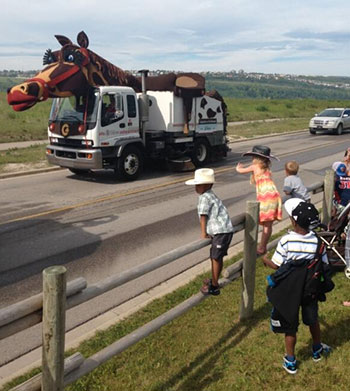 In Calgary, Alberta – which is located in the western portion of Canada – there has been a tradition of affixing giant 'street sweeper critters' onto the city's sweepers for cleaning up after the City's celebrated Calgary Stampede festivity events.
In 2001, the City introduced parade watchers to Dixie, Samson, Rocky and Alfalfa, four critters created by a local puppeteer that were fitted onto street sweepers used to clean up the parade route. The four traveled the City's parade circuit for the last time on July 4th of 2014. Reportedly, the four critters will be transferred to 'greener pastures.'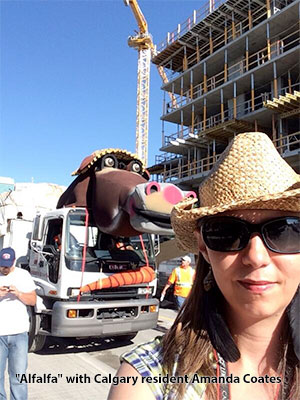 Before retiring the animals, which have become much loved by the citizens of Calgary, City officials offered citizens a chance to see them at a variety of City of Calgary Parks. Said a Calgary official, "The critters posed for pictures and citizens were invited to post their resulting photos on Twitter to enter a drawing to win City of Calgary Roads swag.
Although these particular Stampede street sweeper critters are hanging up their cowboy hats and heading off into the sunset for greener pastures, it's not the end of the practice for the City of Calgary. City officials promise four new characters will be clearing Calgary Stampede parade route roadways.