---
C&J Chosen as WorldSweeper.com's
2011 Contractor of the Year!

After this interview was written and recorded, on February 4th at the National Pavement Exposition in Nashville, C&J's President, Ray Confer, received the 2011 Award of Excellence in Power Sweeping.

For details, we invite you to check out WorldSweeper.com's video coverage of the presentation. We also have the transcript of the presentation available here. (Opens in a separate browser window.)
---
C&J Parking Lot Sweeping, Inc. – One of America's Top Echelon Sweeping Companies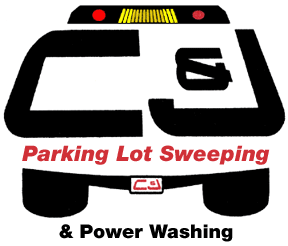 Ray Confer already owned a landscaping business in 1978 when he started into sweeping. His new venture resulted from a request by a property manager that was a client of Confer's landscaping company. At a Rotary meeting, the mall manager asked if he knew anything about sweeping parking lots.

Ray confessed that he didn't know anything about sweeping – especially how to bid it. The mall manager responded that his current sweeping contractor had come into his office yelling and screaming at him. "If you go out and get a sweeper," the manager told him, "I have a contract waiting for you."
by Ranger Kidwell-Ross
That's the backstory of how the very first customer for Confer's startup sweeping company, C&J Parking Lot Sweeping, Inc., was one of the major malls in the Detroit area. With a clear note of pride in his voice Confer says his company still sweeps that property today, 33 years later. However, Confer's company now has over 1500 other customers, as well, including the world headquarters of both General Motors and Ford.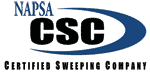 Confer was also one of the initial founders of the North American Power Sweeping Association (NAPSA). "I think being involved with an industry association is very important," Confer says. "In addition to the actual member benefits another big part is the camaraderie, because it's a place where people in the same industry can discuss what's going on in their businesses. They learn from each other; they learn from each other's mistakes.
C&J is a Certified Sweeping Contractor in the NAPSA organization, as well. "Since I was a founding member I wanted to get our company Certified in order to take it to the next level. When we go in to someplace like Ford or GM and bid against other contractors, I am certain that our Certified status makes a difference. We show them our credentials and it really works out in our favor.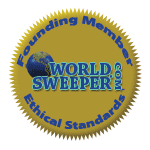 C&J is also a Founding Member of WorldSweeper.com's Ethics in Power Sweeping program. Confer has also stayed involved with a number of other local business associations, including Lions Club and Rotary.
The first sweeper Confer bought was a Tennant 717. He chose it because it would fit into the back of a pickup, which he had available as part of his landscaping company. "That's what I bought when I had to get a sweeper right away." says Confer. "It had no gutter broom and you had to shovel it out. Looking back on it, it was a pretty primitive machine.
"After that we had some TYMCOs, some Schwarze's, and now Nite-Hawks and others. Today we really have quite a variety represented in our approximately 40-sweeper fleet. We have all sizes and types so we can have the right machine for any sweeping job we need to go out on.
"Part of my philosophy of business is that any company with a parking lot needs me. We probably have over 900 customers that we sweep only once a month around their office buildings. We give them a maintenance program that works out very good for them. We can do a lot of those on the weekends when our sweepers otherwise would not be out. We also do quite a bit of construction sweeping, as well."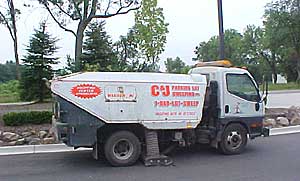 When asked about training of his operators, Confer says they have each new hire ride with an experienced operator for a minimum of two weeks. In addition to learning the ropes, management wants to make sure the new employee will develop a pattern of getting there on time, that they can handle the truck, and that they know how to keep things clean and pick up after themselves.
"We also need to train them in the other areas required for being one of our sweeper operators. We have a form our operators fill out that keeps track of any thing amiss on a customer's property: lights burned out, signs down or damaged, and anything else we think our customer might want to be alerted about. If there's anything wrong with the parking lot – or anything else we can spot – we make sure our customer knows about it.
"We take digital pictures, which we e-mail them to them, or call them on the phone if that is their preference. That goes a long way toward gaining our customers' trust in the long term. I don't want property managers to think of us as their sweeping company. Rather, I want them to think of us as a company that has individuals dedicated to taking care of their property.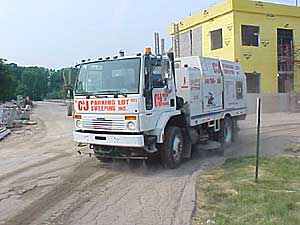 "Our service includes notifying our customers of any trouble spots we see even though it doesn't involve anything our company can help them with. For example, if the dumpsters are overflowing we let our customers know that fact. As far as I'm concerned, if one of our customer's place looks bad, then that's a reflection on me. I always try to be proactive with anything that I do."
Because of Confer's desire to keep all of their current customers, as well as add new ones, C&J has a strong customer retention program. Around the Christmas holidays Confer makes the rounds visiting many of his customers, to check in with them as well as to bring each office a present courtesy of C&J. "At one time I had a gift basket company," says Confer, "so all of my customers got a fruit basket toward the end of the year. I sold that company a few years back but still continue the tradition of personally bringing a present to many of my customers' offices.
"What we did this year is that I delivered a deluxe box of Fuji apples to my best customers. Usually I take out about 150 boxes. This is something that everyone appreciates, since everyone in the office can share in the present.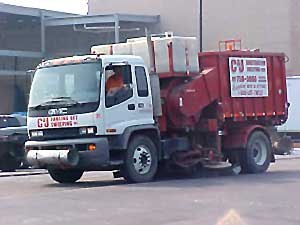 "While I'm there handing out the gifts, if at all possible I try to spend a few minutes with my primary contact to see if there is anything further or different that we could be doing for them. I always tell them that if there's anything I can do to better the service that my company provides for them, to please let me know. They often take time to parade me through their offices, so I can meet all the people we may interact with sometime through the year. Although it takes me the better part of a month to make all the rounds, there's no question that this is an enormously valuable exercise for both me and my customers."
Confer's business model is that he wants his customers to call him for virtually anything they might need. "I have capable friends doing business in every area a property manager might need," he says, "and I want my customers to know that whatever their problem is, C&J can get it handled for them.
"In addition to solving their problem, it gives me an opportunity to talk to each of my customers. Once you get that kind of bond established over the course of years, people are really pretty loyal to you. Building relationships is perhaps the most important part of the business we've built up over these 30-some years we've been sweeping."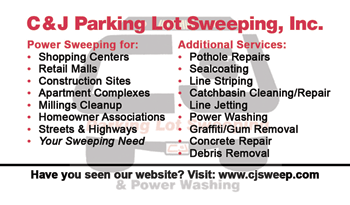 The company management team also makes sure that its customers are aware of the many services C&J provides. One way is by having the company's primary services listed on the back of their business cards. They have also printed business card-sized magnets with their service list on them and have found their customers find these easy to refer to. Many stick the magnet to file cabinets or some other metal surface in their office.
Through the years, Confer has assisted perhaps a dozen sweeping contractors in somewhat nearby locales by giving them advice about how they can make their business better. "I'm in Rotary and I'm in the Lions Club," says Confer, "so service to others is part of my life. I made plenty of mistakes when I was starting out and I don't think it benefits anyone to have startup sweeping contractors have to go through that process."
Other tips that Confer and Moore have for less experienced sweeping contractors? Recognize that the world is changing. You have to be faster, smarter, more productive and really tuned in to what your customer wants. You have to have communications with your driver; the right-hand has to know what the left hand is doing. That's what it takes, they say, to get through the hard times.
---
Keep of the mindset that everybody who has paved areas associated with their business should be your customer. Go in with the attitude that they need you.
---
Rod Moore, C&J's Vice President, was formerly the operations manager for one of Michigan's largest asphalt contractors. "When I first looked at what C&J had going I realized that we could expand its services into a number of different areas. However, I wanted to make sure that didn't happen too quickly so that we lost control of our quality and our ability to provide exceptional service in each area we got into.
"If we're doing any project, then our customers can be assured we know what we're doing and that we will do a great job. If we're subcontracting the work, we also know that any subcontractor we use is performing at the highest level. That's the only way we feel we can expand our scope. Keep in mind that if the subcontractor messes the job up then it's your reputation they are putting on the line."
Confer and Moore equally stress the importance of finding ways to emphasize the professionalism and quality of their own employee team. The company management hosts quarterly cook-outs where they discuss safety issues and anything else the employees think is important. "If I fail, my employees fail, and vice versa. We offer bonuses for good ideas and for getting new accounts. Our operators are a vital part of our team and we make sure they know that."
In the approximately 30-minute long audio interview linked below, you will hear Ray Confer and Rod Moore talk in detail about all the above concepts, as well as their employee incentive program, use of GPS, safety programs, the company's documentation system and much more.
Note: The audio interview with Confer and Moore will play without downloading any files onto your computer. If you hear the interview at 'chipmunk speed,' you will need to download the latest version of Adobe's free Flash player.
Note: To play the interview, click this link or on the small triangle inside the circle you see to the left. If you have any trouble accessing this audio, please let us know.
---
C&J's management team may be reached via email sent to rod@cjsweep.com. You may also reach them by calling 586-759-3668. The company's website is located at www.cjsweep.com/.
If you have questions or comments about this interview, please, let us know and we can add it in as an addendum to this article.