A Combination of Power Sweeping and Water Flushing Spells Success for Canadian Contractor
Tim Kukovica started out as a farmer in Canada's Ontario province, just north of Niagara Falls, New York. How could he know when he bought a municipal water truck at auction for its transmission that the purchase would change the course of his business life.
by Ranger Kidwell-Ross

It's a short drive from the offices of Tim's Water Service in St. Catharines, Ontario, to Niagara Falls, New York. A trip to either locale will allow you to witness torrents of water in action.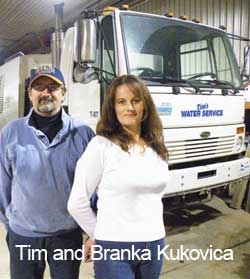 Tim Kukovica, company president and, with his wife, Branka, owner of the company, puts his water and sweeping service to more creative uses. This has made the business popular with general contractors, paving companies, property managers and municipalities throughout what is called "the Golden Horseshoe Area" of Ontario. Kukovica got into the water truck business, which he eventually expanded to include power sweeping and more, purely by accident.
"I bought an old water flushing truck at auction only because it had a transmission I needed for one of my farm trucks," recalls Kukovica. "Once I took a serious look at it, I realized that for only about $200 in repairs I could have a working water truck. So, that's what I did and then started into the water flushing business. While Niagara Falls pumps out 2.4 million litres of water per second, Tim's state-of-the-art street flusher trucks each carry a payload of 3,500 gallons.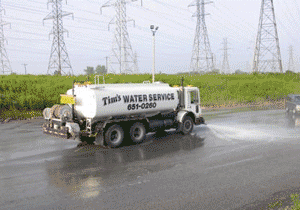 Equipped with high pressure pumps and specialized flusher heads, they're capable of cleaning highways in one sweep. The mini water cannons outfitted onto each truck can propel water over distances of up to 180 feet to drench newly applied sod, and football and soccer fields. The accessorized trucks can also pump out and fill holding tanks, equipment and provide a temporary source of potable water to hotels and other buildings during construction or the hook-up of new underground water mains.
But there's more to Tim's Water Service than just water. In addition to its two street flusher trucks, Tim's fleet of equipment also includes a fleet of mechanical and regenerative power sweeping vehicles and an assortment of trucks and trailers. Kukovica has even built a one-of-a-kind piece of specialty pavement drying equipment powered by a fighter jet engine. Although the 'turbine jet dryer' burns a spendy 300 litres of fuel an hour, during Ontario's inclement weather season the machine is sometimes just the ticket needed to get a pavement-related job accomplished.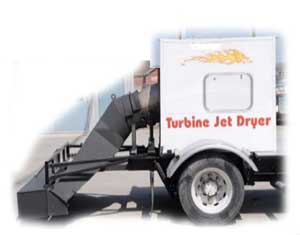 When it's all added up, it allows Tim's Water Service to provide a wide array of services to the commercial, industrial and construction sectors of his market area. Tim's Water Service has forged numerous partnerships with local general contractors, paving companies and property managers by combining the old world values of personal service with modern technology.
"We have refined all of our equipment, our flushers and even our road sweepers," says Tim, who used to farm for a living before establishing Tim's Water Service in 1995. "We like to always be one step ahead. To that end, Kukovica has added a number of home-engineered refinements and accessories to his fleet to make them especially adapted to the functions he needs them to perform.
"I've gone on the internet and talked to different suppliers and gone through a lot of trial and error to get the best fit." Whether its dust control, power sweeping or flushing road surfaces during milling operations and between coats of asphalt application, Tim's Water Service is known for its amazing speed and efficiency.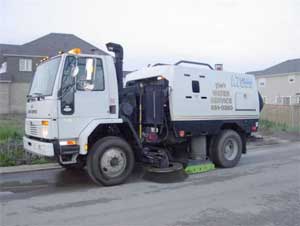 "We're quick and we're fast," Tim underlined. "Other guys will go in with gravity (water) trucks and go back and forth all day. We're in an out quickly, so our customers can get on with the work they have to do." When Brock University in St. Catharines hired a general contractor earlier this year to help expand the university's facilities for an expected increase in enrollment, Tim's Water Service provided state-of-the-art vacuum air regenerative power sweeping to help the parking lot sub-contractors expedite the paving of four parking lots. The pride of the company's street sweeping fleet are Schwarze A-7000s. These he used to clean over the base coat of asphalt, as paving contractors awaited the application of the top grade to complete the project.
Finishing off the operation, as soon as the A-7000 had departed, was Tim's Schwarze S-348, whose more compact size allows it to handle tight corners and sweeping around the concrete islands that sub-divide the four-pad parking area. "Conventional road sweepers travel at five miles per hour," says Kukovica. We've found the A-7000 is capable of doing the same job at a speed of 15 miles per hour. Some sweeper models would have taken 45 minutes to complete the job we can do in 15.
"Once the base coat goes down, we go in and clean the surface before the top coat is applied. If a landscaper has been in after the final coat is applied, in many cases we'll go in and flush the surface down and then sweep it so it's completely black." Whether it's sweeping during milling operations, between coats of asphalt, or clean-up after the final coat and landscaping, the goal of Tim's Water Service is the same.
"We go in with the objective of making the surface spotless," Kukovica explained. "It's a process that is especially critical when we sweep after the base coat has been applied. If the surface is not entirely clean, the final coat will not adhere as well. He has found his regenerative air sweeping trucks can also expedite the paving process and the painting of lines on roads and parking lots during inclement weather, which there is plenty of even in Southern Canada. "If a paving crew shows up to a job following a night of rainfall we often get a call to use our machines to sweep up excess water," Tim relates. "It means paving or painting crews don't have to wait for Mother Nature and the sun to dry things up."
The client list for Tim's Water Service includes construction firms, paving companies, property management companies, car dealerships, municipalities, universities and hospitals. Clean roads are especially important to home builders and subdivision developers, Tim noted. "We provide a service that allows subdivision developers to have clean roads for open houses on weekends while construetion is underway during the week. Our diverse fleet, which also includes a smaller, Powerboss sweeper, allows us to meet the diverse needs of a wide range of regular customers.
The company's diverse fleet allows it to provide most any type of sweeping services, from driveways right up to highway sweeping. When it comes to reliability and timely service, Tim's Water Service's record speaks for itself. "We do a lot of work for many customers on an hourly, daily, or weekly basis and there's a lot of places we do work only a few times a year - but we do that same work every year," Kukovica emphasized. "Many of our customers no longer ask about the price. They just want to know when we can do their job."
Tim's Water Service power sweepers have even been hoisted by crane into the hulls of massive ocean-going cargo tankers to sweep up sandblasting debris for ship builders. Another key to the company's success is cross-training all its operators. The management team keeps everyone familiar with the operation of each piece of equipment so anyone can jump into any vehicle, at any time. Tim said he spends a lot of time educating consumers about the capabilities of both flushing trucks and power sweepers. Breaking into the construction industry, and keeping his clients up to speed on the advances in technology of both products, has paid dividends, Kukovica says.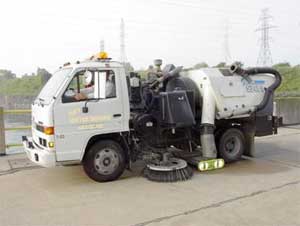 "The construction industry was tough to break in to," he remarked. "Years ago flushing was the big thing and you'd see flusher trucks going down the road all the time. When the use of sweepers became more prevalent, it prompted a decline in the use of flusher trucks. Still today, a lot of people will call and ask if we have a sweeper truck available and I'll ask them what it is they want to do. Sometimes it's a lot quicker and easier to use a flusher truck and many times it's more effective to employ a combination of both.
In addition to power sweeping out the hulls of Great Lakes freighters, Tim's Water Service has flushed down roadways for the production of television commercials and has provided fresh water to help transport dolphins. "When Saturn was filming a television commercial on an area bridge a few years back, they wanted the road to appear slick," Tim explained. "It was an early morning shoot and, because of the narrow window of opportunity for the lighting conditions they wanted, we had one minute to flush down the entire roadway."
In the fall of 2000, Tim's Water Service provided trucks equipped with pre-heated water to help transport a school of bottle-nosed dolphins from Russia to Marineland. Tim's trucks filled three containers at Pearson Airport when the planes carrying the dolphins landed and accompanied the convoy from Mississauga to the Niagara Falls marine theme park.
Tim's Water Service performs the majority of its work on a repeat basis for regular clients and by referral. Reliability and quality of service has made the firm a regular fixture at numerous construction sites over the years. The company's sweepers also work regular paths along many highway reconstruction projects. Regular municipal clients include the town of Fort Erie, Niagara-on-the-Lake, and the cities of Niagara Falls and St. Catharines. According to Tim, no two days are ever the same when it comes to providing his burgeoning client base with consistent, quality customer service.
That's because Canada has two seasons, 'winter' and 'construction,' Tim jokes. "In the spring it's usually easy to schedule where we'll be on any given day of the week. However, once construction starts up in June, fifty per cent of our work is planned and the other half is work that people needed to be done yesterday. We've developed a pretty good record at meeting the short-notice needs of our customers, though. We're noted for being on time, efficient and having the right equipment for the job at hand." Couple that with the ingenuity furnished by Tim Kukovica's farming background, and it's easy to see why Tim's Water Service is the first place to call in its market area.
---
Note: The following audio interview with Tim Kukovica, which is approximately 19 minutes in length, will play without downloading any files onto your computer. If you hear the interview at 'chipmunk speed,' you will need to download the latest version of Adobe's free Flash player.
Note: To play the interview, click this link or on the small triangle inside the circle you see to the left. If you have any trouble accessing this audio, please let us know.
---
Tim Kukovica may be reached via email sent to kukovica@vaxxine.com>. You may also call him at 905-641-1603, and the company's website is www.timswaterservice.com.
Some of the information for this article was gleaned from a previous article done by Niagara Construction. If you have questions or comments about this interview, please, let us know and we can add it in as an addendum to this article.