McDonough and Sons Stress Environmentalism in Full Slate of Services
Thirty some years ago, when Pat McDonough started his own sweeping company, he was already a somewhat experienced hand at the job. That's because as a newly-married nineteen-year-old he'd joined the father he'd never really known in a sweeping company in Minnesota.
Even though that didn't last long, when McDonough started a business of his own over 10 years later, it was to found a parking lot sweeping company.
by Ranger Kidwell-Ross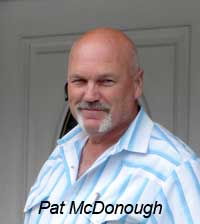 "I'd kicked around in a variety of jobs and learned a number of different mechanical job skills along the way," says McDonough. "I even tried going to junior college for a few quarters. Fortunately, my wife kept insisting we needed to get into something more permanent, a business we could call our own. For a number of reasons, I got out of the truck-driving job I was in by buying a barely used MASCO sweeper. I was suddenly in business for myself."
Back in those days in the Greater Seattle Area – a market area McDonough says now should be more correctly termed 'The Puget Sound Corridor' – most business people weren't even aware the parking lot sweeping industry existed. Bolstered by some business owners who knew him and his work ethic, though, he picked up enough accounts to make a go of the business. He had to, with a family to take care of that included 7- and 11-year-old sons.
"I'm proud to be able to say we have a number of customers who have been loyal to us for well over 20 years," says McDonough. "Although we've lost a few through the years many, if not most, have come back to us over time. They learn, especially after trying some other company that lures them away with promises of lower prices and better service, that McDonough and Sons offers better value.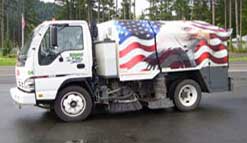 Both of the boys, Cory and Lonnie, grew up in the family's sweeping business and made significant impacts at the time on the growth and viability of the firm. McDonough's operation now includes catch-basin cleaning and snow abatement services, and has an expanded client list, as examples. However, both sons eventually left the company to found related businesses of their own.
"I couldn't be more pleased with both of my sons," says the elder McDonough proudly. "They each found a niche in our sweeping operation that they developed and both eventually founded their own companies they've been very successful in. As a routine part of McDonough's sweeping operation, we bought and sold a wide variety of equipment. Cory focused in on that part of the business. In about 2004, he and his wife, Tina, who was our office manager, founded One.7. That has become one of the larger used street sweeper and catch-basin cleaning equipment dealers in the U.S.
"Lonnie's area of interest in the company, by contrast, was in developing a variety of pavement-related services. That grew to the point where it made sense for him to spin it off into another company, so he founded McDonough Industries, LLC in 2007. Lonnie's firm continues to handle all our pavement-type services, like paving, sealcoating, striping and patching."
Pat McDonough's core business remains all types of outdoor sweeping, plus catch-basin cleaning and snow removal/abatement services. In the Pacific NW's climate all three of these can be needed at most any time of the year, so juggling the equipment and personnel needed for all its customers in just those three areas is plenty.
"Most people outside our region don't realize that virtually our entire drainage goes fairly directly into Puget Sound," offers McDonough. "Stormwater runoff pollution reduction is a big deal, as it should be. The requirements keep getting more strict all the time as everyone fights to meet their permit requirements, as well as do everything possible to ensure we can maintain the natural, relatively unspoiled environmental beauty we enjoy.
"Staying up-to-date with current regulations and using our knowledge to meet or exceed our customers' needs and expectations is a challenge we take on every day. When I sit at conference roundtables and in discussion groups located elsewhere I realize how far ahead in this regard the Pacific NW is from many other parts of the country. I'm proud of the environmental impact we can make as a company."
McDonough and Sons operates around 45 - 50 pieces of rolling stock, which includes its sweeper fleet. They standardly operate 7-nights-per-week and 5-days-per-week. From a high of 52 employees, the current recessionary economy has thinned the company work force out to about 30.
"One thing about having to downsize for this tough economic recession is the core group of people you end up with are all solid performers in their jobs," says McDonough. "There's no question we can count on each and every one to provide a good job in what they do. We also pride ourselves on our ethical stance in all regards, and that has stood us in good stead throughout the years, as well."
When asked about training, McDonough said he personally attends his sweeper operator meetings, which are held bi-weekly. "In my experience there are many resources available from government oversight agencies, like OSHA and L&I, as well as from my insurance carrier. We have had a number of insurance carriers over time, but I must say our current firm, The Travelers, has the best loss control prevention program we've seen. It's clear to me that the best way to minimize operator errors is through training, and some of the best training material comes from those types of organizations."
Pat McDonough, who said to be sure and emphasize that his wife of 41 years, Linda, is equally responsible for the company's success, has developed a positive sweeping force along the Puget Sound corridor in the Greater Seattle area. His core value of emphasizing the environmentalism of sweeping services is one that no doubt plays well to the green-conscious population of that region.
McDonough's understanding of the sweeping industry, along with his emphasis on a long-term commitment to ethics in business, are both take-aways that any sweeping contractor should be proud to integrate into their own businesses, no matter where they're located.
---
Note: The following audio interview with Pat McDonough, which is approximately 23 minutes in length, will play without downloading any files onto your computer. If you hear the interview at 'chipmunk speed,' you will need to download the latest version of Adobe's free Flash player.
Note: To play the interview, click this link or on the small triangle inside the circle you see to the left. If you have any trouble accessing this audio, please let us know.
---
Pat McDonough may be reached via email sent to his company's primary e-mailbox, pat@msisweep.com. The website is located at www.msisweep.com.
If you have questions or comments about this interview, please, let us know and we can add it in as an addendum to this article.